Holding the ingredients for huevos rancheros, Montoya stands ready in the kitchen of the Market Apartments, where she continues her family's tradition of cooking for anyone who is lucky enough to be close by. "[Cooking] is important to me because there are some ingredients that I can only get from home that my grandmother will send me," she says. Cooking family recipes is the closest she can get at Kenyon to cooking with her family in New Mexico. "My family will ask me if I have made anything this week: if my friends liked the chile, if they were able to handle the heat." For Montoya, a short trip home is only as far as the nearest kitchen. "It smells like home," she says as the beans and red sauce begin to cook. Whenever the kitchen is stocked and there is someone without food in their hands, Montoya will be in the kitchen. "I think that it comes from a culture of sharing," she says, while passing a full plate to her roommate.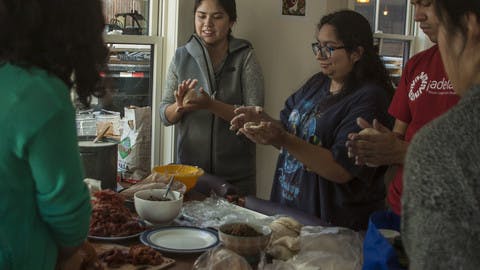 Carolina Andrade '19, Sabrina Serrano '18, Lesly Maldonado '20, Sebastian Chavez Erazo '18, and Miku Fukuyama '18 
Adelante, Kenyon's Latinx student organization, is an important part of the Kenyon experience for students like Carolina Andrade and Lesly Maldonado. For the last 30 years, Adelante has supported Kenyon's Latinx students and engaged with the greater Kenyon community through events like their delicious Cultural Tasting. The Fall Cultural Tasting took place in the Snowden Multicultural Center and was open to the the entire campus. "Through our food, we hope that you understand our culture a little better and that you understand the joy good food brings," said Maldonado. "I like cooking for myself and others because it brings us happiness. Food is a huge part of our culture. Bad food is an insult to myself and God," she said. When cooking for an event that is open to so many people, it is important to have at least a few experienced cooks around. "Carrots are the gateway to the kitchen," said Andrade, who began her exploration of the kitchen by washing and peeling carrots for her mother. (She has since moved on from carrots.) "When you haven't done it in a while, it's really nice to remember what raw meat feels like between your fingers. Slicing [the meat] becomes almost therapeutic," she said.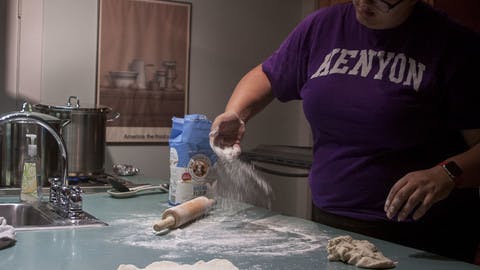 Evangeline "Eva"Warren '19 
Canterbury Kenyon, the Episcopal campus ministry, meets every Monday at the Harcourt Parish House for a gathering of food and fellowship. Three weeks out of the month, the members of Canterbury make their own food instead of ordering out. For the first week in November, Eva Warren rolls out dough for flatbread to go with the vegetable curry. Eva fell in love with cooking the spring before she went away for boarding school; her parents asked her to cook one meal a week so she would learn a new skill. "My dad's the family baker, precise in every measurement, and my mom's the chef who puts a little bit of this and a pinch of that in and makes something delicious." Taking after her mother, Eva prefers the idea of recipes as a guideline rather than a rule. For Eva and the other members, cooking is a big part of welcoming the community. "I find immense joy in providing food to friends and family and Canterbury gives me that outlet."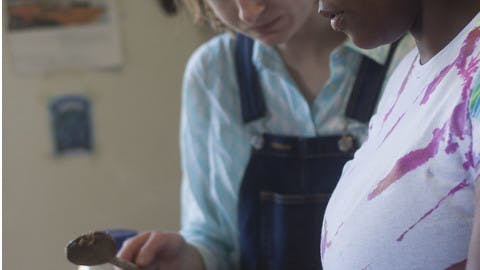 Sarah McPeek '19 and Akasha Walker '19 
The Kenyon Farm has long been a source of adventure and camaraderie for students willing to make the trek down East Wiggin Street. Akasha (foreground), with Sarah by her side, are two such students. Tasked with preparing biscuits and sausage gravy, Walker and McPeek are a part of a small group of students who took a moment to relax with friends before midterms. With fruit salad, vegan pancakes, and fried potatoes that were harvested from the farm earlier that week also on the menu, the food is an obvious highlight. However, for McPeek it means something more. "Cooking is also a really fun social time — you put on music, you laugh with your friends while you work," she says. McPeek learned to cook from her mother — and her father, when it came pasta and sushi — so using the farm's kitchen is natural to her. She said,"Food always tastes best when it's homemade!"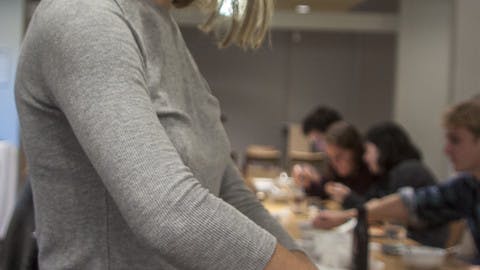 In the kitchen of the Rothenberg Hillel house, Kenyon's hub of Jewish spiritual and cultural life, Julia puts the finishing touches on loaves of challah that are ready to be baked. Nearing the end of her first semester at Kenyon, Julia, like many others who found their way to Hillel house on a cool November evening for the "Challah Bake Off," finds comfort in the group's sense of community. For Hillel student manager Talia Light Rake '20 (not pictured), the food comes secondary to the culture. " I cook because it reminds me of home," she said. Back in California, Light Rake runs a Jewish cooking club called Bubbie's Bakery that makes Kosher meals. For Light Rake, cooking is a means of connection. "Cooking and gathering for meals with friends and family was one of my favorite things growing up, so doing the same at Kenyon really brings me joy."