Abroad in Gambier
There are 50 percent more students from China at Kenyon this year than there were three years ago. Here are the communities they find on campus.
It is 6:30 p.m. on a Friday night in the middle of February, and Chinese rap music is blasting out of lower Peirce Hall.
For Kenyon's annual Lunar New Year celebration, the Alumni Dining Room has been converted into a stage. The rap song, "Made in China" by the Higher Brothers, a Chinese hip-hop group from the city of Chengdu, repeats four more times until it is replaced by a traditional Chinese song featuring erhus and woodwinds. One of the hosts for the event, Frank Zhao '21 of Xiamen, China, prepares to speak. Dressed in a sharp gray suit, he towers over his companions.
Zhao, a first year, has had to adjust to life at Kenyon. Though he does not find the content of his classes much more difficult than classes at his high school, the English language presents a challenge. Socializing is also a big hurdle. His unfamiliarity with U.S. slang and pop culture gives him some anxiety. But he is optimistic and notes that he's improving. In the meantime, cultural events like the LunarNew Year celebration are sources of comfort. "It's nice to have something familiar when you're abroad," he said.
A celebration of Chinese culture on this scale is unheard of in the rest of Knox County, Ohio, where a Chinese buffet serves pizza and a Japanese restaurant serves General Tso's chicken. The 2016 U.S. Census recorded that only 0.6 percent of Knox County's population was of Asian descent. Although Kenyon is more racially diverse than the surrounding county, its own history with Asian students is not different. Until recently, the College had to bring in performers from Columbus for its celebration of the Lunar New Year.
But this year, 19 students volunteered to perform, enough to fill the entire three-hour program. Professor of Chinese Jianhua Bai, who has helped organize the celebration for more than a decade, described the new atmosphere as more intimate and interactive. The number of Chinese international students at Kenyon has risen dramatically in recent years, making Chinese the second largest nationality on campus (the first being American). In total, there are 33 students from China this academic year, up 50 percent from just three years prior.
An increase in Chinese student enrollment is not specific to Kenyon. The number of Chinese international students in the U.S. has skyrocketed in the past decade, from around 70,000 to over 350,000. The boom has attracted the attention of media outlets, which have attributed its cause to both the value of an American degree and the money that Chinese international students bring to U.S. colleges with their tuition. They usually pay the full price.
But language difficulties and cultural differences, combined with the stress to perform well, can often lead to feelings of isolation and anxiety among these students, especially at larger institutions. A 2017 article in The Economist's 1843 Magazine focused on the University of Iowa, whose Chinese undergraduate population jumped from 47 to over 2,000 in just 10 years. The article reported a "de facto segregation" between domestic students and students from China and stated, "like many universities around the country, Iowa has been so focused on recruiting students that its efforts to integrate them into campus life has seemed like an afterthought."
There are crucial differences between Kenyon and Iowa. Kenyon asks for a higher score on the Test of English as a Foreign Language (TOEFL) — 100 out of 120, while Iowa wants a score of only 80 — and its designation as a small liberal arts school might draw a different, more diversely curious crowd. Plus, Iowa City is a metropolis compared to Knox County. Here, they face a different kind of experience.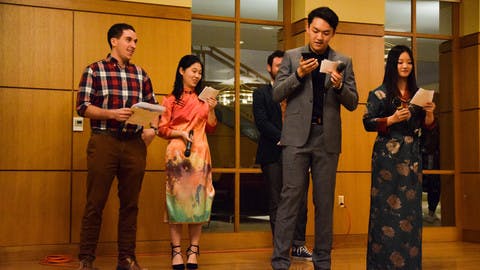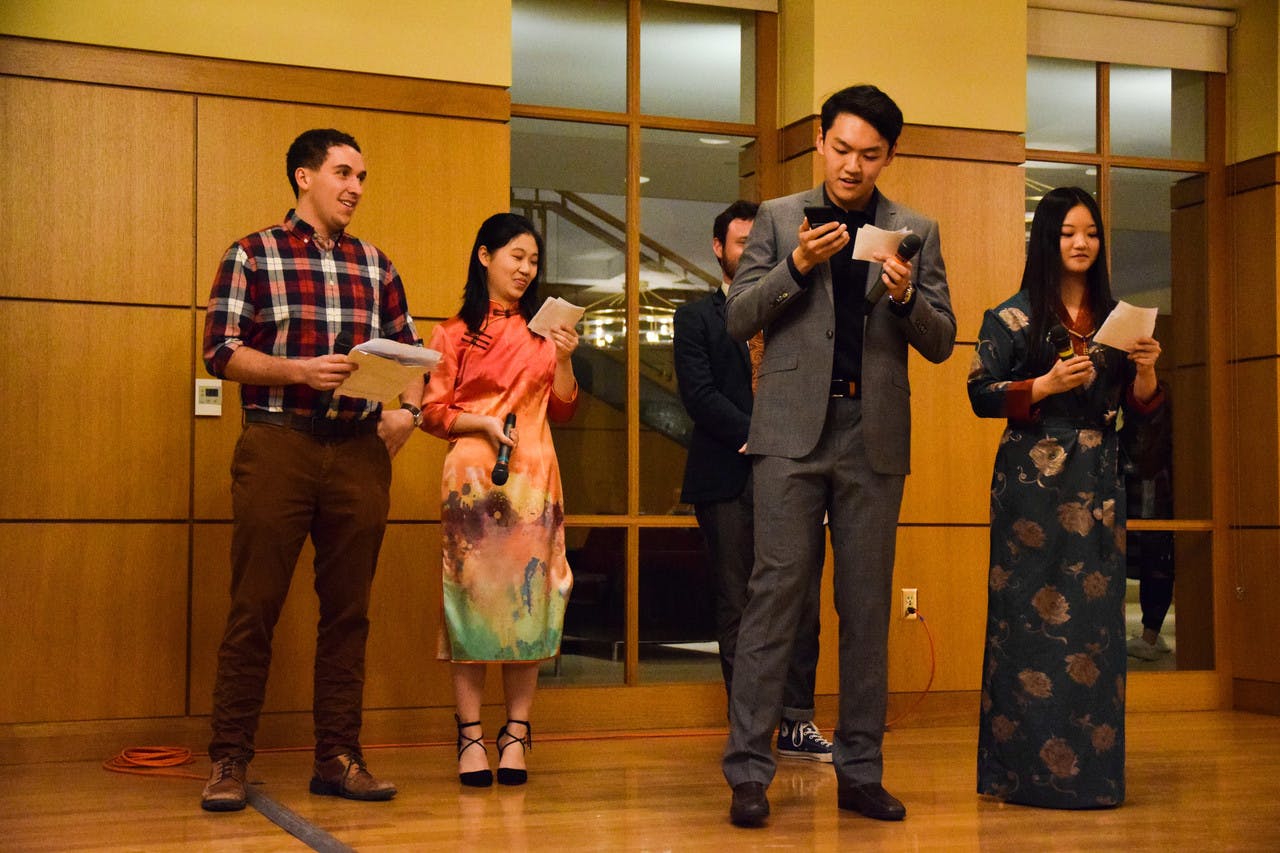 The performances are a little awkward at first. The introductory Chinese class giggles their way through "Xin Nian Hao," a children's Lunar New Year Song, not sure who should hold the microphone. Two students stand onstage and read tongue-twisters to the audience. The five hosts, two American students and three Chinese international students, including Zhao, switch between English and Mandarin as they read lines off of papers, but the result is somewhat disjointed. No one seems sure how to act.
Kenyon, a school whose student body is 72 percent white American, highly covets cultural and ethnic diversity. To some, the growing presence of Chinese international students on campus presents an exciting opportunity for cultural exchange. Jack Au '73 H'96, a Chinese-American alumnus, has been helping Kenyon recruit students, especially those of Asian descent, for decades. He remembers a time when Kenyon was even less diverse. "When I was there, I was probably one of a half dozen Asian Americans," he said. "We didn't have the international presence at all." He hopes the influx of Chinese students will lead to a larger Asian presence on campus.
The Chinese Culture Club (CCC) at Kenyon represents one route for cultural exchange to occur. A few times a semester, it hosts events, such as movie screenings and calligraphy lessons. It also helped organize the Lunar New Year celebration. But its participation, from both international and domestic students, is small.
"Our club is for a very niche audience," said Xinrui Huang '20, the co-president of CCC. "Most attendees are Professor Bai's students, or students truly interested in Chinese culture."
Huang and the other co-president, Clare Chou '19, a Chinese-American student, try to plan events that attract both Chinese and non-Chinese students, but finding the balance can be hard. Participants are mostly non-Chinese students.
Wei-Kang Chou, Kenyon's Fulbright foreign language teaching assistant for Chinese, helps out with CCC as part of his job. He also noticed that many Chinese students don't seem that interested in participating in CCC. Only about a third of its members are from China, he estimated. Though he wishes more would participate, it makes sense that many do not. "These are cultural aspects that Chinese students are already familiar with," Huang said.
Becoming a cultural ambassador may not be the top priority for most Chinese students, but opportunities to act as one do arise. Kenyon's Center for Global Engagement (CGE) is the closest thing Knox County has to a cultural melting pot. The CGE plays a central role in international students' lives — Assistant Director for the CGE Lisa Swaim described it as a conduit between them and many of Kenyon's resources — and as such, it has earned a reputation for being the local hub for world cultures. Swaim frequently receives calls from people around Knox County who are interested in collaborating with students.
Last winter, because of one of these calls, Zhao translated for a parent-teacher conference at Wiggin Street Elementary School. The school reached out to Swaim because people worried that one student's parent, who had recently immigrated from China, would not be able to fully participate in the meeting because of language difficulties. With Zhao's help, the conference went smoothly.
In March, Xiaoxuan Hu '20 hosted a group of five Girl Scouts in Hoehn-Saric House, home of the CGE, for a lesson on making dumplings. The event was part of the Knox County Meets the World program, which connects international students with local residents to promote cross-cultural understanding. Afterward, the Girl Scouts received "meet the world" badges.
On the flip side of all this is the expectation that Chinese students will integrate into American culture. In the U.S., there is a persisting myth of Asians as inscrutable and perpetual foreigners. This perception trickles down into Kenyon's student body.
As a tour guide for the College, Hu has occasionally received comments from her audience on the strength of her English. She is also sometimes asked if she is only studying at Kenyon for the year, a question that surprises her. "I said I am a student, an international student — why would I only stay for one year?"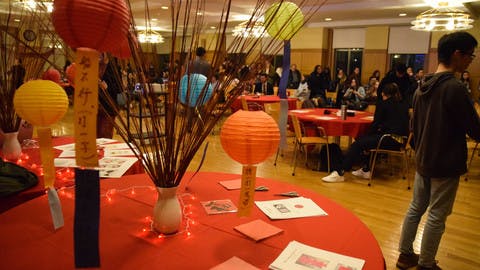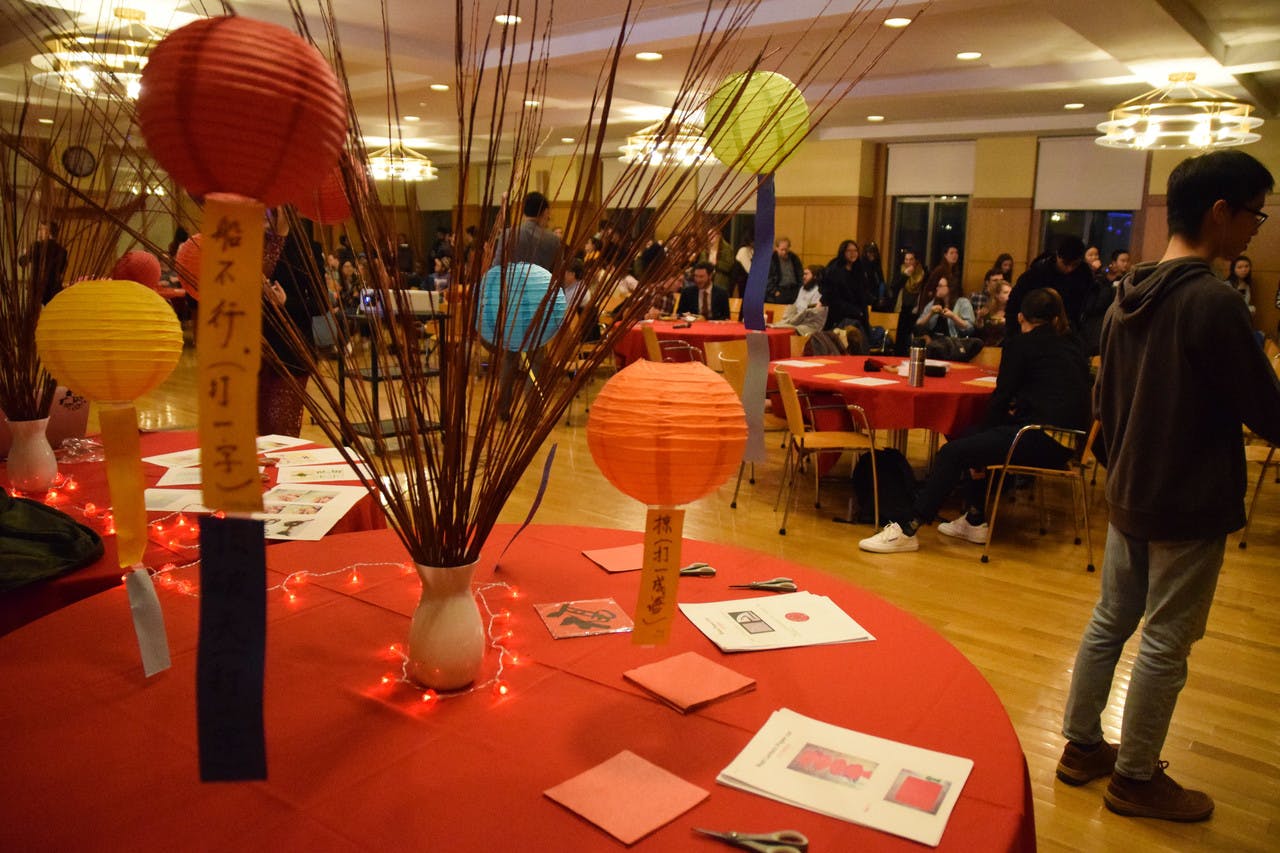 Zhao said he experiences two kinds of reactions. "If someone just has limited knowledge about another culture, I can explain and educate without a problem," he said, "but when people make malicious or insulting comments, I just leave the conversation. It's not common, but when it does happen, I get very angry."
For Chinese international students, the question of integration is omnipresent. A running theme of the 1843 Magazine article was the failure of significant interaction between the Chinese international students and domestic students at Iowa. Because of Kenyon's homogenous population and small size, which tend to produce pronounced cliques, especially of minority groups, that question is even more relevant here.
Chou, the teaching assistant, said that when his friends from home visit him in Gambier, they comment that Kenyon is very white. "Sometimes I don't know whether it's easy for the rest of the students to merge. I feel like [Chinese students] have their own community," he said. Au, the alumnus, occasionally visits campus to help celebrate Chinese holidays. During those times, he stresses to the Chinese international students the importance of mingling with domestic students.
"Here's an opportunity to pick up the American culture, meet young American friends — I always encourage them to break out of the tendency to hang out with their Chinese friends," he said.
Au has heard complaints from some faculty and students about Chinese international students being too cliquish on campus. He admits that this might sometimes be the case, but views it in a different light.
To him, they aren't any different from other minority groups. "They just need the infrastructure and support group to get through," he said. Once they have that, they can branch out.
Underlying both sides, though, is the assumption that Chinese international students should, at some point, make an effort to form American friendships. Integration, in this view, is something to be actively pursued, though much of the weight of that responsibility seems to land on the Chinese students, rather than on the Americans.
In reality, many Chinese international students take a more relaxed approach to their contact with American culture.
Zhao specifically chose Kenyon because of its lower Chinese international population. He wanted to meet more Americans. When he first came to Kenyon, he made an effort to ask about American cultural topics whenever they came up in conversation, but felt he was annoying those around him. Eventually, he stopped. Since then, he has not tried as hard to force the contact. "Friends aren't a mission to be accomplished," he said.
Hu felt that most international students were "going out to make other friends with whatever people they enjoy spending time with." Nationality wasn't at the forefront of their minds. Iris Chen '18 agreed. "There's no reason to pressure people to integrate," she said. "Let it happen organically." At first, Chen had few Chinese friends at Kenyon. There were not many in her class year to begin with, and all but one has since transferred. "Statistically speaking, it wasn't likely to even meet up with the other Chinese students," she said. Instead, she made many non-Chinese friends. But as Kenyon admitted more Chinese students, her number of Chinese friends increased.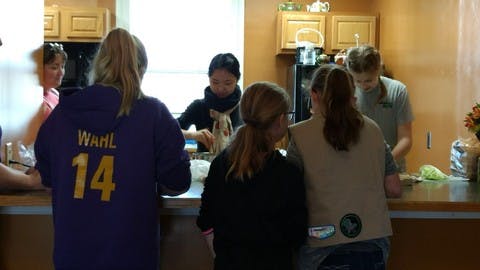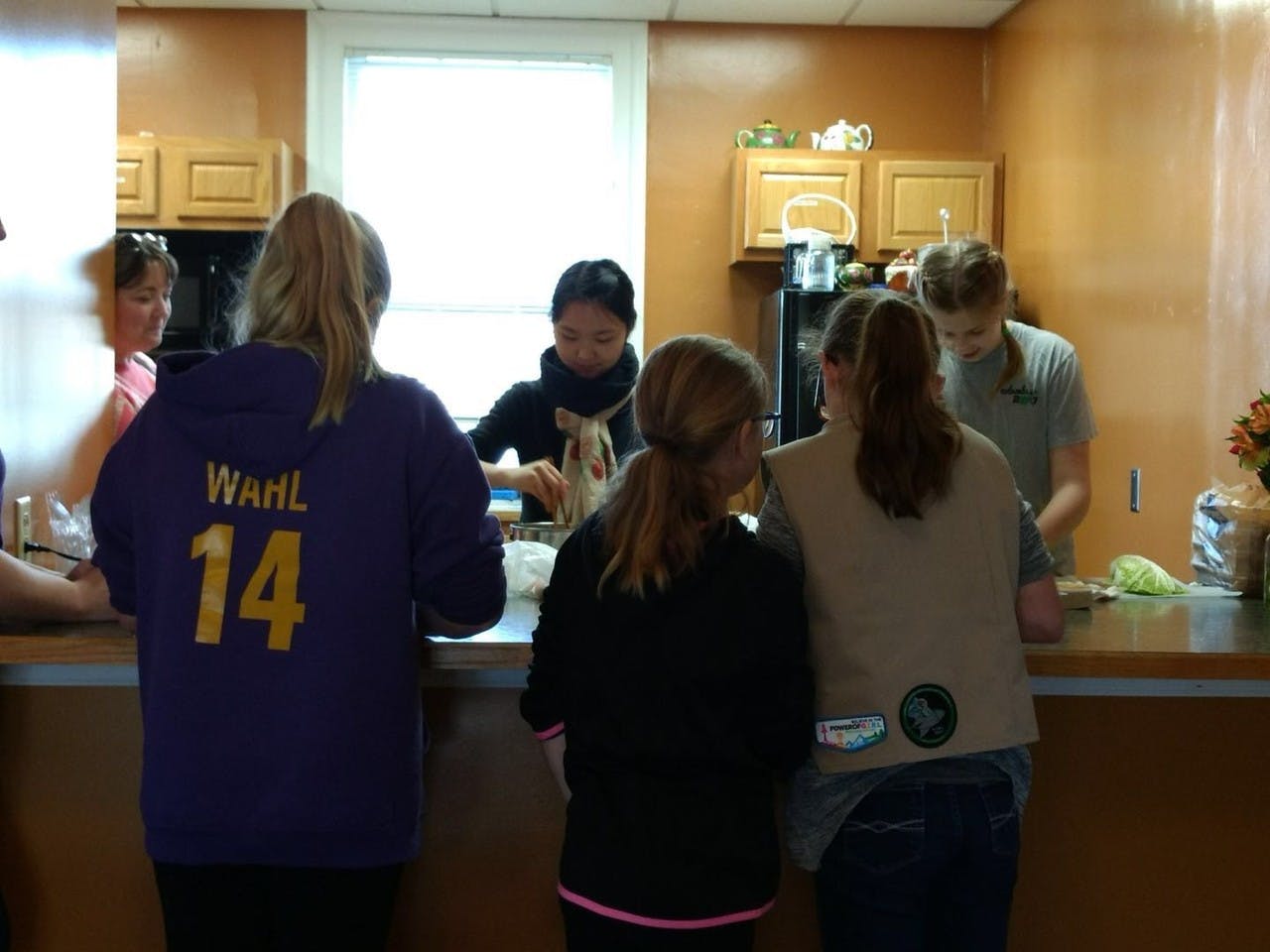 About halfway through the Lunar New Year celebration, there is a noticeable shift in the room. The initial crowd has petered out, and the hosts start to find their rhythm. The performances are more relaxed; the performers are having more fun. The event's original public atmosphere has disappeared.
The two American hosts, both of whom spent the previous semester in China, tell stories from their time there. They speak entirely in Mandarin. Zhao and two other Chinese international students follow them, emerging from a side room wearing sunglasses and holding red scarves. They set up in the center of the stage and start doing radio calisthenics, short exercises commonly used in gym classes in Chinese public schools. In the middle of their performance, the commanding voice is swapped for a pop song and the trio breaks into dance, waving their scarves around and finishing with a dab. The audience bursts into laughter.
Fiona Mu '21 and Richard Fu '21 get up to sing a duet. Fu grabs the mic and states, "This song is for everyone who's single and looking for love," then, smiling, points to himself. The music starts, and he delivers an energetic, if off-key, rendition of the lyrics to a Chinese pop song. At one point, a friend runs up to him and hands him a half-eaten banana, which he holds for the rest of the performance.
As a category, the term "Chinese international student" can be limiting. These students come from a wide range of educational and cultural backgrounds in the most populous country in the world. Some went to boarding school in the United States; others attended more traditional Chinese public schools. They come from cities across the country. It is safe to say that they do not all experience Kenyon in the same way.
As a soon-to-graduate senior, Chen has had time to reflect on her time at Kenyon. She adjusted well, partially because of her schooling in a liberal arts academy in Peking University Affiliated High School and an older brother at Pomona College. But she has faced problems in the past.
"I've somehow enjoyed countryside Ohio, even the winters," Chen said. "And I don't feel homesick. But the most frustrating experience I've had at Kenyon was when I realized that I couldn't just go home during the weekend or breaks, unlike many U.S. students."
Chen takes a reprieve from the geographic isolation of Gambier by traveling during breaks. She's journeyed to Cuba, Turkey, and Peru with Kenyon classmates in the past and interned in New York to complement her classroom education in art history.
As a resident of a North Campus Apartment with full access to a kitchen, Chen now hosts a dinner at least once a week, inviting varying groups of friends: Chinese, international, and domestic students alike.
Unlike Chen, Zhao is still in the period of adjustment. "My introductory biology class is very intense," Zhao said. "Having to take it entirely in English added even more difficulty, especially because the language was so academic."
He added, "I feel the most nervous talking to U.S. students, less when I'm speaking with other internationals, and the very least when I'm hanging out with other Chinese students."
Zhao still participates in campus life, although it requires him to step outside his comfort zone.
As a member of the Track and Field team, he attends practices and runs the 400-meter dash at meets. The team gives him a sense of belonging. He plans to pursue a career as a physical therapist, and so spends much of his time researching anatomy, sports science, and physiology.
Because of his commitment to his interest, Zhao makes sure to work out every day, whether that's his own self-designed exercises or team practices. His disciplined schedule means going to bed before 10:30 p.m. every night and waking up before eight, even on weekends. He plans to stay on campus over breaks to use the Kenyon Athletic Center.
Zhao is not the only one with an unusually regulated schedule. Xingyue Liu '21 wakes up at 5:30 a.m. five days a week for cross country practices or personal workouts. She considers her team to be like her family.
"I found it very easy to make friends with students here," Liu said, "and my team really helped me to branch out and meet more people." Liu said she transitioned easily to Kenyon, and as with Chen, dealt with the rural isolation by packing her schedule with academics and extracurriculars. She participates in the outdoors club and the cross country team and fills her free time with activities like tennis. "Sometimes I'll spend an entire afternoon drinking tea and chatting with a friend," Liu said. "Socializing is in life's details."
One of Liu's most positive impressions of Kenyon is the helpful community. Although she attended an international school in Shanghai with a fully English curriculum, she still struggles at times with the heavy academic reading and writing required in Kenyon classes, particularly in her potential major, philosophy. She found it easy to reach out to classmates for help in notes and tips, although she ultimately relies on herself to improve.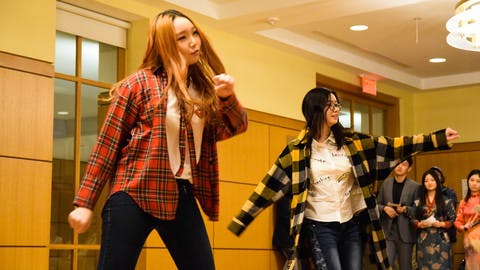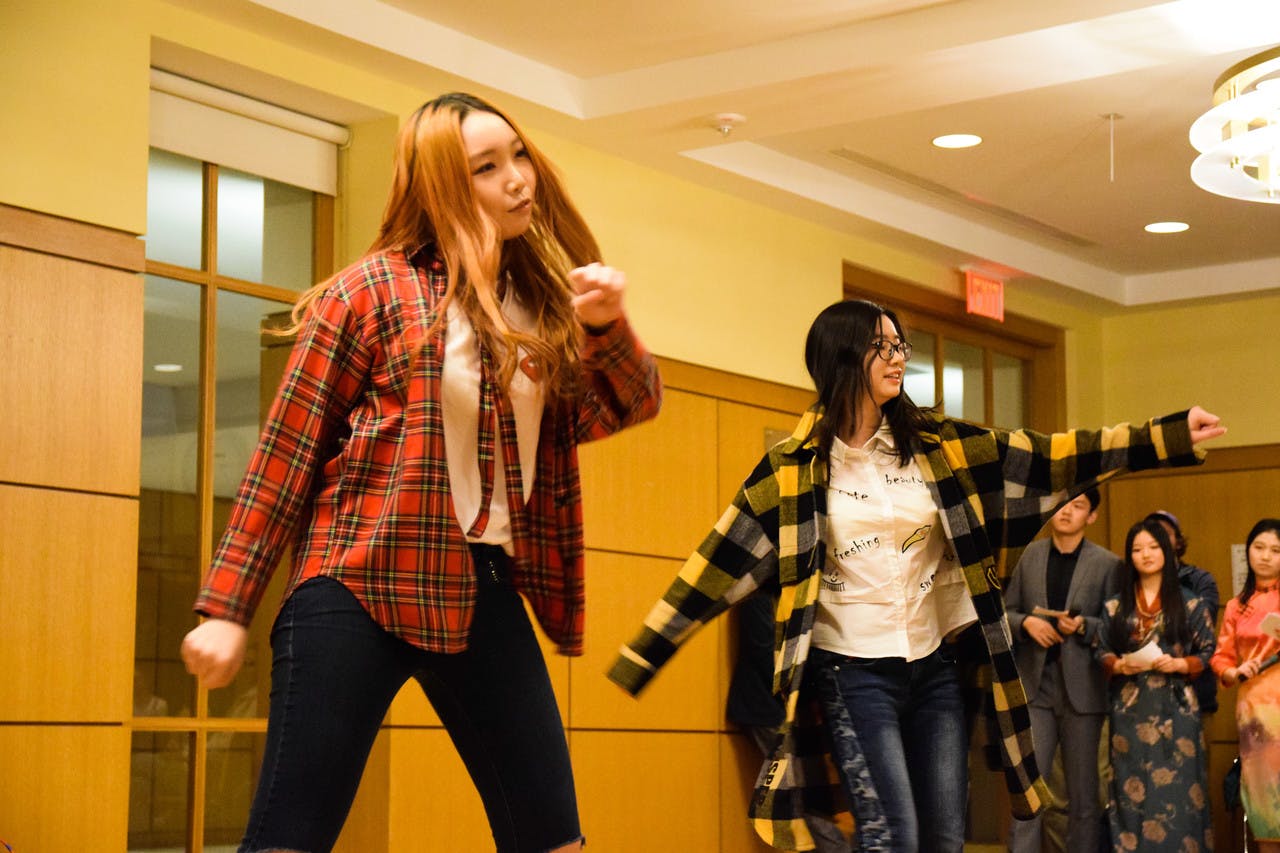 By the end of the night, a group of supportive audience members have formed a row of chairs in the back of the Alumni Dining Room. They are mostly international students.
The last performance isn't by a Chinese student; rather, it comes from Haider Riaz '20 of Lahore, Pakistan. Riaz walks on stage with a guitar and sits on a stool. Liu holds the microphone for him, and he sings "The Moon Represents my Heart," a popular Chinese love song. For the full three minutes, the audience is captivated. Riaz sings beautifully in Mandarin. When he is done, the audience, especially the back row, erupts with applause. Liu exclaims into the mic, "He's never spoken a word of Chinese before that!"
Of the different factors that separate the experience of Kenyon from that of other institutions, the most important is the strength of its international community. From before they start school, international students have the chance to bond during a six-day pre-orientation program put together by the CGE. They learn about everything together, from healthcare and academic expectations to the process of getting a driver's license. After that, the CGE remains a constant unifying presence in their lives. It hosts monthly birthday parties, organizes trips off campus, and finds students rides to doctor's appointments. It is students' first stop when they need help with anything.
"My favorite conversations are when students just drop by to talk about life," Swaim said.
Swaim worked as an international student advisor at Georgetown University and The Ohio State University before coming to Kenyon. She said the environment of both schools, which have international student populations in the thousands, was much more impersonal. At OSU, she said, the advising system was "like a doctor's office."
"At bigger colleges, what you really know is their immigration problems, but not the rest of it," she said.
In addition to the CGE, there is the International Society at Kenyon (ISAK). ISAK is a student group for international students that organizes events throughout the year. In the fall, they celebrated Eid and Diwali, Muslim and Hindu holidays.
Hu, an officer in ISAK, thinks it is one of the best organizations on campus. When she is struggling, she finds that she turns to international students, not just Chinese students. "You can just go to your international buddies for advice or if there's something not really happy about your life," she said. "I don't think the regional differences really matter that much. We are all international students." She said that one of the issues she struggles with is homesickness — she hasn't returned home for over a year and a half — an experience common among many international students.
At larger institutions, this sort of pan-international comraderie is hindered by organizations that pander to more specific cultures. One of the largest, the Chinese Students and Scholars Association (CSSA), has been frequently linked to the Chinese government. A 2017 New York Times article described it as "Beijing's watchful eye." Without these organizations, students at Kenyon are free to step outside of their national identities.
And they frequently do.
On one chilly March night, over 100 students gathered in Colburn Hall for the semester's international formal. Most of them were international students; many of them were Chinese. The music came from as many countries as they did, switching from U.S. party favorites to Colombian pop and Chinese rap.
Together, dressed in their fanciest clothes, they danced as "Made in China" blasted through Kenyon once again. ■