The New Normal
Two Collegian Magazine writers explore life on Kenyon's campus during the COVID-19 pandemic.
Every morning during the fall 2020 semester, the first thing I would do when I woke up was open my blinds. It was my favorite part of the day. There is very little more beautiful than the Gambier sunlight and how it would breath in through the windows of my room and out onto the lawn of the North Campus Apartments (NCAs). It was almost enough to distract me from the strangeness of the situation at hand. But then I would remember that the only reason I had these big beautiful windows was because I was living in an NCA, the choicest housing on campus, which, as a sophomore, I should not have been living in. And that the only reason that I was living there was because of a global pandemic that has cost millions of people their lives and dramatically altered the way in which those of us who are alive live them. It is only due to these unfortunate, almost evil circumstances that I got the privilege of living in an NCA and opening my blinds to an extraordinary blanket of light every morning. Paradoxically, I hated my favorite part of my day. 
This was not how I thought my sophomore year at Kenyon would look a year ago, when I had just finished up my first semester of college. I could not have expected that most of the junior and senior classes would be absent from campus, or that I would sit at Peirce tables with plastic dividers between the seats that muffled all sound from the person sitting across from me, or even that I would walk down Middle Path wearing a mask and feel irked by anyone who let theirs slip below their nose. The Kenyon of fall 2020 was not like the Kenyon of years past. It never could be. And perhaps my biggest surprise throughout the whole semester was that I began to get used to it. It was not normal, but it was certainly our new normal, and I had no choice but to embrace it.
At the start of fall 2020, about half of Kenyon's student body (first years, sophomores, international students, and upperclassmen who successfully petitioned to be on campus) re-entered the world of in-person classes. Professors and students alike were eager to return to something slightly closer to normal, though COVID-19 concerns stifled their excitement. In response to the pandemic, Kenyon adjusted its classroom spaces to allow for appropriate social distancing: modular spaces, outdoor tents, and auditoriums not typically used for class. Students spoke in muffled tones behind their masks, while professors used microphones to make their lectures more intelligible. 
Rebecca Lloyd Waller, associate professor of philosophy, taught two in-person classes during the fall semester. Thus far, she found the classroom climate as "creating its own sort of normal, but it's not what 'normal' would normally be." With fewer events on campus, less day-to-day contact with students, and masks covering their faces, Professor Lloyd Waller felt that it was harder to keep track of how students were doing. "I think the biggest difference is that because we have to be spread out, I don't see students outside of the class hardly at all," she said. To Waller's surprise, classes felt somewhat close to normal — at least, closer than she expected to be achievable. Additionally, the general state of health on campus was maintained better than Waller expected. "The only reason we haven't had an outbreak has to be how responsible the students are. I'm really impressed by everyone you see out being masked," she said. However, she had some reservations: "I'm still pretty skeptical that that's going to continue."
While Waller is satisfied with her choice to teach in-person for the fall, it certainly posed significant challenges. "It requires more flexibility," she said. "We know that most students are going through so many challenges, and there's so much stress, and illness, and fear of illness — that to be anything close to equitable in this environment is extraordinarily difficult, because we have to work under the assumption that every student who is here is sort of somehow operating under duress." In light of this, Professor Lloyd Waller made an active effort to take inventory of how her students were handling their stress. 
In addition to the added stress, Professor Lloyd Waller noticed less discussion in the classroom than during a typical semester. Due to the lack of upperclass students on campus, Waller observed that her classes were lacking a kind of 'knowledge-drip' that juniors and seniors usually offered. "They're sort of more willing to put themselves out there; they often open discussion, because they're sort of more confident by that stage," she said. "It might be a good thing for shy students to not be intimidated by senior-level students, but the opportunities to learn from the upperclass students are just missing." 
These changes made the classroom experience somewhat dull, for both students and professors. After the first month or so, the excitement of returning to school after a virtual semester and isolating summer faded. Waller recalls discussing this shift with her colleagues. "That excitement had passed into ok, we're in the semester of drudgery or something," she said. However, in-person classes alleviated some of the major challenges, which is why Waller is concerned about how the spring semester will affect first years. It's harder to learn remotely, and the lack of experience first years have with attending virtual college classes makes the impending situation even less ideal. "Before having the experience of doing it, when all these online universities would advertise, study in your evenings in the comfort of your own home, it sounded easier, but it is not easier," Waller said. "Learning happens in a community. You can bounce ideas off people, and when you're doing it by yourself, it just dries up." 
In spite of the multifaceted difficulties of the pandemic, Professor Lloyd Waller managed to hold onto some positives. Namely, she found alternative means of connection with her students, such as remote office hours. "Even after this is done, I think I'll have some of my office hours be remote because I can see that it attracts different sorts of students," she said. "The conversation through a computer can open up opportunities for conversation — maybe a shy student who wasn't comfortable coming to your office hours might be more comfortable."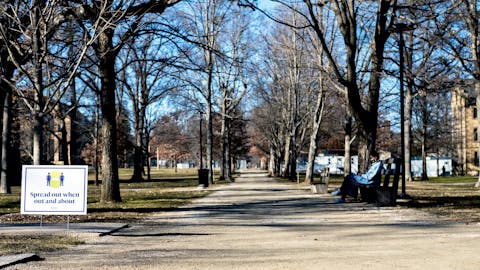 Outside of the classroom, Kenyon looked a skeleton of its former self. However, it was a skeleton that lives and breathes. Tension about conflicting approaches to safety pervadeed the social atmosphere, leaving students with mixed feelings about the Kenyon community's response to balancing public health and social needs. There were students who vowed to place safety above face-to-face interactions, and almost never failed to do so. There were also students who were more willing to put safety at risk to catch just a glimpse of normality. This made for a social scene that was far from boring, a tad confusing, and even, for some, isolating.  
Jack Braun '24 found himself using his intuition to navigate the tricky parts of this environment. "I think it's like a bit of going with your gut, because you sort of have to figure out who you can trust to be around. There are definitely people here who I would normally want to be friends with, but because they aren't being as safe, like, with COVID stuff, I'm not going to be friends with them this year," they said. In one sense, a silver lining arose for those such as Braun who take cautious approaches to socializing. Due to his selectivity, Braun felt like they made more meaningful friendships. "In a way, it's a way to make sure that you're only friends with people that you really trust," they said. 
A shared struggle may have made it easier for first years to bond, but socializing was not without difficulty. First-year students had a series of online events in the first couple of weeks after move-in, which were curated with the intention of facilitating a smooth, yet safe, transition. In reality, livestreams and Zoom breakout rooms aren't the most conducive to forming the foundation for long-term friendships. "It was very disorienting – like disorientation. It just felt a little bit like we were sort of just thrown into the mix. We didn't really get even an outdoor, distanced orientation, where we could meet people," Braun said. While it may have been more difficult than usual for first-year students to handle the initial college transition, Braun felt like things improved as the semester progressed. "I feel like I've been able to have a pretty good social life. I haven't been, like, isolated in my room the whole time or haven't talked to anybody — there's also always something to talk about," Braun said. 
They can't say the same for everyone, though. "It's less isolating than I would've expected, but it's still isolating," Braun said. "I think I'm lucky to have a really good support system that not everyone has." Mental health is always an important concern on college campuses, but the resources available to students in the midst of a pandemic are particularly crucial. The stress and grief brought on by COVID-19 has affected mental health rates on a national level. According to the CDC, symptoms of anxiety disorders and depressive disorders increased considerably in the United States during April and June of 2020, compared with the same period in 2019. 
Kenyon encouraged its students to engage in self-care and counselling, but Braun is skeptical of the approach that was taken during the fall semester. "All the emails about, like, mental health that say, we have all these online activities to do! — there aren't. … It's, like, two a week, maybe?" Braun recalls. They also felt frustrated that mental health initiatives were targeted mostly at individuals rather than the collective student body. A sense of community, or a lack thereof, is a large facet of college students' mental health as a whole. "I mean, I've honestly been surprised that there haven't been any social, even online, gatherings, that have been organized by Kenyon," Braun said. "I've been going to some that are sort of more student-led. I just don't think there's a lot of effort being put into, you know, even having places to talk." 
In addition to the experience of lacking a connection to the Kenyon community, Braun was also disappointed in how students responded to community COVID guidelines. Entering Kenyon's social scene, they expected more from their peers — in particular, that they would hold each other accountable for each other's safety. Braun found that this was not the norm. "In reality, I think that a lot of people are willing to write-off their friends, or excuse their friends a couple of times for breaking the rules: not wearing masks, going to a gathering or a party." Still, there were certainly people who abided by guidelines to the best of their ability. Many of Braun's peers only spent time with close friends whose COVID-19 test results were negative. But without all members of the community following the same rules, those efforts were diminished. "I wish there was more of a sense of general understanding, or holding each other accountable, calling out people, reminding people to wear masks to be safe, because I feel like people are so willing to forgive discrepancies. But if it leads to an outbreak, that's a big problem," Braun said. While it proved challenging for students to sacrifice much of their social lives, the efforts of the Kenyon community were effective in preventing an outbreak of COVID-19 on campus. 
On my first day of college, I couldn't seem to escape an onslaught of anxiety. Of course, I was thrilled to finally be at Kenyon. I had never been on campus until the day before I moved in; I had originally planned to visit in the spring of 2020, but COVID-19 also prevented that from happening. I yearned to step foot on Middle Path, to catch a glimpse of Moxie as he roamed campus. I looked forward to getting to know my peers, too. But my stomach also churned at the thought of it. 
I hadn't socialized with people my age — at this magnitude — in months. There was no way I wouldn't become an awkward mess, I thought. COVID-19 restrictions meant I couldn't have a roommate, either, meaning I would have to force myself out of my introversion in order to meet people. And to make matters worse, the possibility of making friends though events on campus was the lowest it had ever been. Virtual meetings wouldn't exactly facilitate the natural formation of friendship. Again and again, I was offered the same attempt at reassurance: you're all in the same boat. At the time, those words didn't mean much to me. My worries took up so much of my head space that I couldn't see myself integrating smoothly into a new social environment. 
To my dismay, my worrying didn't stop the inevitable. The moment came where I was alone in my dorm room. Nervously, I mulled over my options. I found the idea of eating my first take-away meal from Peirce alone in my room depressing. I decided to open my residence hall's Groupme chat and devise a dinner plan. A couple hours later, I met up with someone who lived a couple of doors down from me (little did I know, they were to become a dear friend of mine). As we approached Peirce, I felt a wave of tension leave my body. Some of that anxiety lingered, however, and its levels would continue to fluctuate as I navigated the rest of the fall semester. 
It took some time before I could let go of how I had always imagined my first semester of college. Alongside this frustration, I felt the subtle sense of being held up and supported by the people around me. We were all in the same boat indeed. The sentiment didn't rid me of my troubles, but it brought me the comfort I needed when my reality was ridden with uncertainty.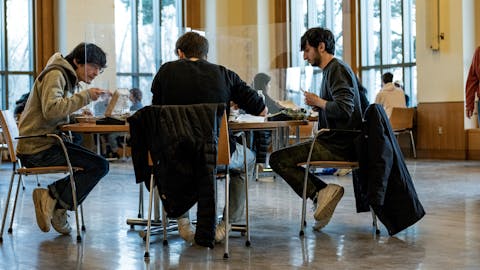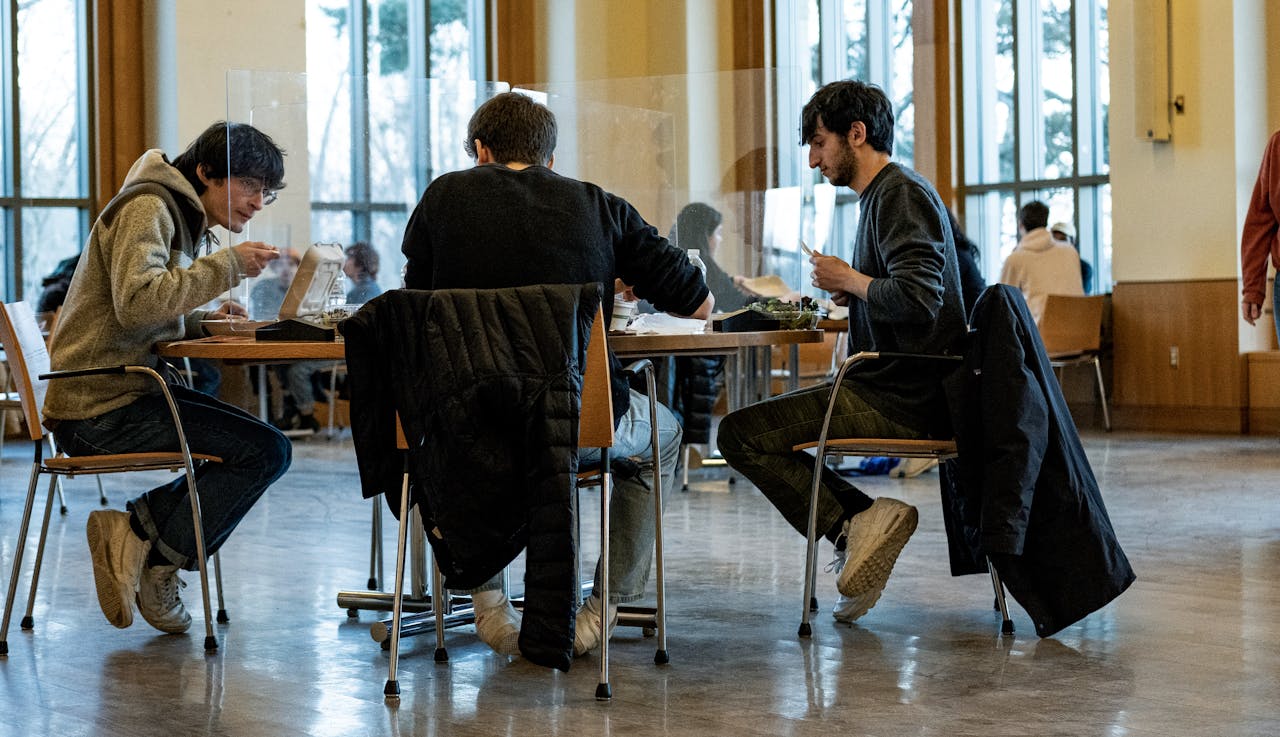 The strange nature of this past semester did not halt clubs and other extracurricular activities, but it did move them to online formats. Students' emails were flooded daily with information about virtual events and activities, such as Horn @ Home performances and group gaming sessions. The majority of club meetings took place on Google Meet or Zoom, creating a unique dynamic among peers. Some never interacted in person, yet their members would see each other's faces on the squares of their screens once a week, faces that could not even be seen by the few groups that did meet in person because they were hidden behind the fabric of masks. Regardless, there was still a frenzy of activity beyond academics for students to involve themselves in.
Sometimes the level of activity felt overwhelming, as Gabby Rachman '24 can attest. "I don't really like having a loaded inbox, so I feel like every club that emails me I'm just like 'junk, junk, junk,'" Rachman said. While in most years there would be an activities fair for new students to learn about the various clubs and activities available to them on campus, that was replaced this year by a virtual fair, where clubs were instructed to submit a video to be sent out to students via email during the first weeks of the school year. "I feel like that would have definitely influenced me to join clubs if there was actually a fair instead of an email of videos," Rachman said. 
One of the extracurricular activities that seemed most threatened by the pandemic was a cappella. Compared to simply talking, singing involves greater vocal projection, which means more germs spilling out of performers' mouths. This is a logistic challenge for staging rehearsals. Most a cappella groups decided to take a semester off, waiting until next year to recruit new members and sing together.
The notable exception to this was the Kenyon College Chasers. Mac Johnson '23 said that it felt wrong for the group not to proceed with business as close to usual as possible. "Music brings people together," Johnson said. "The thought that you would be able to come on campus and say 'hey, I really want to do a cappella but gosh, I can't sing for an entire year,' that, for us, was so much of a weirder alternative than saying 'hey, let's follow the protocols of not getting sick and then rehearse that way.'"
It was not an easy process, starting with auditions, which would normally all be in-person. Those auditioning filled out a brief questionnaire and sent in a 60-90 second video of themselves singing. The returning members of the group spent four hours parsing over these videos over Zoom. "It's definitely more difficult virtually because you don't really get any inclination of personality," Johnson said. "Forming any group, especially a singing group that's going to be together for five hours a week for every week, personality definitely has to be a big part of it. You can't just be a good singer." The Chasers held audition callbacks at the New Apartment tennis courts, where members on campus were finally able to meet the hopefuls in person, while those off campus Zoomed in. 
Eventually, the group selected their new members and began rehearsing. The on-campus folks would stand in a distanced semi circle with two laptops set up for off-campus members to Zoom in during rehearsals. This process left much to be desired. "It's hard to do it with people off-campus," Johsnon said, "it's really challenging to not be able to rehearse as an entire group, and it can genuinely be very frustrating." 
But as the semester went on, the Chasers got used to these strange rehearsals. They also were able to continue to build on the sense of community that they have cultivated over the years. "We have a thing every rehearsal where we will take at least five to ten minutes to just kind of sit down and talk and just get to know the people in your section," Johnson said. "I think the fact that we miss the upperclassmen so much, we tell a lot of stories about them… The freshmen, I hope, are able to gauge what they're like as people and how they contribute to the spirit of the group, even if it's not completely interactive."
Unlike most a cappella groups, Kenyon's varsity and club sports teams held practices this fall, although they look very different than they have in previous years. With the lack of an upperclassman presence on campus, sophomores were thrust into leadership roles, creating a situation where student-athletes like field hockey player Payton Doan '23 had to handle an added level of responsibility. "It's very weird having a leadership position directly to people who are my exact age," Doan said, adding that the sophomores had taken to calling themselves the upperclassmen.
COVID-19 has limited sports teams' capabilities. The North Coast Athletic Conference, which Kenyon competes in, did not hold any events this fall and Kenyon suspended all intercollegiate activity. The school followed the NCAA guidelines for returning to play, which are divided into three stages. During stage one, athletes can work out together in small groups, but can't use any shared equipment. For Doan, who is a goalie, this phase was particularly drab. "I couldn't be shot on, I couldn't pass with anyone, so it was mainly just me kicking with myself which was really boring, like not fulfilling at all," she said. By phase two, teams were allowed to use shared equipment but still had to stay in small groups and could not play defense, which would invite close contact. Doan said that things were a little better in this phase, since her teammates could finally take shots on her in goal, but it still was a far cry from a typical practice. In phase three, teams could finally scrimmage amongst themselves, bringing some semblance of normalcy to practices.
Team bonding is integral to Kenyon's sports teams, and the field hockey team was able to make it work despite the circumstances. "We do Zoom calls every other week with the whole team," Doan said. To help acclimate the first years to life on campus, the team would take group trips to Walmart or get together outside of practice in small groups. "We have a really good bond," she said. To Doan, the social dynamic feels different than it did pre-pandemic, though not necessarily worse. "The first years are really able to step up socially as well as well as athletically," she said, "They don't have the intimidating upperclassmen, so their personalities came out a lot quicker than ours did last year."
While clubs and sports tried to keep students engaged on campus, Kenyon continued to hold tours for prospective students. There were a smattering of in-person tours throughout the year, although the majority of them occurred virtually. Only admissions representatives gave these in-person tours, while student admissions workers helped with the remote ones.
Vikas Gudhe '23 served as a tour guide during the fall semester and noticed a significant difference between the remote and in-person tours. "With online tours, I feel like the information feels condensed and lecture-like," he said. "I think it still helps that it's there, and most of the time, at least almost all of my tours have been pretty solid and people that have been on tour with me, or the ones I am touring, have been pretty engaging… It's the best of what we can do, but I don't think it's anywhere as good as a real tour." Even for those who are lucky enough to tour Kenyon in person, the feeling on campus is very different from a normal year, making it hard to get a true feel for the school. "The pictures [alone] never really [do] justice as to what campus is like," Gudhe said.
When Kenyon was forced to move to a moderate COVID-19 alert — colloquially known as a quiet period — for nearly two weeks during the middle of the semester, the College stated that it would hold no in-person tours. However, numerous tours were still conducted during this period. An email from the Office of Communications provided an explanation for this apparent paradox, saying that they were allowing previously scheduled tours to proceed as usual in order "to ensure that visitors do not explore campus on their own and that they strictly adhere to the College's public health directives, including wearing masks and refraining from entering academic or residential buildings." Nevertheless, some students took issue with tours continuing while current Kenyon students lived through a lockdown. "I found the sight of admissions tours during quiet periods to be tone-deaf and frankly irresponsible," said Sally Smith '23. "While I understand the College's concerns regarding the possibility of visitors exploring campus on their own, I find actively inviting and allowing prospective students onto campus as being a somewhat dangerous decision in regard to public health."
No college first year wants to spend their first weekend at school crying to their parents over the phone. It was certainly not how Tati Gross '24 had planned it in her mind. After two weeks of the initial quiet period, where students' movements and gatherings were restricted, she thought she would finally have a chance to really socialize and form lifelong bonds with her new classmates. Instead, she found herself isolated in an empty NCA, lying on a bed that did not even have sheets. She was allowed to see no one, and her only interactions with the outside world were the few friends she had already made calling her to say, "Hey, you're missing this right now." 
In a normal year, saying that you spent your first weekend of college in quarantine would sound like something straight from a horror film. But 2020 was no normal year, and that's precisely what happened to Gross. Her saga began when she was administered her Kinsa thermometer after her second test for COVID-19 upon arriving on campus. The thermometers were given out to all students for them to track their temperatures on a regular basis, so Gross tried hers out that Tuesday night. "It started off at like 99.6, and I was like that's not usually a regular temperature," she recalled. On Wednesday, Gross felt sick throughout the day, and every time she checked her temperature it was hotter than the last. As a precaution, Gross went to health services Thursday morning for a COVID-19 test (with a supposed 24 hour turnaround time) and was told to self-isolate in her dorm. Later that afternoon, an email from the dean popped up in her inbox. It said that she was going to be moved to NCA 304 to quarantine as she awaited her test results and that she should gather her belongings. Gross was never alerted of exactly how long her quarantine would last, nor what to bring to the NCA. When she arrived she realized it was bare, hence the lack of sheets on her bed. "I talked to security [and] tried to go back [to her dorm in Mather]. It did not work too well so I did not end up with most of the things I actually needed," Gross said. "They told me after the fact, 'oh, you needed enough things for 14 days if you were quarantined. And then we'd move you to a hotel, and you probably wouldn't be able to grab your stuff from Mather if you were infected with COVID.'" Quite reassuring, she thought. 
That was not the end of Gross' problems. Her test did not come back on Friday, and because health services are closed on Saturday and Sunday, she was forced to remain quarantined all weekend long. Then it turned out Monday was Labor Day, and the holiday meant that she would not receive her test results until Tuesday. The NCA she was staying in had only one trash can and one roll of toilet paper, by no means enough for the length of her stay. She did not even have hot water. "There was almost no communication from anyone, because everyone was gone Saturday and Sunday," said Gross. "Occasionally dining services, only occasionally, would drop off food, so I missed a lot of meals which was not fun. I think I ended up losing about seven or eight pounds." This is how Gross found herself sitting on her bed that Sunday night, sobbing to her parents. "I was like, 'this is terrible, what do I do in this situation?'" Gross said. "My mental health was in the trash."
Gross may have been the first Kenyon student to experience quarantine, but she was certainly not the last. Pritish Das '24 was another student who went into quarantine this past semester, though his experience differed somewhat from Gross'. Das said that he began to feel sick one Saturday night. He spent the night in his dorm, hoping that he would feel better once he woke up the next day. But he did not, and his Kinsa thermometer indicated that his temperature was up to 102.6. It was a Sunday, and the health and counseling center on campus was closed. Das ended up finding a ride and going to the emergency room to get some tests taken. "I tested negative for the flu and for strep," he said, recalling the scene from that fateful day. "I have a virus, so COVID's on the table." However, the coronavirus test would take five days to come back, which meant that Das would have to quarantine at the Comfort Inn, a hotel in Mount Vernon that Kenyon had rented out for the semester, for five days.
This in and of itself was a big change from what Gross experienced, since she was quarantined in on-campus housing. Das' treatment was also significantly better than Gross'. Das described those supporting him as attentive and caring. "At one point I asked them to get me Tylenol because I had advils but they were running out quickly, and they gave me them," he said. Unlike Gross, he also stayed well fed. "They gave me all of the food options," he recalled, "I was never at a point where I was hungry, I actually ended up wasting a lot of food because they gave me so much." In this way, Gross sees some satisfaction that things changed from when she was in quarantine. "I feel like I was definitely more of a test subject in the situation," she said. "Luckily a positive thing came out of it… No one else is going to have to go through something that terrible."
Das' quarantine experience was not without its own issues, however. He remembered one night where he felt incredibly ill, and his Kinsa thermometer read 104. When he called Campus Safety, they put him on hold for eight minutes, making him and his health feel like an afterthought. "I [was] not frustrated by going to the Comfort Inn, I think it's the appropriate decision to make," Das said, "It's just general grievances that I think a lot of the campus shares, that there isn't a consistent 24/7 health care on campus."
When both Gross and Das got released from quarantine, they could breathe a sigh of relief, both for knowing they did not have COVID-19 and that they could rejoin the Kenyon community after so much time away. "When I got my test result I basically squealed," Das said, thinking back on that moment, "I don't know if I cried, I might have, I don't remember. But I was completely overjoyed." At the same time, it was a moment of reflection on the strangeness of the entire situation. "I never expected for me to have to go through that experience," Gross said. And really, how could she?
There was a torrential rainstorm the day I left campus this fall. It was only fitting, considering that living in Gambier had felt like living under a massive storm cloud all semester. That cloud was finally beginning to burst. After having nearly zero COVID cases since students arrived on campus, six students contracted the virus during the last week before everyone returned home. The school had been under a moderate alert once again for the final week and a half of the semester, meaning that interaction with the campus community was further limited than it was under "normal" circumstances. It felt like it was time to head home.
As a sophomore, in many ways I hit the jackpot. I was able to be on campus this fall and, somewhat controversially, I will be back this spring, as the College announced on November 2 that sophomores would be joining the juniors and seniors in Gambier for second semester. I guess I'm pretty lucky. Even though life on campus isn't the same as it once was, it still beats doing school from home.
As I was packing up my car on that stormy final day, a question that I posed to Rachman when doing an interview for this article came to mind: If the pandemic were to last another couple years and things did not return to normal after you graduated, would you be disappointed? "I've really enjoyed this [semester] so far," she told me. "It's probably the happiest I've been in a while, honestly. And I don't think I would mind if it stayed this way for a longer time than expected."
As someone who has experienced Kenyon when it is fully operational, my answer is a bit different from Rachman's. Yes, I would be disappointed. There is a lot that I missed this semester, and it would hurt to know that things would never be going back to the way they once were. But after living through this fall semester on campus, I can say with confidence that the new normal Kenyon is not the end of the world. And besides, we don't have a choice. This is our reality.