Running down the court in a tournament at New York University, Daniel Giguere '16, a former forward for the Lords basketball team, dove to the floor to recover a loose ball. As it bounced away from his outstretched fingers, he felt his head snap backwards, colliding with an opposing player's knee. The referee's whistle blew; play stopped. It would be the end of his basketball career.
"I was disoriented and completely lost," he said. "I had no cognizance of where I was on the court, and … I ran to the other team's bench. People were absolutely shocked. The gym was pretty full, but it went silent."
Giguere was escorted to the trainer's room by his high school friend, who happened to be watching the game with his family. The familiar faces provided him some comfort as the trainer analyzed the head injury and decided to withhold him from the remainder of the game. Yet, even after the final buzzer, Giguere's teammates knew something was wrong. He wobbled to the locker room to retrieve his belongings, hardly able to dress himself. He reported feeling "very, very woozy." It wasn't until his later hospitalization that Giguere knew what had happened — a concussion.
Although Giguere's injury occurred three years ago, his case is hardly unusual. Today, rising numbers of Kenyon students sustain concussions, whether from sports or everyday accidents. The year of Giguere's injury, 70 other Kenyon students suffered from concussions; the next year, 74 students received diagnoses. In the past two months alone, the College has seen 27 cases.
These growing statistics aren't exclusive to Kenyon. According to the American Academy of Pediatrics, concussions at schools across the nation have increased 200 percent among teens ages 14 to 19 in the last 10 years. Every year, more than 300,000 sports-related concussions are reported, and the likelihood of sustaining a concussion while playing a contact sport is about 19 percent per season, the University of Pittsburgh's Brain Trauma Research Center reported.
As the number of national and local diagnoses climbs season after season, Kenyon attempts to accommodate students' needs. Despite the College's efforts, however, inconsistencies in academic accommodations, player supervision and access to protective gear can escalate the risk of injury and interfere with students' recovery.
Sometimes referred to as "brain bruises," concussions occur when soft, vulnerable brain tissue slams against the hard tissue of the skull. The brain sloshes about, causing internal swelling and cell damage. Unlike a broken arm or a sprained ankle, this type of injury cannot be visibly detected. The lack of evidence, in turn, can make concussions more difficult to diagnose, according to Professor of Biology Christopher Gillen.
"When people have concussions, to some degree, the only person who can really know what the severity and effects are is often the affected person," he said. "That makes it hard for people in athletics and school, where there's a lot of pressure to get back in the game. It's easy to say, 'Oh well it's not that bad,' because when people look at you, you look fine … As far as I know, from a biomedical standpoint, I don't think we have a way to make diagnoses with 100 percent accuracy. There tend to be a lot of judgment calls in this kind of thing."
At Kenyon, the difficult duty of diagnosing concussions lies with the certified nurse practitioners and physicians at the Cox Health and Counseling Center. However, the Kenyon Athletic Center (KAC) training staff, headed by Mark Teeples, is often the first to notice the symptoms. Efforts to effectively diagnose concussions begin before the athletic season starts. A mandatory, computer-based neuropsychological evaluation, known as the ImPACT test, is taken by each student-athlete the day they arrive on campus. According to ImPACT Applications, the test "tracks a student's symptoms and measures multiple aspects of cognitive functioning, including attention span, working memory, sustained and selective attention time, non-verbal problem solving, and reaction time." This is the precedent used to establish what is considered "normal" for the student-athlete, and the student must return to this normality before she can be considered safe to reenter full-contact play.
When an athlete is suspected of a concussion, she is immediately removed from the practice or game, refrained from all physical activity and assessed by the training staff. A symptom checklist, in which the student-athlete rates her symptoms from a zero to a six, is administered initially upon removal, and is readministered regularly until the athlete feels symptom-free for 24 hours. At this point, the recuperation process begins.
There are three distinct steps, each separated by a 24-hour rest period, that the athlete must successfully complete in order to retake the ImPACT test. First is a light, 20-30 minute bike ride, followed by a more vigorous interval bike ride with sprinting and footwork drills and, finally, a full-exertion, non-contact practice with the athlete's team. Provided all three stages are completed without recurrence of symptoms, and the ImPACT test results align with the athlete's baseline, she is reintroduced to full-contact play under the discretion of a Health Center physician.
Because the athletic trainers cannot diagnose, they rely on Kenyon's athletic physician, Dr. Natalie Dick, or the physicians at the Health Center to fully treat any injured students. According to Health Center Director Kim Cullers, the three groups maintain extensive contact with each other in order to ensure that "all students [are] managed with the most up to date treatment guidelines." All parties involved maintain a Google Document with information about each student's concussion, test results and clear date.
"There's always open communication," Teeples said. "Especially in regard to head injuries, we're all very much on the same page, literally, as it can be."
Like the KAC's evaluation process, the Health Center's diagnosis process is multistep in nature. First, students rate their symptoms on a scale of zero to six, based on severity. Next, they undergo a complete neurological exam that tests cranial nerve function and reflexes. Based on the injury, the Health Center decides whether the student's symptoms warrant further diagnostic testing, such as a computed tomography scan (CAT) or magnetic resonance imagery (MRI). If necessary, students are sent to the Knox Community Hospital for further testing, or to the Emergency Room for more immediate treatment.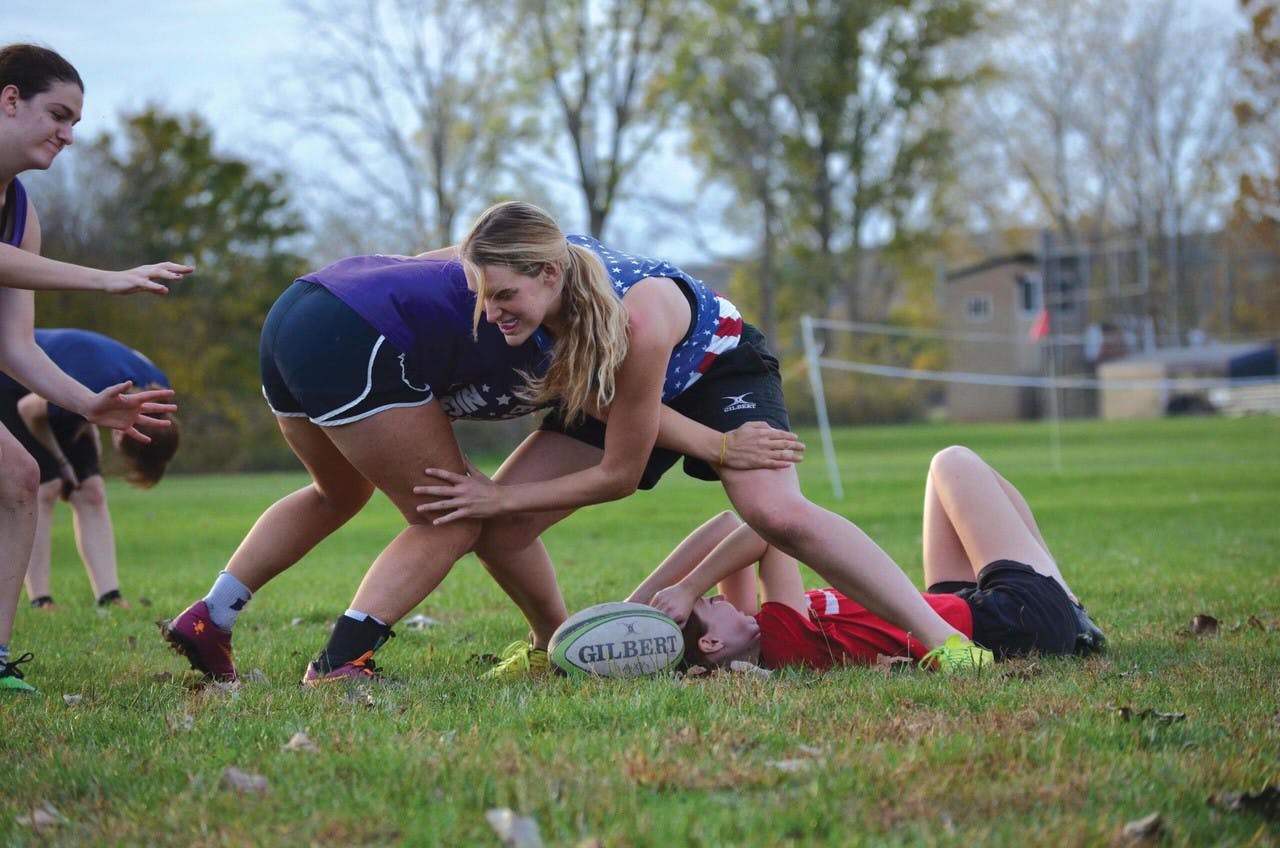 Jackie Hsu '17, who suffered a concussion last year after tackling a teammate in rugby and falling in her Contact Improv Dance class, received her diagnosis from the Health Center.
"There were like 70 questions you have to answer," she said of the diagnosis process. "It was very extensive. If you say 'yes' to a lot of things, they're like, 'Oh this is a terrible sign,' but gradually I got fewer points."
According to Cullers, students receive at least one checkup a week while recovering. Once students pass the Health Center's tests and are considered stable, they receive a packet detailing the Kenyon Concussion Policy, which includes information on how to care for one's injury, look out for warning signs and contact relevant campus resources, such as the Student Accessibility and Support Services (SASS).
Teeples emphasized that diagnosing and treating concussions is difficult, due to each student's individual baseline and reaction to injury, but that the College is working to best provide students with the care and attention they need.
"We've found that no concussions are the same," he said. "They're all different, and everyone reacts differently, so we need to be really cautious with them."
Often, the harmful effects of concussions don't end with the diagnosis or after initial treatment. Even after the preliminary symptoms disappear, these injuries can have lasting effects, both athletically and socially.
Athletes often report feelings of helplessness and exasperation when sidelined by severe concussions. Britny Patterson '19, of the Ladies softball team, recalled a "general tone of frustration" among herself and her teammates when she was withheld from her team's conference games.
"I think the hardest thing is watching your team play and not being able to do anything," she said of her concussion, "especially when things get rougher. It's always great to be able to share in your team's success, but anyone who's wearing a uniform can do that. But it's a lot different when your team needs help and you feel like you could but you just can't."
Patterson was fortunate enough to be able to re-enter play after a physician cleared her. However, some athletes walk off the field with a concussion and never return. Meredith Krieg '17, a former defensive player on the Ladies soccer team, suffered a severe concussion as a first-year student during preseason training. For Krieg, this was familiar, yet frightening, territory — she had had several concussions prior to college, and had been diagnosed as "slow to recover." She began to have seizures, and experienced an unusual recurrence of her symptoms nearly three months later, despite no new collision. Then, a final concussion at the beginning of her second season sent Krieg, once again, to the Health Center, where she was told she could no longer participate on the team.
"It wasn't super shocking at that point," she recalled. "My senior year of high school, I was concussed six months of the school year. I had told my parents coming into college that if I got another one, I was done."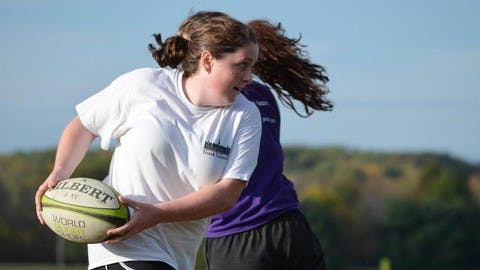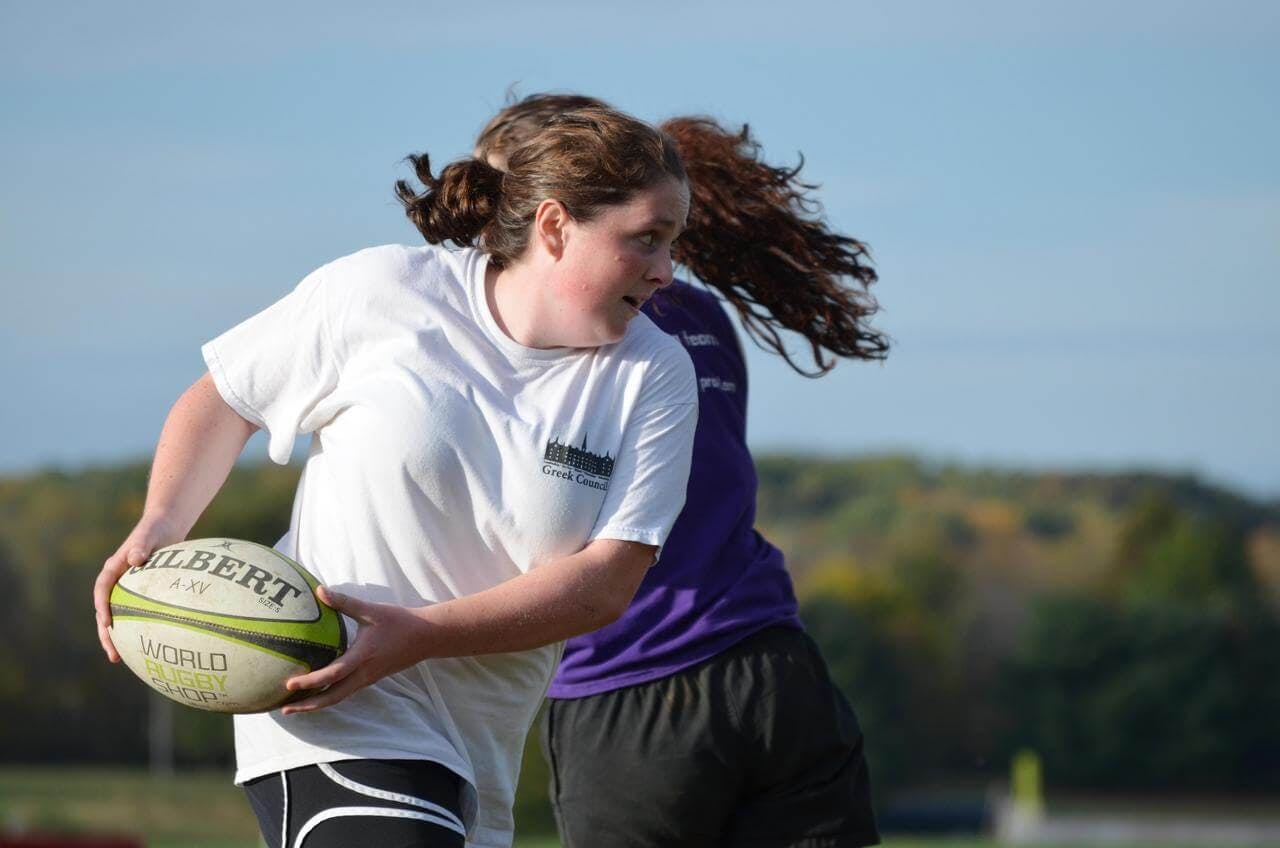 Krieg continued to stay on the team as the manager, but was disheartened that she could not fully participate in the sport she had come to love.
"It was rough," she said. "Soccer is a sport I've been playing my entire life. It's a great stress relief, and it's a great group of people. I still love the team and spend time with them, but it did stink to be told that I wasn't playing again."
Krieg's frustration and difficulty extended beyond the soccer field, though, affecting her ability to make friends her first year. Krieg said she "doesn't remember much of orientation, really," and that she "couldn't engage … couldn't carry on a conversation."
Hsu, concussed while playing on the club rugby team, also faced social difficulties, reporting that her sensitivity to noise and light made it impossible to sit with her friends in Peirce. She began eating alone in the Pub to find solace.
"When you're concussed," she explained, "there's a lot of emotional things that go along with it, because you're constantly isolated from your friends … I felt really alone and I couldn't even think."
Concussions in the classroom
A traumatic brain injury such as a concussion also poses serious complications to one's studies. Difficulty reading, typing and focusing are common among concussion victims. Kenyon's academic policy, overseen by the Dean of Academic Advising, the Dean of Students and the Committee on Academic Standards (CAS), attempts to accommodate concussed students to ensure their speedy recovery and assist their scholastic progress.
Once a student is concussed, the Dean of Students' office sends out a notification to her professors, and copies the Dean of Academic Advising, the Director of SASS, Health Center staff and trainer staff. A packet on the College's Concussion Policy is included in the email so both students and their professors know how to treat and monitor concussions.
Once the email is sent out, students can be granted academic accommodations in accordance with the SASS office. The accommodations — which allow students to have extra time on assignments, or take tests in dimly-lit rooms, for instance — are granted on a student-by-student basis, according to what each individual might need.
While the SASS oversees this process, accommodations are also made at a professor's discretion. This, in turn, means that a student in one class could receive different accommodations than a student in a different class.
Gillen, the former head of the CAS, explained that because each student responds to concussions differently, it can be difficult to streamline the procedure across the classes and departments.
"I think maybe there's opportunities for more education about what concussions entail and what people can be expected to do or not do when they have a concussion, but the problem with that is that every concussion is different," he said. "There's no one size fits all."
However, he emphasized that faculty are expected to fully communicate and cooperate with students to provide them with the opportunity to recover.
"I think a good thing about Kenyon is we tend to give people some latitude to come up with local solutions that make sense under the circumstances," he said. "Faculty members know about the situation, typically, and work with the student to try to go through it."
Some students, however, felt that their professors did not grant them the accommodations they needed to recover. Hsu, whose professor said she could not have more than two excused absences, said her condition worsened after having to go to class.
"I technically still had to participate even after I used up my two excused absences," she said. "My professor said she could have [given me accommodations], but it would have been more reading to do, and that would have hurt my head. So that was kind of hard, trying to juggle that. It took me about a month to heal, and apparently the process should have taken about two weeks."
Patterson, on the other hand, said her professors were especially helpful in extending deadlines and overseeing her papers.
"It was a bit overwhelming, but the professors were really understanding in helping me to work out when papers would be due," she said. "I'd be like, 'Okay, I have your paper, but I also have papers for two other classes — how can we work this out?' They'd help me out on the due dates for that until I was well enough to do everything."
Gillen explained that the College maintains an oversight process that allows students to come to the Dean of Academic Advising or the Dean of Students if their professors are not accommodating. However, he remarked that "my sense is that these things usually … don't happen often."
"I know that the College is continuing to work on this concussion protocol to try to make it work as best as it can for everybody involved," he said.
Indeed, academic policies regarding concussions are subject to reevaluation in semesters to come. Once a semester, a group within the College meets to look at how to best improve Kenyon's concussion-related policies, practices and procedures. The group includes Dean of Academic Advising Hoi Ning Ngai, Dean of Students Janet Lohmann, Director of SASS Erin Salva, Head of Intramural Sports Grant Wallace, Teeples and Cullers.
Salva mentioned that the College also meets periodically with other schools in the Great Lakes College Association (GLCA) to review academic support services, including those provided to concussed students. In recent weeks, two members of the GLCA have implemented policies emulating Kenyon's to better accommodate injured students.
"Other GLCA colleges are doing exactly what Kenyon has done in terms of sharing information regarding recovery and support services, facilitating direct communication between students and faculty and offering accommodations," Salva said. "The protocol we have in place is designed to give students the information and support they need in order to rest at the outset of their injury."
While concussed students may encounter different challenges from classroom to classroom, student-athletes face added inequalities on the athletic field. Although both club athletes and varsity athletes have access to trainers' services and assistance, supervision is not equally dispersed across the sports. While trainers are almost always on the sidelines at varsity practices and games (or reachable by walkie-talkie), they are only physically present at club teams' games and tournaments.
"[For] any varsity sport, there is a requirement that the host school provides an athletic trainer," Teeples said. "That is not a requirement for our club sports. Our club sports are hopefully ahead of the game, and they do try to get trainers out there and have us available to help with those kinds of situations, but our Health Center does a great job of helping people come in, and that's usually when you see [a diagnosis]."
Teeples noted that club sports see a higher number of concussions every year, compared to varsity sports, but said he cannot draw a direct causation between increased injuries and lack of on-site trainers.
"Maybe it's because you don't have a coach on site, [or] maybe it's because you have people who aren't really sure how to play the game," he said of club sports. "Maybe it's a recreational thing for thing for them to start out with, and sometimes that can cause awkward falls or somebody tackling someone the wrong way or landing incorrectly … I think it's because maybe they don't have the body control of a true athlete, and that's not to say a varsity athlete, but someone who has done more athletics and knows how to fall or get tackled or get out of the way."
Hsu, who began playing rugby last spring, said she does not think club sports are "disadvantaged" by a lack of trainer supervision. However, she worried that club sports may be more prone to harm if encouraged to tend to their own injuries during practices.
"I think it puts students at a higher risk of getting injured and not knowing what their injury is`," she said, "because I definitely wasn't aware that I was concussed. I feel like if I were to do soccer or something, I would go to my coach and my coach would be like, 'Go check yourself.' [In rugby] I got tackled, and they were like, 'Get up.'"
Patterson, who became concussed after getting hit with a softball during preseason, said she understands why trainers may be able to dedicate more hours to supervising varsity athletes.
"We're kind of putting ourselves on the line physically to get prizes for the school and get Kenyon's name out there," she said. "We're bringing not academic honors, but different kinds of honors to Kenyon. I don't feel that it's unfair that we have trainers that are looking out for our well-being, especially because we have very intense practices."
Teeples, who stated that Kenyon's trainers have a 98 percent travel rate in terms of accompanying varsity teams on away games, said he hopes to give club sports like rugby and ultimate frisbee more access to trainers.
"Do I think it would be a benefit?" he said. "Of course. I would love every team to have a dedicated trainer."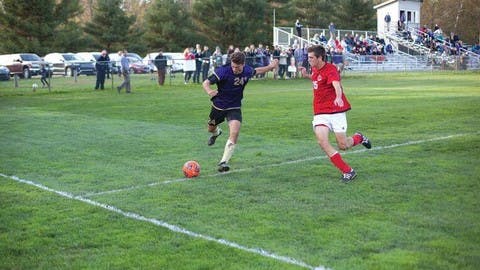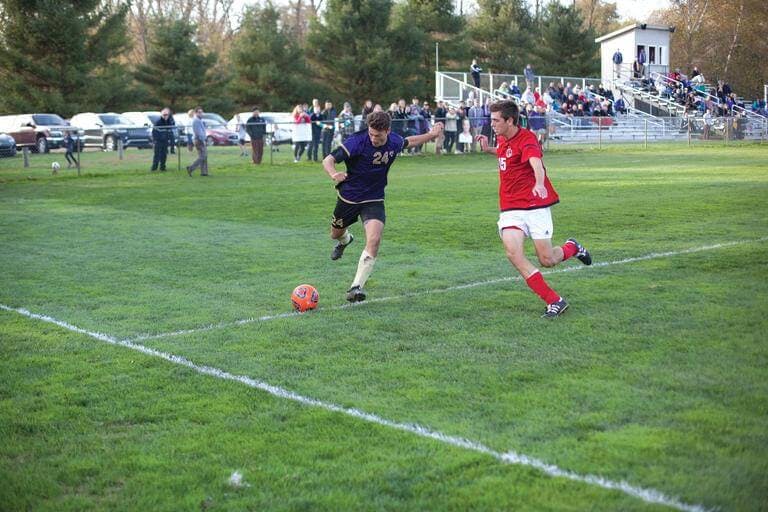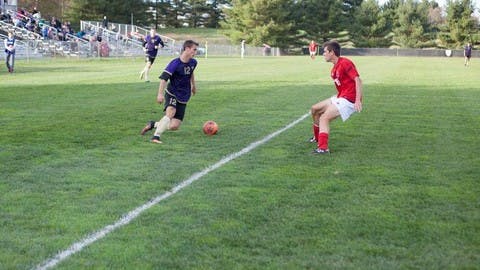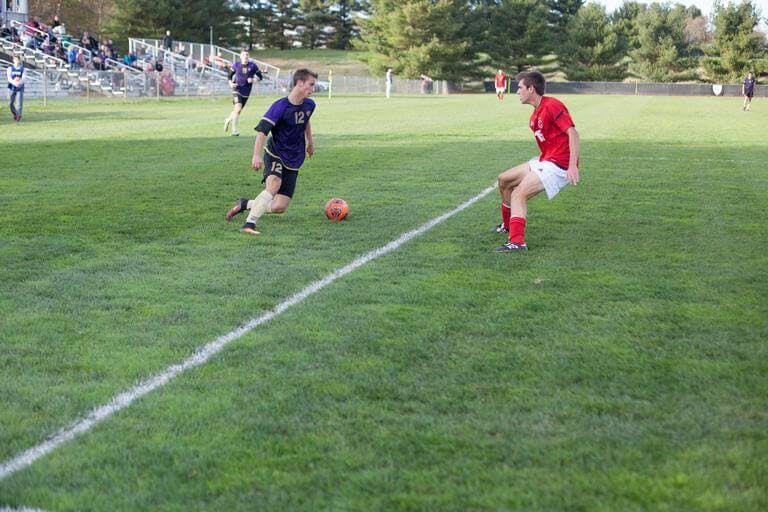 In addition to their unequal access to trainers, teams at Kenyon and throughout the country face different risks of injury, depending on the sport. According to the NCAA Injury Surveillance Program (ISP), men's football suffers from the most concussions per year, with an estimated 3,417 injuries. Women's soccer, at 1,113 injuries, is followed by women's basketball (998), men's basketball (773) and men's wrestling (617). The ISP found that about 10,560 sports-related concussions occur in the NCAA annually.
The researchers further noted differences in sex-comparable sports, with women's sports reporting higher numbers of concussions in four of five activities. Authors described this finding as "consistent" with earlier NCAA findings, citing "greater angular rotation and head-neck segment peak acceleration and displacement in women, weaker neck muscles and the possibility that female athletes are more likely to report concussions."
With this in mind, a number of teams at Kenyon are increasing protection for their athletes. Women's Soccer Coach Kelly Brian explained that the team has begun doing neck
strengthening exercises in order to "prevent the whiplash effect, to help it slow down." She added that the team has also started wearing mouthguards in the past two years in order to prevent some of the physical impact that can engage one's jaw.
"Those are two things that we feel we can control, and that's about all we can control," Bryan said. "It's a contact sport. Right now, that's what we believe we can do to try to help — never eliminate, but diminish."
Men's Basketball Coach Dan Priest said the nature of his sport makes it difficult to take precautions relating to concussions.
"We're not having constant head contact," he said. "If [a concussion] happens in our sport, it's a fluke. Their head hits the ground, or two guys' heads bump into each other, or something. There are very few preventative measures for us, in terms of them occurring."
Teeples explained that Kenyon does not mandate protective gear, aside from what is required by the sport, such as a helmet or padding. Some sports, like rugby, however, do not call for additional equipment.
"I think rugby is basically football without helmets and gear," Hsu said. "You're prone to get hurt."
Teeples said that lately, more teams are using mouthguards and looking into preventative exercises, but that the spontaneous and powerful nature of concussions makes them hard to manage.
"You're going to find that nothing prevents a concussion," he said. "But [gear] can help to maybe lessen the impact or make it less significant. If we can limit exposure to the terrible things that happen sometimes with a concussion, that's always a goal."
Protective gear has been in use for decades, but the terminology associated with head injuries has not. Gillen grew up in an era before concussions were called concussions. He recalls the soccer and hockey games of his youth, in which head injuries were considered little more than "getting your bell rung." Without any preventative or rehabilitative protocol, athletes were compelled to "push through" headaches and dizziness with little more reprieve than a water break.
"We didn't take them as seriously," he said. "In the cartoons they drew funny pictures of people with stars over their heads, but those are concussions."
Teeples confirmed that, even a mere five years ago, athletes would falsely attribute their concussion symptoms to the Kenyon Krud.
In the last several years, however, an expansion in concussion education has prompted more athletes with head injuries to come forward and receive diagnoses. Teeples says that, if there is a rise in the number of diagnosed concussions, it is due to the increased number of students seeking medical attention.
"I think because it's known out there that because we have resources to find out what's going on, and people are scared of concussions, they want to make sure that's not what it is," he said. "That education has helped people go to the Health Center or come to us or go to [the] physician."
Gillen agrees that this influx of education and preparatory measures has been instrumental to the health and safety of Kenyon's student-athletes. He cites the ImPACT test as essential to the diagnosis procedure, as it compares the healthy and concussed brain of the same student-athlete.
"We didn't use to get these baselines on folks, so someone would come in with a potential concussion and it was really hard to tell whether they had one or not because there's so much variation from person to person," he said. "This is good basic science — you have to be able to use people as their own before and after control in order to assess whether they've been compromised in some way."
Gillen explained that while tools like baseline tests can help monitor injuries, treating concussions is an ongoing process, both at Kenyon and in college athletics in general.
"[Tests are] an improvement," he said, "but I still don't think we have it solved."