Learning with the Loss
Hopeful for change after Trump's election, Kenyon's Democrats rallied behind the energetic but unsuccessful congressional campaign of Ken Harbaugh. The lessons they learned along the way may be the key to influencing their heavily Republican county.
Days after the 2018 midterm election in November, Janet Byrne Smith '76 sat with her husband, Murray Smith, in the leather armchairs of Wiggin Street Coffee, wondering what to make of the election results. The couple, who retired to Gambier in 2017 after living for many years in New Jersey, had just spent months campaigning for the former Navy pilot Ken Harbaugh, a Democratic candidate for the U.S. House of Representatives in Ohio's 7th Congressional District, which contains Knox County.
"We were in every village in Knox County at some point," she said.
The Smiths weren't alone; hundreds of other Democrats from the district campaigned for Harbaugh, whose message of "Country over Party" inspired a grassroots movement for a congressional candidate unlike any the district has seen in recent years. Mary Rugola-Dye, the Vice Chairwoman of the Knox County Democratic Party, thought the enthusiasm around the campaign rivaled that of Barack Obama's campaigns. It was the most excitement she had seen for a midterm election since she got involved in local politics in 2002. Robert A. Oden, Jr. Professor of Biology Joan Slonczewski, a key member of Harbaugh's campaign in Knox County — Harbaugh himself referred to her as "General Joan" on several occasions — estimated that Knox County volunteers alone knocked on more than 15,000 doors. Considering that much of the region is spread out with few accommodations for pedestrian traffic, this was no easy task.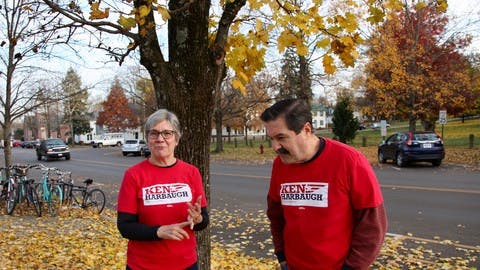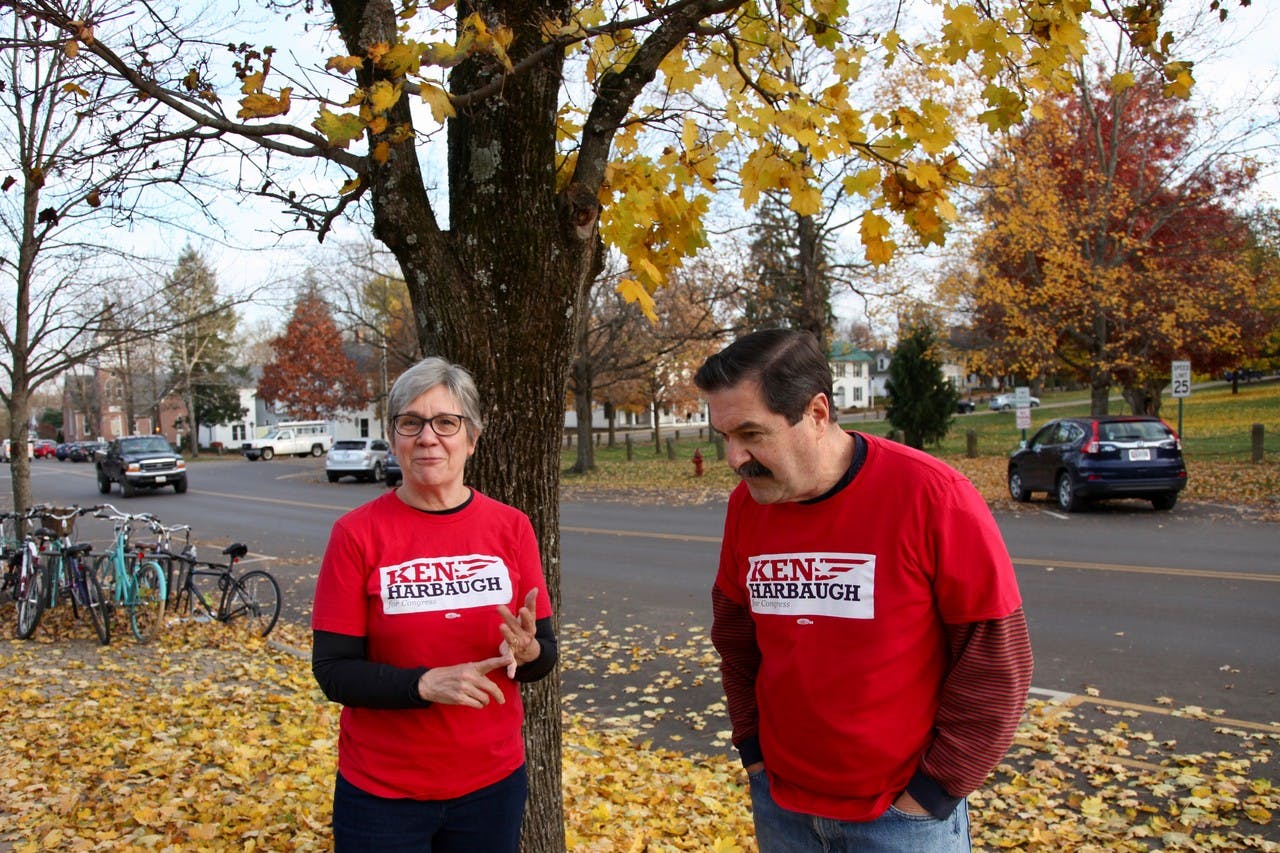 Harbaugh's volunteers were fighting an uphill battle — the Republican incumbent, Bob Gibbs, won the district by 35 percentage points in 2016, and President Trump won it by 30 — yet they hoped their candidate's appeal would help them overcome that deficit. Prior to running for Congress, Harbaugh was the president of Team Rubicon, a nonprofit organization that employs veterans in disaster relief efforts across the world. And like other Democrats looking to flip red districts this past election, he focused on local issues like healthcare and the opioid crisis while distancing himself from national party leaders like Nancy Pelosi.
Most importantly, Harbaugh ran his campaign in direct response to Gibbs' own history of inaccessibility. In March 2017, amid complaints that he wasn't responding to constituents' requests for a public town hall, Gibbs held a virtual one via Facebook Live. Harbaugh felt this was not enough. He made a point of holding town halls all across the district during his campaign. Gibbs also avoided frequent requests for a debate, at one point calling the idea of one a "political stunt," until finally agreeing to debate Harbaugh at Ashland University a week before the election.
"This far into the campaign, I should be exhausted and dragging," Harbaugh told The Collegian Magazine after a town hall at Kenyon in September, "but coming down here, events like this, I refer to them as my campaign caffeine. I look forward to them."
All this would not have been nearly as effective if it wasn't for Harbaugh's charisma. At last summer's Knox County Fair, he drove his white pickup, spray-painted with the words "Ken Harbaugh 4 Congress," in the Rough Trucks event, which requires participants to navigate a bumpy dirt track with a large ramp at the end. Harbaugh didn't shy away from the danger; he sped up as he reached the ramp, totaling his car in the jump, and emerging from it with both arms raised and a stream of blood running from his nose. His first campaign ad began with footage of the jump followed by a scene of Harbaugh, now dressed in a suit, entering a business meeting. He looks put-together, except for the single strip of medical tape across his nose. The message to rural voters is clear: Ken Harbaugh is willing to get his hands dirty just like you do.
However, when the election finally came around, Harbaugh only made a dent in the Republican control of the district. He lost to Gibbs by 18 percentage points. Byrne Smith admitted that she knew Harbaugh was a long shot, but the apparent ineffectiveness of her campaigning bothered her. "Everybody seemed to vote party line… I don't know, if this is the way it is, what can we do?" she asked.
Byrne Smith's question reflects a pressing reality for Democrats in rural areas. While the House of Representatives shifted to the left in this past election, the Democratic success story was largely limited to suburban districts. Supporters of Harbaugh sometimes cited Conor Lamb, a moderate Democrat who, in a special election earlier this year, flipped a district that President Trump won by 20 percentage points in 2016, as an example of what they hoped might happen in the Ohio 7th. That comparison misses a crucial difference between the two races. Lamb rallied the support of Pittsburgh's southern suburbs to gain office; Harbaugh failed to win in a district whose largest city contains fewer than 35,000 people.
That's not to say that Harbaugh's campaign didn't have a strong foundation of support. In fact, a small but avid center of Democratic resistance was already waiting for him by the time he declared himself a candidate. After the 2016 election, a local group of left-leaning residents, called Gibbs Watch, dedicated themselves to keeping their congressman accountable to his constituents. Largely based in Knox County, they created an active Facebook group and began holding weekly protests in Mount Vernon called "Signs on the Square." The protests, which have happened every Saturday in the Mount Vernon square since January 2017, aim to bring visibility to the group's complaints and frequently touch on the topics of healthcare and the environment.
Many of the leaders of this movement, like Slonczewski, are Kenyon faculty members and employees who describe the 2016 election as a kind of wake-up call. John Crowe Ransom Professor of English Kim McMullen remembered, "I sat on my couch and cried for about two weeks and then decided that I didn't want to simply be depressed for the next four years." When she and the other members of Gibbs Watch heard about a promising prospective candidate named Ken Harbaugh, they were ready to do everything they could to help. The 2018 midterms would be their first test.
Yet for the members of Gibbs Watch, changing the politics of their rural surroundings proved more difficult than they had hoped. What's more, they can no longer blame their loss on a lack of trying. When a group of energized volunteers cannot help an appealing, moderate Democrat at least come close to defeating a bland Republican incumbent (Gibbs' most notable legislation in the past few years is a voter ID bill), Byrne Smith's question becomes even more relevant, especially for those Kenyon-affiliated Democrats who wanted to effect change in the wake of Trump's election.
But this isn't a question without answers. Despite its outcome, Harbaugh's campaign, with all of its publicity and excitement, led Kenyon's newly-invigorated Democrats down a path of engaging with and understanding their political surroundings that, in the long run, may be even more important than getting a single charismatic candidate elected to Congress.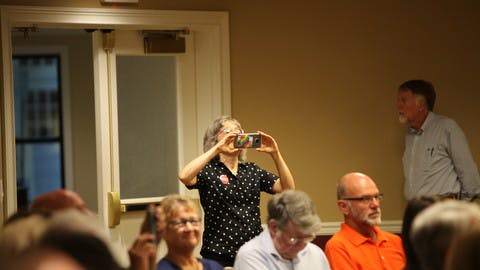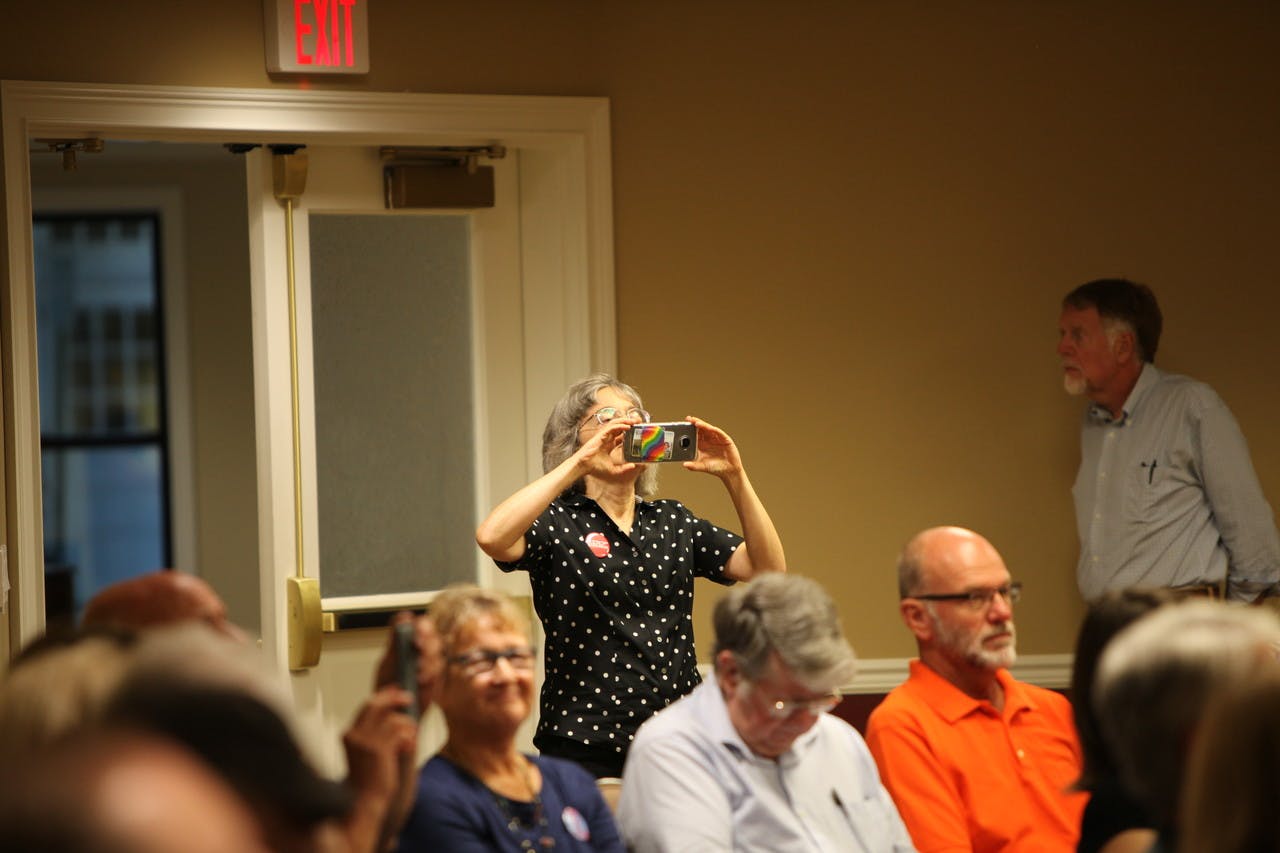 In July, The New York Times published an interactive map of votes cast in the 2016 election followed by an article titled "Political Bubbles and Hidden Diversity: Highlights From a Very Detailed Map of the 2016 Election." The article displayed images of some of the more interesting locations on the map, including one of central Ohio. In the lower left of the image is Columbus, a large burst of blue that fades out at its extremities; around it is a sea of red, blocks and blocks of Republican voters with only slight variations in color, save for a tiny chip of solid blue in the top right corner that the Times circled and labeled "Kenyon College."
This situation may not change anytime soon: Assistant Professor of Political Science Kurt Pyle, an expert on U.S. politics and elections, noted that, in Ohio, the districts that swung to Trump in 2016 continued to vote for the GOP in 2018. The polarization caused by Trump's presidency, he said, seems increasingly to fall along the education divide between suburban and urban areas and rural ones.
On a state level, this trend bodes poorly for Democrats. The party used to rely on less-educated manufacturing communities in the north and south of the state for support. Without as many suburban areas as other parts of the upper Midwest, they will have to figure out how to win back those less-educated voters. But this is also an important question for Democrats in Knox County, where the college education rate is 10 percent lower than the national average. In neighboring Holmes and Coshocton counties, the rate is 24 and 20 percent lower, respectively.
Tellingly, Harbaugh's campaign actively avoided mentioning his education at Duke and Yale. Schuyler Stupica '19, the campaign's campus organizer for Kenyon who has been volunteering for the Harbaugh campaign since summer 2018, said it focused on his military background instead. "People can relate to Ken because there's so many military families in this district… He never mentions he went to Yale. That would probably not be a good strategic decision here." When she advertised for Harbaugh's town hall at Kenyon, she found herself playing down his military background and focusing on issues like renewable energy instead.
For Kenyon, an expensive, left-leaning institution of higher learning in a poor rural area that can seem hostile to the "liberal elite," the problem becomes how to navigate this divide. And for Kenyon Democrats who want to change their surroundings, it is even more important.
Kenyon's history has largely been one of isolation from the rest of the community. Geography plays a big role in this — the College sits upon a hill and is about a 10-minute drive away from Mount Vernon — but educational, economic, and background differences have always been there too. Kenyon has more students from the top one percent of earners in the nation (which includes families with incomes of greater than $630,000 a year) than the bottom 60 percent (families with incomes of less than $65,000 a year), according to a 2017 report from the Equality of Opportunity Project. And combined, more students come to Kenyon from California or New York than Ohio.
More recently, Representative Gibbs used the increasing tension between the stereotypes of coastal liberal and rural conservative to his own advantage. A good portion of his campaign consisted of questioning Harbaugh's identity as an Ohioan by pointing to his ties to wealthier coastal regions. His two nicknames for Harbaugh, "Connecticut Ken" and "Hollywood Harbaugh," played on rural fears of influence from outside liberal forces. In an acceptance statement posted to Facebook, Gibbs wrote, "Despite the best efforts of the Democrat Coastal Elite to buy elections here in the heartland, we stopped them here."
There is some truth to Gibbs' claims. Nine out of the top 10 zip codes that donated to Harbaugh's campaign belonged to wealthy coastal regions. Harbaugh defended this disparity by noting that it would be unfair of him to expect the constituents from his already poor district to fund his campaign, especially since he wasn't taking any money from Political Action Committees. But there is another side to this statistic too. The only zip code in that top-10 list that was from within the district was Gambier.  
Kenyon-affiliated members of Harbaugh's campaign were hyper-conscious of the stigma that could surround their position. Vahni Kurra '20, who volunteered for the Harbaugh campaign this summer, said that Kenyon's lead volunteers discouraged students from wearing Kenyon apparel while canvassing: "We really tried to minimize the idea that there was a liberal elite coming in trying to tell people how to vote." If people asked where she was from, she would tell them she went to Kenyon, but she said she wanted to start off the conversation without that context.
But despite all the inflammatory talk in Gibbs's campaign and the precautions taken in Harbaugh's, all volunteers said their background differences never became points of contention while they were canvassing. On the contrary, many found that Kenyon students in particular were frequently well-received. "Honestly, most people I talked to, they were pretty excited that I was a college student and that they saw young people out and about," Kurra said.
In fact, one of the biggest realizations for Democrats at Kenyon during the Harbaugh campaign was that all the polarization and anger at the national level would often take a backseat during face-to-face interactions. "There's a misperception here that somehow or the other the county sees us as an alien species," Professor McMullen said. "I live out in the country. I live on a dirt road. And while people are curious about Kenyon, I don't think they think somehow or the other that we're a little piece of Manhattan that's been dropped in the cornfield or something." McMullen said that she also didn't announce that she was from Kenyon when she canvassed, but not because she was afraid it would turn people off. "I don't see that as a liability. I just see it as not part of the conversation.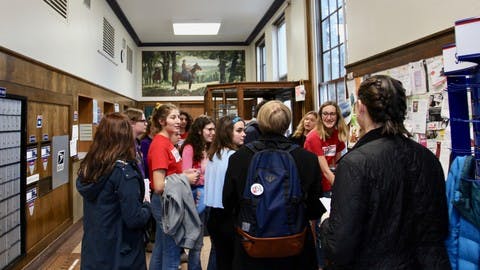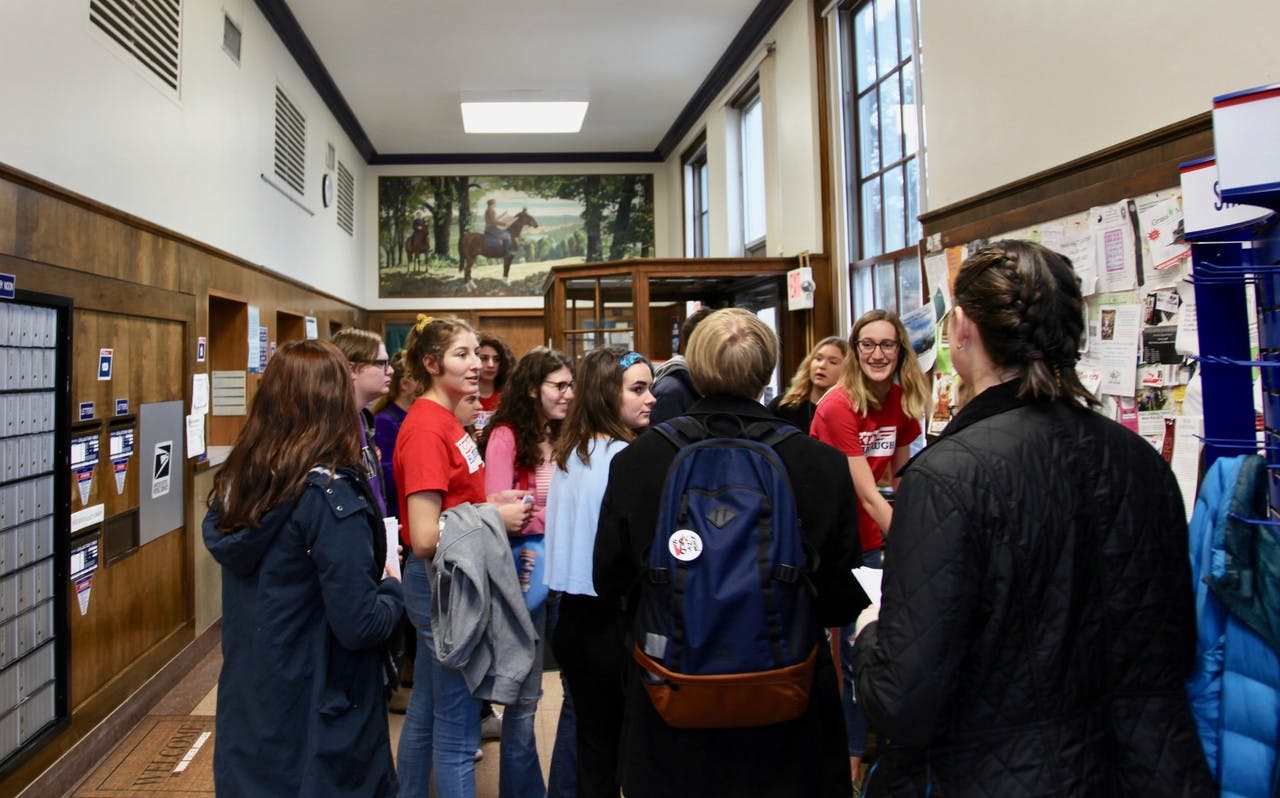 On an overcast September evening, Byrne Smith was walking around Apple Valley on one of her and her husband's weekly canvasses. At one house, a woman opened the door with a baby in her arms and two kids crowding the doorway behind her. As a man across the street sat in an office chair in his driveway clipping his toenails, the woman expressed her worries about safety in schools and the opioid crisis. At another house off a gravel road, an older Navy veteran opened the door and complained about the Department of Veterans Affairs. He nodded along to everything Byrne Smith said, agreeing with her that Representative Gibbs was "useless," but as soon as he heard that Harbaugh was a Democrat, a look of despondence fell over his face.
At an early October town hall in Mount Vernon, Harbaugh, with his characteristic candor, told an audience of over fifty local residents, "There's no better political commercial on earth than looking a neighbor in the eye and saying, 'Here's what should happen.'" 
According to Professor Pyle, political science research agrees. More than TV advertisements or mailers or phone calls, door-to-door canvassing is one of the most effective routes to changing voters' minds, he said. At its core, Harbaugh's campaign understood this. Kurra said that, over the summer, Harbaugh's campaign referred to itself as a "listening tour." When she was knocking on doors, she would always start off by asking what that person's concerns were. Only later would she talk about Harbaugh's positions.
Knox County's volunteers drew inspiration from the campaigns of a well-known Democrat: Barack Obama. In the spring, they solicited the advice of Hayden Schortman '08 who worked on both Obama campaigns. He told them that, before they started sharing Ken's message, they had to understand their community's needs.
As canvassers spread out into the community, they found that many of the people who answered their doors were shocked that a politician wanted to hear from them. "There's been a few times where someone has told me, 'No one has ever knocked on my door for a political candidate before,'" Stupica said. "I could tell that really went a long way to help them maybe have more faith in the system."
After the midterms, some of Harbaugh's supporters laid blame on the gerrymandering of Ohio's districts. There is no doubt that Ohio's districts were drawn to favor Republicans — the Ohio 7th narrowly curves around two other liberal strongholds, Oberlin College and The College of Wooster — but Pyle thinks that's not the whole story. For one, Ohio's dense concentration of Democrats in small urban areas makes drawing fair districts difficult. But no matter what, intensely one-sided districts tend to discourage political engagement. In the absence of real competition, incumbents don't need to pay as much attention to their constituents, and constituents, as a result, can become indifferent.
Coming into the Harbaugh campaign, Gibbs Watch had just spent nearly a year and a half holding its weekly protests, with only some degree of success. Reactions from people driving by were mixed, and Gibbs was often unreceptive to their complaints. Canvassing provided a new approach for the group; instead of one-way interactions between protestors and onlookers, they could go straight to their neighbors and engage them in meaningful conversations.
The encounters frequently involved an exchange of information between both sides. Oftentimes, the people who came to the door couldn't name their representative or any of his positions. Professor Slonczewski recalled a small-business owner who was frustrated by some aspects of the Affordable Care Act (ACA) and thought it should be repealed. She, in turn, told him about some of the benefits of the ACA and his representative's stance on it. "We learned things about Obamacare that need to be fixed, and he learned what his representative is doing," she said.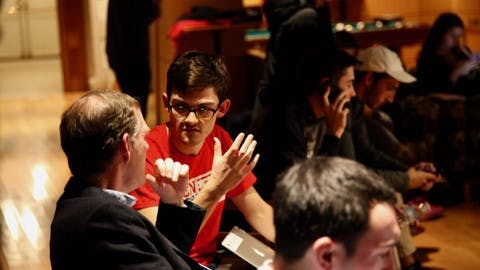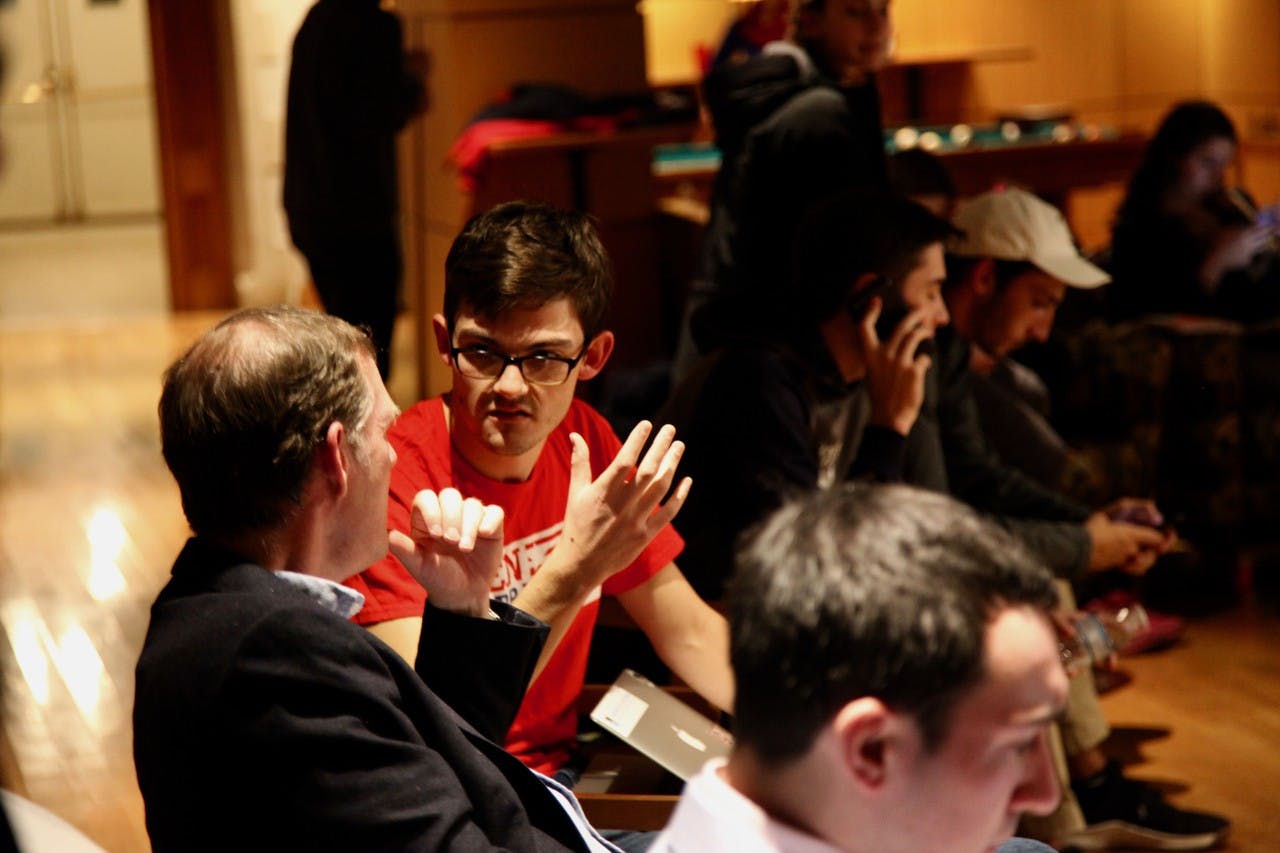 For canvassers from Kenyon, many of whom left mostly-Democratic areas to attend a mostly-Democratic college, this exchange could be eye-opening. While canvassing this fall, Charlie Woolsey '19 met an elderly woman who was living alone. He and his canvassing partner got into a lively discussion with her, and eventually she invited them into her home to chat. Though she ultimately seemed unlikely to vote for Harbaugh, Woolsey still appreciated the interaction. "One thing that's been great is that, going out canvassing, I've gotten to talk to people who have totally different points of view than many people at Kenyon," he said.
So instead of spreading their own ideals, Kenyon's canvassers ended up tempering their beliefs to the real needs of the community around them. "At Kenyon it's like, yeah, I know we all want Alexandria Ocasio-Cortez who's out there saying free healthcare, free college education," Kurra said, "but we also just need basic healthcare. We need somebody who's going to start reforming gun laws, and we need people who are going to start even chipping away at the Republican establishment."
The significance of these interactions wasn't lost on Knox County's Harbaugh campaign. Slonczewski said that, at the beginning, canvassers underwent several training sessions to learn how to have these constructive conversations. During the rest of the campaign, they would pair new volunteers with experienced ones and have them take notes on their outings so they could recognize patterns and adjust. It was a constant learning process.
In the end, the Harbaugh campaign gave Kenyon Democrats two important lessons. The first is how easy it is to have face-to-face conversations with other constituents, and the second is just how much they could learn from them. Through the necessities of a campaign, they began a process that could eventually lead to a long-lasting change in Kenyon's political relationship with its surroundings. Before the election, Professor McMullen recognized the impact of Kenyon's canvassing: "I want Ken to be elected, but whatever happens on November 6th, we have begun a conversation with our community that we should have been having all along."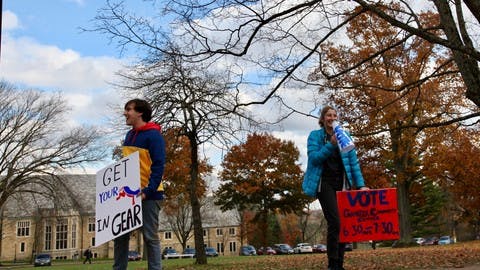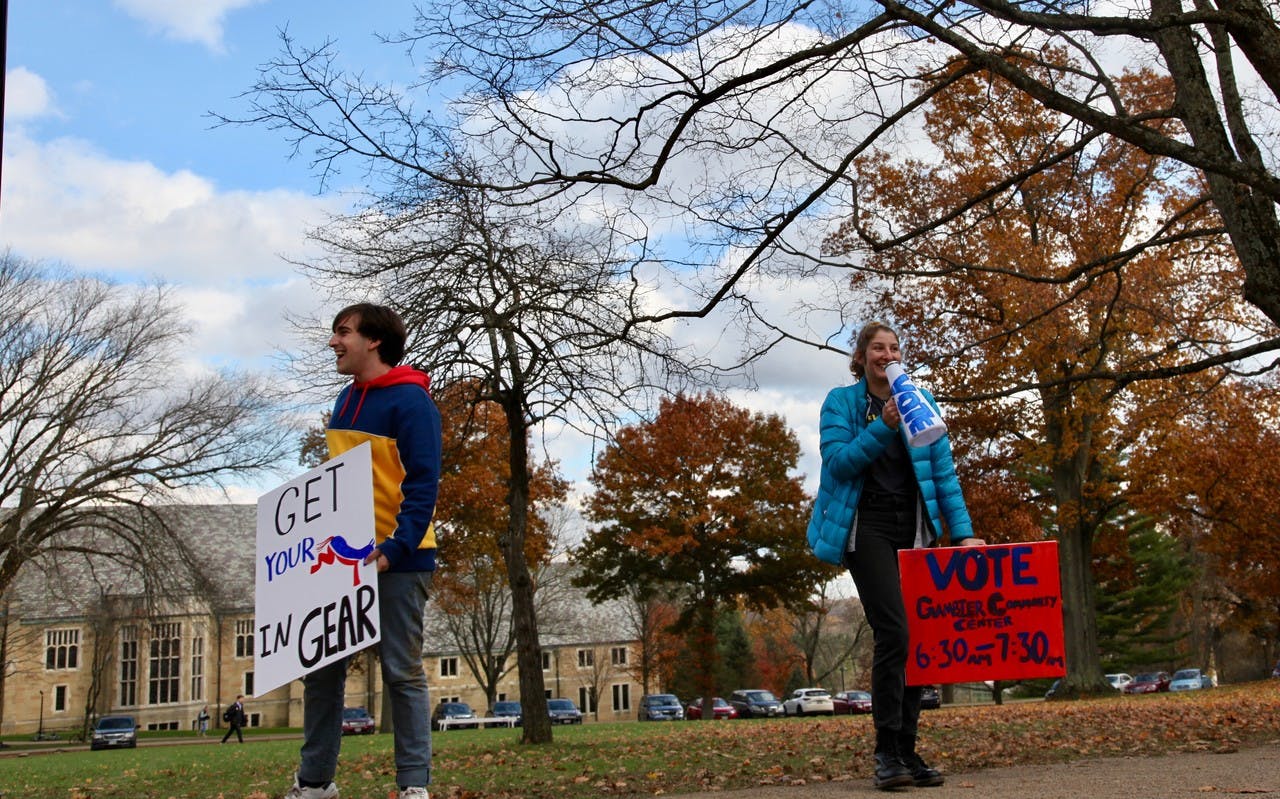 Nonetheless, Harbaugh's landslide defeat was a difficult pill for many on his campaign to swallow. At Wiggin Street Coffee, Janet Byrne Smith reflected, "We were out there the day of the [Brett] Kavanaugh hearing… Kavanaugh was speaking, and we had a couple of people come to the door and say, 'I'm listening to Kavanaugh, I don't have time to talk, but I would never vote for a Democrat after this!'"
Murray Smith cut in: "It was real polarizing," he said, then added that the it felt like the other side had "a larger megaphone than we had." When asked if he thought there was anything they could have done differently, he joked, "Other than pulling the cable out of their television?"
The couple referenced the migrant caravan from Central America that dominated national discussion before the midterms. President Trump made several false claims about the caravan on Twitter, sent troops down to the border, costing the U.S. over $200 million, and issued an executive order that limited asylum-seekers in the country. But after the elections, his worries about the caravan quieted down, even though it was still approaching the U.S.-Mexico border. Trump even ordered the troops at the border to go home a couple weeks before the caravan arrived.
For Byrne Smith, the seeming powerlessness of Harbaugh's bipartisan message in the face of fear was discouraging. "He was such a strong candidate," she said. She and Murray Smith wondered if their canvassing wasn't as effective as they had thought it was.
Slonczewski was more optimistic about their impact. After the election, she pored over the canvassing notes from the campaign and compared them to the difference between the number of votes for Harbaugh and the previous congressional challenger. According to her, the number of positive conversations that canvassers had was about equal to the gains Harbaugh made in the County.
Either way, the volunteers learned something from those encounters too. Well before Harbaugh came along, Knox County Democrats were trying to change their conservative district; learning how to converse with their neighbors despite increasing polarization is crucial to that goal. For some, like Slonczewski, Harbaugh's loss just means that the district isn't ready for that charismatic candidate yet. The goal now is to translate the energy around him into a lasting movement for change.
In hopes of reflecting this widened scope, Gibbs Watch recently changed its name to Ohio 7 Watch. The move is in part a return to the issues that motivated the group before the 2018 congressional race, but it also represents an expansion of the group's focus. They now want to pay attention to local positions, not just one congressman, Slonczewski said.
As for Harbaugh, he announced on Facebook over Thanksgiving that he is writing a book about the lessons he learned from his campaign. He pointed out that, even though he lost, his campaign pulled off the biggest number of swing votes from the previous election in any district in Ohio. Clearly, he too thinks there was something special about the movement he inspired.
As Harbaugh moves on to this new project, the steering committee for his Knox County campaign has been workshopping plans for life after the election too. One idea, according to Byrne Smith, is to assign different volunteers to different precincts in the County. Each volunteer would get to know the needs of the people there so that they could help them in the future. Slonczewski said that the steering committee wanted their activities to remain low-key. That way they could pursue their goals "without all the glare of a campaign."
Engaging with the local community isn't really a new idea at Kenyon. For the past few years, the College has been making steady advances to increase its ties with its surroundings. In January 2017, it opened up the Wright Center in downtown Mount Vernon. The building houses the College's film department as well as the Office for Community Partnerships (OCP), which aims to foster collaboration between Kenyon and members of the local community. One outgrowth of the OCP has been the promotion of Community Engaged Learning classes that bring Kenyon students into the community to interact with and often help solve local issues. 
In that sense, Kenyon's members of Ohio 7 Watch, rather than being unique in their goal of engaging the local community, are part of a growing trend among Kenyon's own community of recognizing the importance of its voice off the hill. They are just doing so in a political context, and they see themselves as part of Kenyon's overall educational mission.
"The spirit of our effort has been entirely consistent with Kenyon's mission of encouraging community engaged learning," Slonczewski said, noting that the campaign raised funds for six internships for Kenyon students last summer.
McMullen thought that Kenyon's role as an institution of learning means it shouldn't worry about losing involved students to graduation. As a teacher, she assumes she is going to have to teach students the same material each year. That applies to cultivating political activism too. "There is going to be another student and that student is going to be good too," she said.
So, to answer Byrne Smith's question of "What can we do?," the answer might simply be to keep trying and learning. While 2018 may have been a harsh blow for rural Democrats, Kurra doesn't think that means the effort is pointless. "We still have this momentum," she said. "We really have to keep trying to put forth the change that we want to see in our government, because no one else will."
The key for Harbaugh's old volunteers at Kenyon is to keep that energy going. And part of that process has been to understand and engage their position within a region that is much different from them. In the current polarized state of the nation, Kenyon's Democrats have the opportunity to do what most of the country is moving away from: to communicate with those with whom they disagree. And even though they weren't able to lead a revolution in the two years since 2016, they did make progress.
"I see people in the store now. I know that, ideologically, they're probably quite a ways away from me, but now we say hi, we chat," McMullen said. "They're not my friends, but now they're my community."