Inside Morrow County Jail
How a rural Ohio jail became the epicenter of the U.S immigration crisis.
In a small county in rural Ohio, a sprawling, dull red building sits alone. This unassuming place is the Morrow County Correctional Facility, the primary target of an ongoing campaign to end the operations of Immigration and Customs Enforcement (ICE). At one point, the local jail held upwards of 51 ICE detainees. Throughout most of this investigation, fewer than 10 inmates matched that description. On February 14th, an email blast from Lynn Tramonte, the Director of the Ohio Immigrant Alliance, confirmed that number has reached zero. This was a hard-won victory for the Alliance, and a complicated one. 
Morrow County Jail is a perfect storm of modern American politics. It combines a rural county, a 100% COVID-19 infection rate, negligent local leadership, poor or nonexistent healthcare, abusive officers, the specter of modern-day slavery overseas, and a lucrative contract with Immigration and Customs Enforcement (ICE) which kept the entire operation afloat. An ACLU lawsuit, the Ohio Immigrant Alliance, and Kenyon's Active Students Helping the Earth Survive (ASHES), formed a formidable opposition to the jail's collaboration with ICE, and the threat it posed for detainees.
Today, the storm looks unusually calm. But activists chose Morrow County Jail to receive an avalanche of attention for a reason: The jail provides an alarming and vivid picture of the array of problems threatening detainees' lives. 
Considering the amount of unwanted attention Morrow County Jail is getting from activists, it's no surprise that they've landed in legal trouble. Claire Chevrier, policy counsel at the ACLU of Ohio, worked on the lawsuit to release prisoners from four Ohio jails. Her team filed a habeas petition to release certain individuals from four Ohio jails with ICE contracts, based on their medical needs. "A habeas petition," Chevrier says, "is a legal instrument that lawyers can use to get into court to say that somebody's detention is violating their constitutional rights." ACLU of Ohio filed two different lawsuits: one in the Northern District of Ohio covering Seneca and Geauga jails, and later, one in the Southern District of Ohio, which covered Morrow and Butler.
The ACLU began looking at Morrow County Jail soon after they began work on the Northern District of Ohio case, "and while we were in the process of building that case, every single person in Morrow Jail tested positive [for COVID-19]," said Chevrier. Saidu Sow, an ICE detainee formerly held at Morrow County, gave a similar answer when asked how many inmates tested positive: "All of us. All the immigrants that was there at the time, each single one of us tested positive. It was 49, at the time. Each single one of us got it." According to Chevrier, that development kicked the ACLU's work into high gear: "We filed a lot more quickly than we were planning to… So we were able to get a number of different people released from Morrow Jail, demonstrating that being held there, given their medical conditions, violated their constitutional rights."
In April and May, after several all-nighters, the ACLU got 21 people released from ICE detention. Morrow County's efforts to protect its inmates had not been particularly strong up until then. Chevrier brought up the jail's failure to provide detainees with soap. According to Sow, Correctional Officers ("COs") didn't take COVID-19 seriously early in the pandemic, believing it was just a common flu. Chevrier and Tramonte both told me expired thermometers were used to take inmates' temperatures. 
Chevrier says local jails across Ohio have done an excellent job decreasing incarcerated populations, aware that social distancing is literally impossible in any jail setting. Methods like cite-and-release, eliminating financial condition of release, and simply letting people wait for their court dates at home instead of behind bars make a great difference. But jails with ICE contracts can't let a different agency's detainees walk away, even when lives are at risk. Keeping this up, Chevrier says, is dangerous for inmates and surrounding communities alike. She's written multiple articles on the subject. 
When local jails began releasing their own arrestees, local ICE offices should have done the same: "ICE had internal documents [ERO guidance] and guidance telling its local ICE field offices to release people with really serious medical issues. That was just not happening," said Chevrier.  She insists that ICE is letting this happen. When local authorities in contracts with Enforcement and Removal Operations (ERO) don't meet the conditions and standards laid out, the immigration agency is, legally, the injured party. But they don't care about the safety of the people they've placed in detention, even in a pandemic.
In fact, no one trapped in Morrow County Jail is safe, regardless of their arresting agency. Chevrier told me that one man died shortly after being released from the jail, due to complications from diabetes and COVID-19. Sow mentioned that inmates often overdose on narcotics, including fentanyl. A brief report of three inmate overdoses appeared in the Morrow County Sentinel last year. In fall 2020, Morrow County Jail drew widespread contempt after local news reported on a poorly handled string of disasters, including two jailbreaks and a suicide. The jail is also understaffed and underfunded: The COs make under $20 an hour, according to The Columbus Dispatch.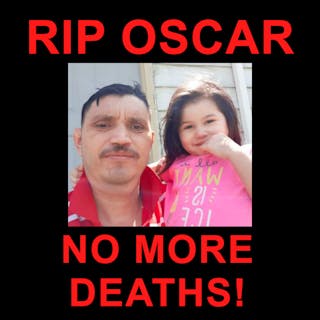 The ACLU isn't anyone's immigration lawyer. They built their argument using inmate reports of unsanitary conditions inside the jail, but the core of their case is the pandemic itself, which makes it impossible for certain people to survive in a restrictive congregate setting long-term. The habeas corpus petition was possible, and urgently necessary, because so many detainees have underlying medical issues. Chevrier explains: "We were just making a civil rights argument that they, the conditions under which they were being kept, were unconstitutional, given the pandemic." 
On those grounds, Judge Sarah D. Morrison ruled to release a number of people from the jail in the case Prieto v. Adducci (2020). Some plaintiffs, however, were later redetained. Mory Keita, a Guinean immigrant formerly detained at Morrow County, is one of them. Mr. Keita was deported in December. A federal judge in Cincinnati issued an order saying he should remain in the U.S. pending his testimony, but it was too late: Keita was already mid-flight. 
That was a frustrating and devastating blow to his friends on the outside. Activists and organizers represent half the fight to shut down the jail, working closely with the ACLU, Ohio immigration lawyers, and detainees themselves. This includes Kenyon students with ASHES (Active Students Helping the Earth Survive), an on-campus radical organizing group.
ASHES invited Tramonte to speak at a meeting a few months ago. It wasn't ASHES's first time fighting ICE. ASHES co-chair Graham Ball '21 wrote to me in an email: "We [ASHES] stood in solidarity with the ICE detainees living under inhumane conditions inside Morrow County Jail…. ASHES has worked with the Ohio Immigrant Alliance to help provide material, emotional, and promotional support to the ICE detainees languishing in Morrow County." It was ASHES's work with the alliance, protesting outside the jail and sending emails, that brought this story to my attention last fall. 
In October, ASHES members launched an email and phone call campaign to pressure the sheriff on inmate safety issues. They all sent the same email, a few paragraphs citing some of Morrow County Jail's most disturbing incidents: a man dying while supposedly on sucide watch, unsanitary conditions, expired thermometers, and more. They urged Sheriff Hinton to take action in his capacity as a public official to improve conditions at the jail. The response was dismissive, even hostile. ASHES member Rebecca Renner '24 sent that same email. Minutes later, she heard back: "I appreciate you reaching out to me. I notice you have copied this email from another one I received shortly before yours. The information you have received is unreliable. Thank you for your time. Sheriff Hinton." 
I brought this up when I interviewed Tramonte a few months later. I asked her if Hinton was lying, confused, or being lied to. She answered quickly:
"The sheriff is lying."
Tramonte has a way of cutting through the mess of accusations and getting to the truth- which is based only on what she'd seen, or been told. She paints an unflattering picture of Sheriff Hinton, insisting that he is "protecting himself." 
Most of Tramonte's information comes from immigrants inside the jail. Taking refugees' lived experiences and statements seriously is at the heart of her work. Detainees and their families haven't hit a false note yet: "Every single thing they've been telling me since March has come true… I have known about suicide before anybody knew about it. I knew about the escapes before they notified the media. I knew about all the COVID." Detainees are arrested by ICE in other counties, and transported, often by Butler County authorities, to Morrow County or a similar facility. The community, Tramonte says, is virtually all white and mostly elderly. The tax base can't support the jail on its own, so authorities took in ICE detainees. Morrow County, she says, should not even have a jail.
"It's dangerous driving to work. It's dangerous driving to pick up your kids from school. Because, you know, racial profiling is rampant," Tramonte said. She and Sow, who is now detained at Butler County Jail, both emphasized the danger of being denied a birth certificate by one's country of origin, a mechanism of institutionalized oppression that followed some Black Mauritanians overseas. It helped land Sow in detention in 2018.
Most detainees aren't deported directly out of Morrow County. Large groups of immigrants from the same part of the world, Tramonte told me, are put on planes and sent to Louisiana or Arizona. From there, charter companies paid by ICE fly deportees to whatever country will take them. For Mauritanian refugees, the voyage to Africa is traumatic and dehumanizing. According to Tramonte migrants are shackled from their hands to their feet, "like they're Hannibal Lecter," for the entire flight, which could take up to 24 hours. 
This is the worst case scenario for asylum-seekers. Many of them may be forced to return to a hostile country of origin if they are deported. So they live under unlivable circumstances in the United States, and they do it for years. 
Saidu Sow is one of them. Mr. Sow, a Mauritanian immigrant in his 40s, is detained at Butler County Jail. When I first reached out to him, he was still at Morrow County, where he's worked closely with activists on the outside to expose a number of threats.
Sow tried to seek asylum in the U.S., but his case closed abruptly when an envelope holding his immigration court date never showed up. Mr. Sow lived in the United States for almost two decades before ICE arrested him a few years ago. He's been in detention ever since. We talked over the phone during his very limited personal time, mostly about Morrow County. 
The first thing I asked Saidu Sow was how he's doing. "I'm alive," he answered calmly.
I asked how life as an asylum seeker today compares to the way things were before 2017. "Wow. It was a big difference… America was different from the America that I saw the last four years," he responded. ICE rarely deported Mauritanians before 2016. Immigrants lived in the U.S. for years, working full-time jobs and raising families. In the past few years, the same people have been detained and deported. 
Detention is supposed to be a mechanism that prevents people with court dates from disappearing. It's become punitive in practice. Inmates are separated from their families, and the lives they've built for themselves in the U.S. According to Sow and the Ohio Immigrant Alliances' other contacts inside ICE detention centers, local authorities are hostile and violent. And with the onset of the COVID-19 pandemic, life inside any jail became even more dangerous, especially for those with underlying medical issues. Mr. Sow has had COVID twice.
Before he stepped inside an ICE facility, Sow says, he hadn't really experienced direct, explicit vitriol for being an immigrant. People would hide their resentment. Today in Ohio, according to Sow, COs and ICE agents harass refugees directly: "The thing that went to shock me the most is the people that work for the United States government itself: ICE agents," said Sow, who claims that he and his fellow inmates have repeatedly been discouraged from seeking asylum. "ICE officers are hostile. Sometimes racist. I mean, I hate to use that word, because it's a strong word to use, but it is facts." He told me that physical attacks on detainees are frequent, and that solitary confinement is used as a punishment.
The relationship between ICE detainees and state inmates inside the jail is ugly, too: "There's only a couple immigrants, and… we're surrounded by state inmates. And they tell us, like, 'Do people wear clothes back home?' They just show you, from day one trying to demonize you. Sometimes, making you feel like you're not a human being," said Sow. 
Tragically enough, this is not the first time Mr. Sow has been made to feel that way. Spreading a message of equality while facing off with a corrupt and racist system is the story of his life. It's what he and his loved ones hoped to escape by fleeing to America. To understand this important background, we need to look somewhere distant from Morrow County, Ohio: the country Saidu Sow, and a large portion of Ohio's immigrant population, left behind.
Mauritania is a country in western Africa, formerly under French control. It's upper class is predominantly Arab, while the lower class is Black. The social division runs deep. Black Mauritanians are oppressed to the extreme. While the country didn't come up in many mainstream conversations about immigration during the Trump years, the former president and his administration made Mauritanian asylum-seekers, and Black undocumented immigrants in general, a target for deportation. 
The Trump administration redirected hundreds of millions of dollars to increase removals to "recalcitrant" countries — nations which, like Mauritania, didn't want to accept deportees. The revised immigration agenda targeted Africa and Asia. For Ohio's Mauritanian community, this move was a disaster. After Trump took office, the U.S. quickly deported a record number of Mauritanians. Lives, and families, were crushed in the abrupt, brutal process.
Issa Sao was deported to Mauritania after 14 years in Ohio. He spent his last 5 months on U.S. soil being shuttled from one jail to the next, separated from his American wife and children in Cincinnati. According to the Cincinnati Enquirer, Sao had a legal work permit and a full-time job when he was arrested in 2018. Like many refugees, Sao had been denied asylum. He appealed, and was denied again, in 2009. Yet he continued to live and work in the U.S. for almost a decade. At the time, this was standard procedure. The Department of Homeland Security issued work permits to refugees without asylum status, letting them live relatively ordinary American lives, so long as they appeared for regular check-ins with officials. Someone like Issa Sao, who followed every rule and had no criminal record, was the absolute last priority for deportation. 
America denied Sao citizenship. But so did Mauritania. Some 70,000 non-Arab Mauritanians were expelled from the country following a bloody ethnic conflict in 1989. They were left stateless. Fearing torture or death, and aware that the absence of citizenship papers makes him vulnerable to enslavement, Issa Sao quickly fled Mauritania again. He's now in Senegal, where he has continued his fight to rejoin his family in the United States.  A safe return to the U.S. is a logical next step in immigration advocates' mission to undo the previous administration's zero-tolerance deportation campaign. The Biden administration will need to confront the issue, too, because the root problem isn't going anywhere.
Mauritania became the last country in the world to abolish slavery in 1981, but the practice never disappeared. Saidu Sow, who was born in the 1977, grew up before slavery was criminalized, and vividly remembers his childhood experiences working without pay, and his adult experiences resisting government repression. Inside the confines of Ohio jails, he's met younger Mauritanian refugees, and learned how little has changed. There is a resistance in Mauritania, though, and Mr. Sow was part of it for as long as he could be. "I believed in change… standing for equality and justice. I believed in all those things. It was easy to understand, that anybody can be an equal, and slavery would be banned."
Sheriff Hinton of Morrow County earnestly expressed no knowledge of what his detainees are afraid of going back to, or even what part of the world they immigrated from. Morrow County Jail sounds like a nightmare when told by someone who has lived it. But from where the sheriff is standing, there's really nothing out of the ordinary.
After about a month of missed calls and emails back and forth, I managed to get Sheriff Hinton on the phone for an interview. When we finally spoke, he was the first one to ask questions. "My experience with Kenyon College in the past when it comes with this kind of stuff was not real favorable for me. And I'm not gonna say that you're doing that, but the reason why I bring that up is, I'm curious who you talk to, on the other side of the spectrum, I guess," he said nervously. I confirmed that I go to Kenyon, knew about ASHES, and had already spoken with Tramonte. I promised not to take him out of context and did strike some remarks from the record at his request.
Sheriff Hinton expressed no knowledge of abuse inside the jail. He didn't have answers to most of my questions about deportation and detainees, repeatedly saying that was ICE's side of things. In our conversation, He painted a picture of a typical jail, with typical COVID procedures, and a "good working relationship" with ICE.  
Morrow County, he told me, is "just as safe as any other jail." When I asked for comment on activist efforts to shut down the jail, Hinton told me he didn't know Kenyon students were involved — even though Kenyon ASHES protested outside the jail in 2019. His response to activists, like Kenyon ASHES and the Ohio Immigrant Alliance, is a question: "So, the question should be, why aren't they trying to shut other jails down? Why are they trying to shut mine down?"
Hinton, who visits the jail two or three times a week, speaks from a distance. Inside the jail, on a daily basis, a different narrative unfolds. Sow told me, of authorities in the jail, "All of them, they're racist…  Just before I left Morrow County, the deputy sheriff told me: 'Hey, man. I don't know. You should go home, because there's going to be a war… I don't know why you guys do want to be in the US. You're wasting time because it's going to be dangerous here in a couple of months." Sheriff Hinton told me that racism or harassment of any kind in Morrow County Jail is "news" to him.
Sheriff Hinton also bristled at the notion that Morrow County Jail has, at any point, had a 100% COVID-19 infection rate, repeatedly calling it an "absolute lie" in our interview. He insisted that about 70 people were tested in the jail, and only 54 tested positive. He's made similar claims to ASHES members in the past and rejects claims to the contrary as completely false. Tramonte says the Ohio Immigrant Alliance went to a County Health District meeting and announced that the jail was 100% positive, meeting anger and adamant denial from the sheriff and county health commissioner. She said of county authorities: "I think that they actually… either they think the public is stupid, or they actually don't understand statistics." Tramonte asserted that Morrow County can't report the infection rate as less than 100% unless they've tested every single inmate. Whether it's appropriate to report the infection rate as 100% before everyone's been tested is up for debate. Hinton couldn't direct me to any official documentation of the numbers he gave me, and of the three county commissioners I reached out to, the one who responded didn't confirm or deny either claim. ICE declined to comment on the COVID-19 infection rate at Morrow County, or allegations of violence inside the jail, citing pending lawsuits in the area.
Morrow County, according to Sheriff Hinton, does not have a coroner. Yet Tom Whiston, one of three Morrow County commissioners I contacted, responded that Morrow County has always had one. This is more serious than a common misunderstanding. If there isn't a coroner, the official tasked with legally deciding the cause of death in suspicious cases, potential deaths inside a violent, unsanitary jail risk being mislabeled. 
This isn't the only thing the commissioners and the sheriff don't agree on. Whiston also wrote in his email: "I cannot confirm any issues regarding the jail as the Sheriff is responsible for its operation." Sheriff Hinton frequently instructed me to bring my questions about the jail to the Commissioner's office. 
Another issue, which both Sow and Chevrier brought up, is that Morrow County has never had a translator. Detainees have been forced to translate for each other, with some difficulty. Chevrier saw a young Somali man translate for the medical needs of an elderly Somali detainee, even though the two men speak very different dialects. It made the new translator uncomfortable to relay life-or-death information, when he knew his understanding couldn't possibly be flawless.
I spoke with Tramonte a few months before the last ICE detainee left Morrow County. Even then, she knew the Ohio Immigrant Alliance's mission was far from over. "To me, closing the Morrow County Jail is one step towards shutting down the system of immigration detention, which is absolutely unnecessary and only exists to give money to the jailers, whether that's a county official or the private prisons." 
Morrow County's jail no longer has an active contract with Immigration and Customs Enforcement. Tramonte's Twitter advertises a triumphant "Walk of Freedom" as of mid-February 2021, posted as ICE detainees left Morrow County Jail for the last time. But for most Mauritanian asylum seekers in Ohio outside Morrow County, freedom is not yet a reality. Ohio's jails are still dangerous for both immigrants and criminals. 
In our interview, Mr. Sow described state inmates and COs as linked in their resentment toward immigrants: "So the COs are pretty much part of that conspiracy. A clique of friends. But they don't care about immigrants." Tramonte recognizes that other detention centers "are not much better. And in fact, have worse attributes… a lot of bad acts that hopefully we'll be exposing soon." Morrow County was the perfect focal point for ICE abolitionist work in Ohio. The natural next step for Tramonte is to take what's been learned in Mount Gilead, and bring the fight to jails across the state. 
Sow's story is just one of many accounts of racist and anti-immigrant hostility from officers inside the jail. He talked about frequent and severe beatings, as well as threats of deportation. Accounts like his have fueled the case to shut down Morrow County Correctional Facility. It's this collaboration between inside and outside forces that made the campaign to finally end Morrow County's ICE contract so strong, and which will likely set a precedent for similar campaigns across Ohio. And like Saidu Sow told me, when people stand up for what's right, equality and justice are easy to understand.