Local Hero
Mike Stone knew he would die before graduation.
In the basement of the Church of the Holy Spirit, many professors had tears in their eyes. Others comforted those who did. Campus Safety officers, staff, and students filled the hall, and high up in the organ loft, the Chamber Singers stood ready for their cue.
Seated across from the faculty, with one eye sewn shut, clad in a graduation robe, was Mike Stone H'92. In two months he would be dead.
Mike was awarded an honorary diploma on February 16, 1992.
"As soon as I looked at him again, I was crying," Writer-in-Residence P.F. Kluge wrote about that day in his memoir, Alma Mater. "Not just me. About half the department. They called him forward, awarded him the degree, the sash, and the scroll, and he stood there, smiling, while we all stood and applauded, a long ovation for a doomed student catching the late afternoon sun, streaming in through stained glass windows — Local hero."
Mike was diagnosed with rhabdomyosarcoma, a childhood cancer that rapidly attacks muscle and soft tissue, when he was seven. He was admitted to Children's Hospital in Chicago with the knowledge that no one had ever survived this cancer before. The doctors informed Mike's mother, Hays Stone, that the best they could do was keep Mike comfortable.
Instead of waiting around to die, he chose to undergo a dangerous experimental procedure. The treatment lasted for three weeks, with 30 radiation sessions in total. The radiation caused Mike's throat to swell so much that he was unable to eat. But by the end of it, he was still standing. The cancer took away his sight in one eye and reduced it greatly in the other. "He said even the peripheral vision he had was like looking through a glass shower door, it was foggy," Hays recalled. "But he made the most of that."
Though he lost his sight, he never let his disability get in the way of making the most of his new lease on life. Mike would frequently ride his bike through the Chicago suburbs and even made the varsity swim team in high school.
When it came time for Mike to go to college, his father wanted him to go to Princeton University like his brother, but Hays wanted him to stay close to her so she could be at his side if anything went wrong. When Mike visited Kenyon over spring break, the Office of Admissions was closed. He and his mother were frantically searching the campus for someone to interview him when they happened upon Tom Edwards, the dean of students and swim coach.
After the interview, Hays remembered Edwards turning to her son. "Mike, we've never had a blind student before, so we can't tell you what we can provide, we don't have any systems in place," Edwards said, according to Hays. "So you tell us what you need in order to be a fully functioning Kenyon student." With that gesture, Mike decided to go to Kenyon and became the first blind student to attend the college.
Within a year at Kenyon, Mike became the Peirce Dining Hall coordinator, in charge of making sure the dining hall ran smoothly. Along with his title came an apartment in lower Peirce, where the computer lab is now located. Students across Kenyon lent their time to help him, getting him food. Mike returned their kindness with serenades from his guitar. "Everybody just adopted him," Hays remembered.
It wasn't just the students and professors who embraced Mike. Workers at the Gambier Post Office, Peirce, and Campus Safety all made sure to be at the ready to help him. One of the Campus Safety officers, Tom Woolsey, now works at the Village Market.
"He was so independent," Woolsey recalled. "He might have been the most independent person you would ever meet, but you still felt like you wanted to be there for him."
Woolsey gave Mike his phone number for emergencies. Mike only ever used it once, to prank call Woolsey.
Liz Keeney, the associate director of Student Accessibility and Support Services, was the Dean of Academic Advising while Mike was a student. Her first year was his senior year.
"The way I met Mike was, I started on July first when the students came back. There were three students with significant visual impairments," Keeney recalled. "My innocent thought was, 'OK, what can I do for you guys?' Mike's first comment after 'hello' was, 'No, that's wrong. What can we do for you?'"
After the meeting, Mike turned to the visually impaired first year next to him and offered her a tour of the campus. While walking around, he would stop at various buildings and turn to her. "You hear how the wind just changed? Hear how it sounds different here?"
"She had different landmarks than any sighted person would use or would've been able to suggest," Keeney remembered. "It empowered her to navigate independently in a way that none of us ever could have. So that's the kind of guy Mike was."
Shortly after Mike turned 21, he began having severe nosebleeds. He was admitted to Riverside Methodist Hospital in Columbus, which called Hays in Chicago. The cancer was back.
His new cancer was called malignant fibrous histiocytoma, and it targeted his blood supply. The cancer was a consequence of the radiation that saved him the first time. After the diagnosis, Mike took it upon himself to tell his professors and friends that he was dying.
Keeney was privy to one of his goodbyes. When talking to the then-Dean of Students Craig Bradley, Mike asked if Bradley understood why he was saying goodbye. Bradley, who could barely talk, played along. "Mike looks at him and says, 'Gambier's just terrible about rumours — I want people to know that I haven't been absconded by aliens,'" Keeney recounted. "Turns around, walks out the door, closes it. Wicked sense of humor."
Other goodbyes carried a more literary feel. When saying goodbye to his advisor, Ron Sharp, a retired professor of English, Mike likened himself to their mutual favorite poet. "He told me he might be seeing our old buddy Keats pretty soon," Sharp recalled.
One day, at his office in Sunset Cottage, the idea popped into Sharp's head that Mike should get an honorary degree. Sharp bolted from his desk and raced over to the president's office. After blowing past the secretary, he stood face to face with Phil Jordan, the president at the time.
"I came in and I just told him. I said, 'Phil, I think this is the right thing to do. He's been such an enormous inspiration to so many people and it would be a wonderful gesture.'"
Picking up on Sharp's urgency, Jordan quickly agreed. "You're absolutely right Ron, let's do it, let's go do it. Let's go down there right now and tell him." Within 10 minutes the two raced out of the president's office to Mike's Acland Apartment to tell him of their plan.
"Michael just lit up in a way that was so moving I can't begin to describe it to you," Sharp said. "In typical fashion, after he first expressed his joy and excitement, he stood up, he opened the little door of the apartment and put his fist up in the air like you would in a sporting event. And he started screaming, 'Phil Jordan is a party animal.' It was so completely in character with him."
Stone asked Jordan if he could be buried in the Kenyon cemetery, to which Jordan quickly agreed.
"He picked a spot right up front, right where the action was. He didn't want the scenic part. He wanted to be where it would be more likely that students would wander in," Hays said. "He told me that he wanted to get a bench so students could come and play their guitars or study or whatever they were going to do. He wanted a flat headstone so they could use if for a picnic table, he wanted the company."
Members of today's faculty all beam when they remember that cold day in the middle of February with the entire town of Gambier crammed into the church. "I remember this sort of mix of admiration for Mike's spirit but a deep and abiding sadness surrounding the whole thing," Ted Mason, the associate provost for diversity, equity and inclusion and professor of English, said. "You know, a sense of loss, but also an appropriate sense of closure for a college career."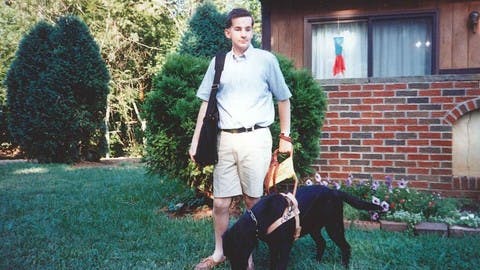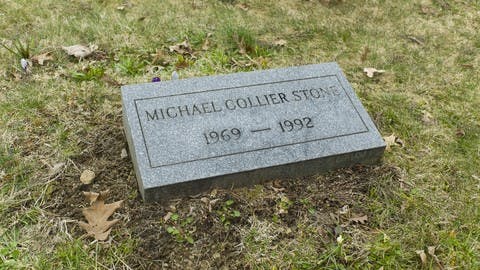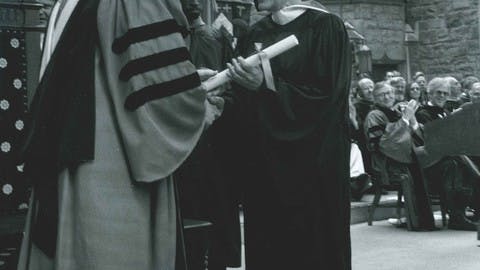 Mike's ceremony left a lasting impression on Keeney's mind, although it was Keeney's first year on staff. "I was seeing it as celebration of life and that's why, to me, it felt like a really good memorial service," she said. "But I also remember being really stunned at the fact that the college would do that for someone who was dying but not dead… It was one of the early experiences I had here that made me think: this is a really great place."
Keeney admires the way Mike chose to live out his final days. "If you know you're going to die, and then the question is, 'OK, what do I want to do with that? How do I want to live the last weeks and months of my life in a way that is good for me and good for other people?' … He really modeled that in ways that I suspect the students who knew him still remember." Mike' died on April 15, 1992.
In the end, Mike got his wish and is now buried in the Kenyon cemetery behind Storer Hall. His grave is the closest to the entrance and has a bench so students can have picnics and play their guitars in his honor.
One of Mike's last wishes was to give some of his life insurance money to the Health and Counseling Center. The Michael C. Stone Memorial Fund was established with $10,000 of Mike's life insurance. It has since funded various student programs and an extra counselor for the center.
Hays Stone moved to Gambier permanently after Mike's death. She enrolled at Kenyon and finished her degree before working in student affairs until her retirement. She now spends her time caring for her dog, Promise, and playing tennis.
Frequently, professors and old friends leave items in and around Mike's grave. Professor of Sociology George McCarthy practices a Jewish tradition of leaving stones from his travels on Mike's grave. Mike had a very specific request for Sharp (when Sharp visited his grave). "He said to me: 'I want you to make a promise to me. You take your romantics class down to the graveyard and smuggle in a few bottles of beer and smash them on my grave.' That was the kind of guy he was. He knew he was dying and deeply accepted it," Sharp said. "He was one of the most amazing human beings I've ever met."