Keeping the News Alive
Over one-third of the nation's local newspapers have changed ownership since 2004. One-fourth have folded. The Mount Vernon News is now one of the last independent local newspapers in Ohio.
Fred Main, the managing editor of the Mount Vernon News, is about to cover one of the biggest stories of the week. It is 6:15 p.m. on a Friday night and the newspaper's office, windowless and sparse, feels like an old warehouse. The only other person there is City Editor Nick Sabo, who sits at his desk wearing a large scarf and a hawkish expression. In a few hours, the two editors will be up late finishing the paper before its 1:00 a.m. print run. But first, high school football.
The Mount Vernon Yellow Jackets play the Mansfield Senior Tygers tonight. A tough opponent, Main tells me. When he arrives at the game, he immediately encounters some acquaintances near the entrance. He passes by and greets them with a small wave — a slight raise of the hand that he repeats for the half-dozen familiar faces he sees before he makes it to the sideline. He is wearing a sweatshirt, jeans and large tennis shoes, a camera slung around his shoulder and a yellow legal pad in his hands. Although he has been a reporter in the area for nearly 30 years, he gives off the air of a casual fan, a local supporting his hometown team. Football isn't his normal beat, but since the News doesn't have a sports editor at the moment, everyone takes turns helping out.
"We all do several jobs for the paper," he says.
Once the game starts, Main is all over the place. He follows the players up and down the sideline, scribbling on his notepad, shooting photos whenever he has an angle. He frequently gravitates toward another reporter from Knox Pages, an online news site for the county, and they chat about anything from the weather to the Buckeyes. When Main misses part of a play, he asks the other reporter what happened, and vice versa.
I am surprised by this friendliness. In many regards, Knox Pages is the News' competitor — they cover the same region, break the same stories; close to halftime, Main nods at his peer and tells me he will have his article up by midnight, whereas the newspaper won't come out until the morning. But then again, being cutthroat doesn't seem like Main's style.
The two reporters spend a lot of time talking about Wyatt Gregory, the Yellow Jackets' running back who is currently chasing a school record. Almost every play seems to revolve around him, and when Mount Vernon finally does throw the ball, leading to a completion down the field, Main jokes that there might actually be someone's name in the paper besides Gregory. Both men laugh.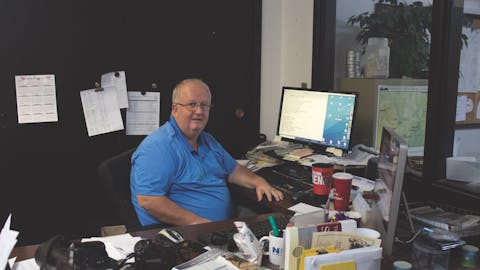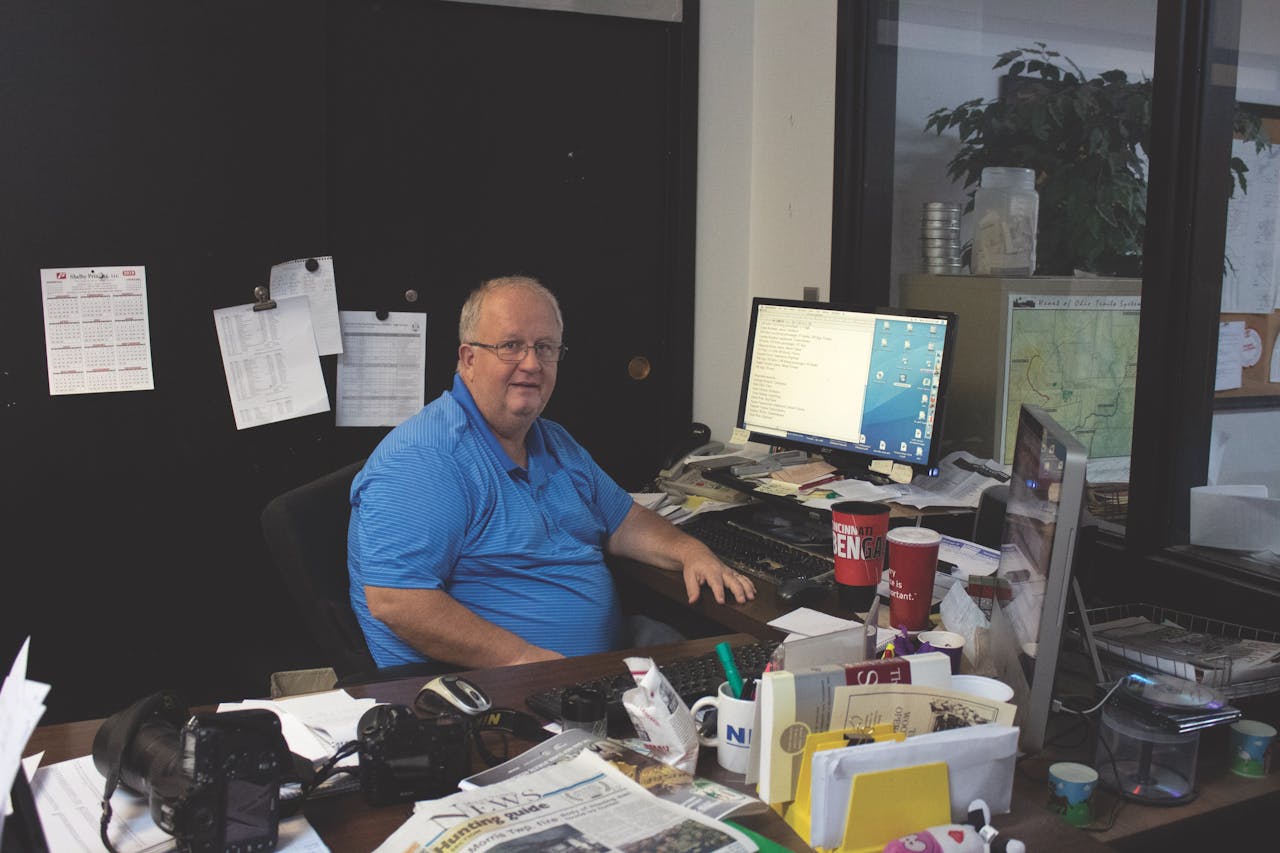 The Mount Vernon News is one of the last surviving independent local newspapers in the state. Critics across the country have noted the negative impact of the internet on the nation's publications, and central Ohio is no different. Over the past few decades, almost all of the News' neighbors have either folded or been bought by the subsidiaries of national investment groups, like Ganett (the owner of USA Today) and GateHouse (the owner of the Columbus Dispatch).
This latter route, though technically keeping the publications around, often puts them through a vicious process of downsizing and spending cuts as the new owners seek to improve profit margins by slashing overhead. 
In 2016, a study from the University of North Carolina Chapel Hill found that more than one third of local newspapers had changed ownership in the previous decade, most often into the hands of large investment groups. It sounded the warning against this "New Media Baron," reporting that they lack the "journalism experience or the sense of civic mission traditionally embraced by publishers and editors." Because these investors' sole mission is to make money, they are prepared to sack whatever holdings are no longer profitable, including newspapers. Around a quarter of the newspapers in the country have shut down since 2004, according to the study.
Nonetheless, the evidence that local newspapers are as important as ever continues to mount. A 2018 study by researchers from the University of Illinois at Chicago and University of Notre Dame found that costs of local government went up when local newspapers closed: Lenders were more reluctant to invest in communities with a "local information vacuum." In the same year, a national survey from the Poynter Institute for Media Studies found that 73 percent of respondents said they trusted their local newspapers, as opposed to 59 percent for national newspapers and 47 percent for online-only news outlets. And, according to a 2019 study from the Nieman Foundation for Journalism at Harvard University, while local newspapers made up only 25 percent of the local media outlets in their sample (other types included radio, TV, and online-only sources), they accounted for 60 percent of the original news stories in their database.
Local newspapers, crushed by the digital age, remain crucial and irreplaceable lifelines for their communities. Because of this, the survivors, like the Mount Vernon News, are left to carry that responsibility. Yet they are now a rare breed. Kay Culbertson, the News' owner and publisher, said the number of independent newspapers in the Ohio News Media Association, a state trade association for newspapers, has fallen to only 24, less than a third of all member organizations. "There used to be so many family-owned newspapers, and they're not there anymore," she said. "They've all been sold."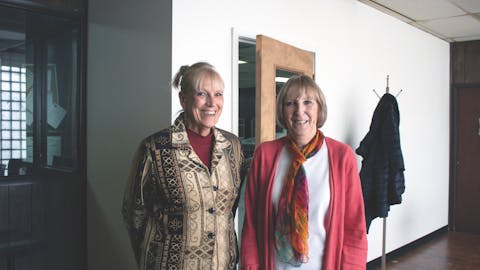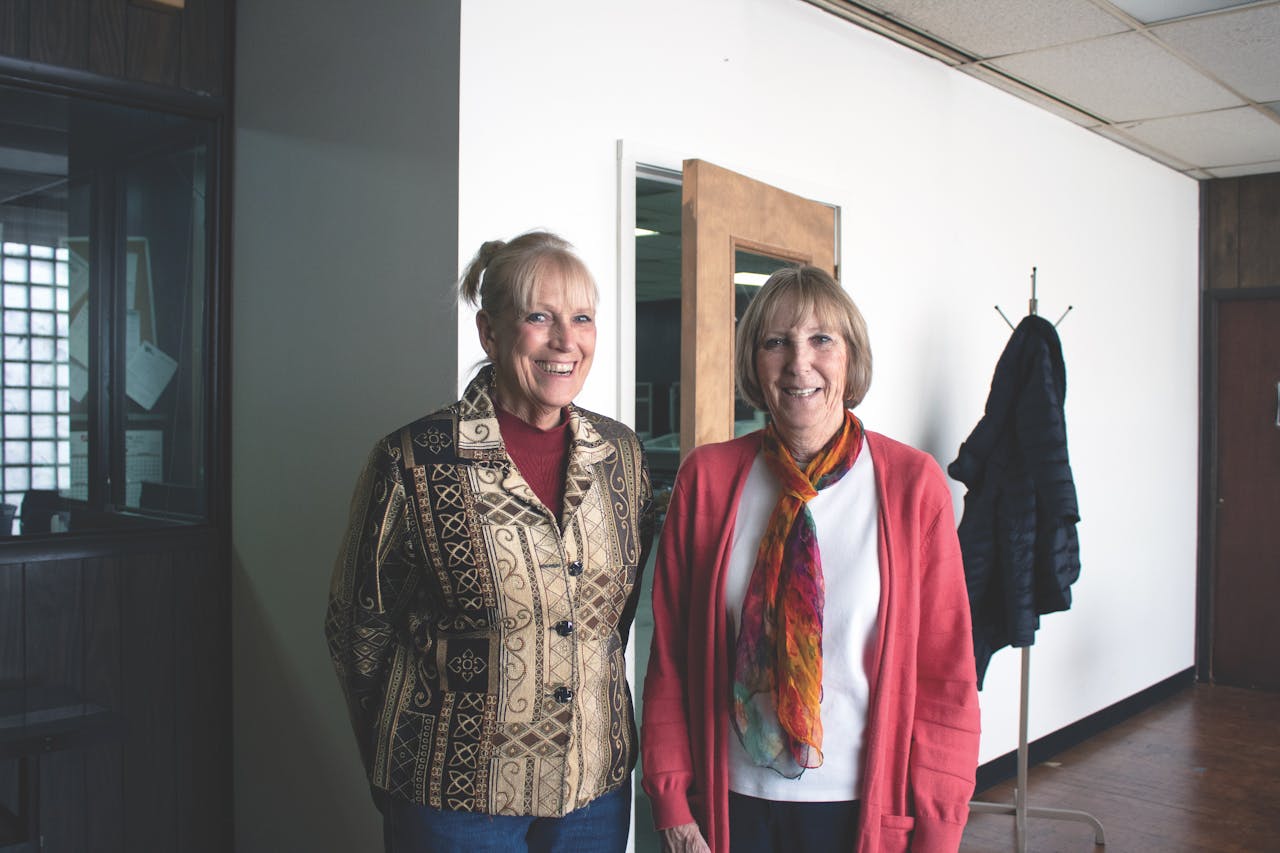 In 1935, Mount Vernon's two competing newspapers, The Daily Banner and The Republican News, merged under the owner of the latter, L.A. Culbertson, and became the Mount Vernon News. Several generations of Culbertson sons subsequently ran the News, watching the industry shift from linotype to offset printing and the city change from a booming industrial hub to another struggling rust belt town. In 1992, Bill Culbertson, the great-grandson of L.A. Culbertson and the current publisher of the News, died of a sudden heart attack. He left Kay, his widow, in charge of the publication.
A native of Dalton, Ohio, Kay moved to Mount Vernon at age six after her father became the manager of the Farmer's Exchange. In 1973, she found part-time work at the Mount Vernon News in the press room, helping to create the plates that would be used for printing. Six years later, Bill came back from Purdue University to learn the family business and met Kay while also working in the press room. They married and he eventually took over the publication in 1986.
When Bill died, Kay wasn't sure she could fill his place. "I was really quite intimidated by the whole thing," she said. She hadn't gone to college and had little experience at the News outside of the press room. But she felt a sense of duty. "I guess I kept thinking, I have to do it for Bill," she said. "We worked here together." With the help of the paper's experienced employees, like now Assistant Publisher Liz Lutwick, and the owners of neighboring publications, she was able to find her footing.
Affable and humble, Kay Culbertson defies the intense demeanor usually attributed to newspaper executives. She still seems amazed by her role: "Owner and publisher never really hit me," she said. "Sometimes it's still difficult for me to see." While showing me around the office, she would often cede the floor to her staff so they could tell me how the paper operated, as if she too were impressed by the work they did. She proudly introduced me to Scoop (or, in her words, "Scoopy Doo"), the office cat they found in a nearby parking lot 13 years ago. At one point, as I talked to Press Room Manager Dean Hammons, Kay wandered off to go help in the mail room.
Yet despite her unassuming exterior, Kay has successfully run the publication for almost three decades now. And at the moment, she is ushering it through what may be its most difficult era yet. Her predecessors benefitted from a robust local economy and a readership that unquestionably valued print; Kay has neither of those advantages. Like the rest of the industry, the Mount Vernon News has seen dips in subscriptions and ad revenue, and the trends don't seem to be getting any better. But nonetheless, the publication manages to stay afloat.
There is no secret to its survival: Compared to many of its peers, it is neither sleek nor flashy, nor has it invented some new business model to save the industry. Instead, for now, it has simply adapted when and where it could and, above all else, remained committed to the very community it has always served.
In the Mount Vernon News website, there is a paywall with a simple pitch: "Do your part to support local journalism. Subscribe to our e-edition to read this and many other articles written by your neighbors." This ethos — the for your neighbors by your neighbors sensibility — runs deep.
While the News does cover some national events, courtesy of its Associated Press subscription, its editors know that is not its main appeal. Sabo always includes two to three local stories on the front page when he is laying out the paper. "We just tend to try to focus on the local," he said. "You kind of figure that people get their national news on TV or the web, that kind of thing."
Among the pages of the Mount Vernon News, it's not uncommon to find city council proceedings next to congressional hearings, coverage of little league baseball next to coverage of the Cleveland Indians. On the front page of one October 15 issue, a story about BarktoberFest, a dog-centered festival complete with its own dog costume contest, ran next to news of the Turkish invasion of Syria. Further inside, the results of a 10U Girls Softball tournament took up half-a-page in the sports section. (When Main started at the Newspaper in 1991, one of the head editors advised him: "Get as many kids' names in the paper as possible." Both he and Kay have scrapbooks from when their own kids appeared in the News.)
Occasionally, Kay will use the back pages of the paper to give updates about her life. In a February issue, she wrote about the death of her dog ("My Little Chauncey"). In another, she described visiting her parents and grandparents' graves and how pretty the surrounding countryside was. A few days later, a woman from her garden club called her and said she had driven up to the cemetery with her family and that Kay was right — it was beautiful.
In contrast to much of the rest of the industry, which has opted for younger, inexperienced journalists that are willing to work for cheap, the Mount Vernon News has maintained the same staff for years. Many of them, like Main, Lutwick, and Sabo, grew up in neighboring counties and have been with the paper for decades. Sabo is nearing his 20th year with the paper. Lutwick started in the '70s.
And like Main at the football game, they are often recognized while out in the community. Recently, Kay was getting an oil change when she started chatting with a woman who had just tried out a restaurant reviewed in the News. The woman said she had shown a clipping of the paper to the server, and the server loved it. "When you hear things like that," Kay said, "that makes you feel good."
Mike Hillier, a Mount Vernon city councilman and longtime reader of the Mount Vernon News, said he appreciates the strong relationships he has developed with different reporters over the years. "I know that I can call Nick [Sabo]… and say, 'I just read your article and that's not exactly what I meant, and so just for future, this is what I actually said,'" he explained. He also noted that, for years, the News sponsored the annual Christmas Day parade in downtown Mount Vernon: "They're not a newspaper where you don't know who they are."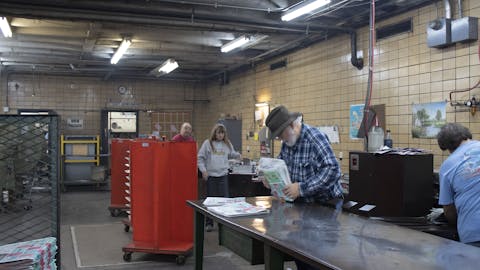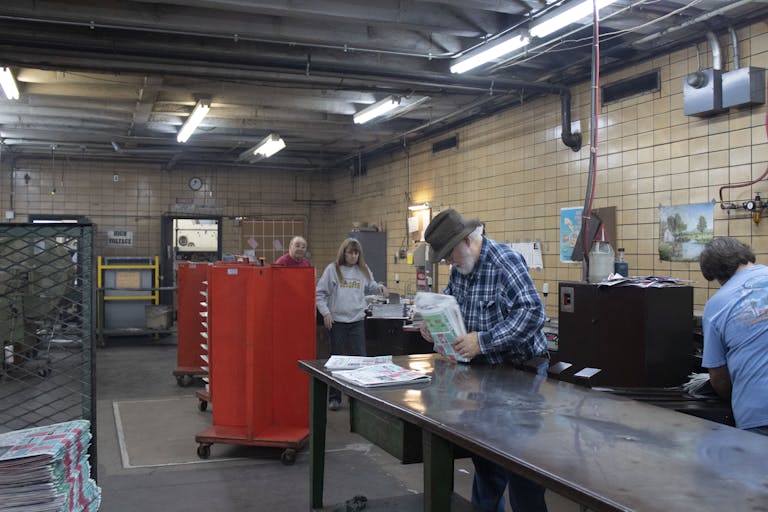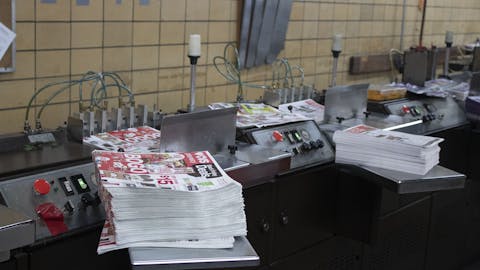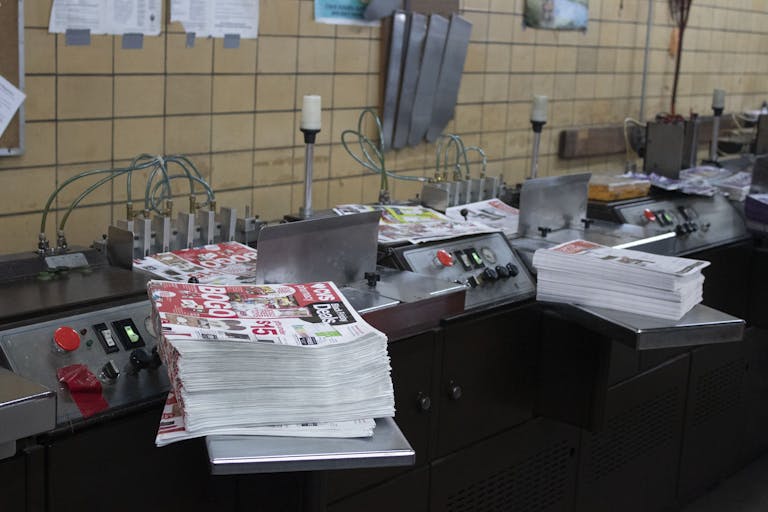 Knox Pages, the publication of Main's peer at the football game, represents an alternative route for the future of local news. Founded in 2002, it was recently purchased by Richland Source, a locally-owned news website for Richland County around Mansfield. Richland Source has aspirations of using its internet-geared model to build an online local news network in north central Ohio, and it seems to be doing well. It has already expanded into the neighboring Crawford and Ashland Counties. 
But online-only sources still have a ways to go if they want to fully replace the nation's struggling newspapers. The Poynter survey and Niemans Foundation study are just two examples of these new outlets' deficiencies: So far, they can neither replicate the same trust nor productivity as their newspaper competitors.
Importantly, publications like the Mount Vernon News tend to serve an investigative role in their community that online-only sources often don't. Last August, News reporters uncovered an incident at Highland Elementary School in which a student had picked up an unattended handgun in the office of an employee and pointed it at another student. Though disciplinary action was taken against the owner of the gun, the school never reported it publicly. After the News covered the incident, the school made a Facebook page that it claimed it would use to communicate better with the community.
Additionally, the News frequently fights for local issues in their staff editorials, bluntly titled "Our Opinion." In January, Common Pleas Judge Richard Wetzel cut down the deadline for people charged with drug-related offenses to apply for intervention in lieu of conviction, forcing them to get clean faster in order to avoid conviction. The News wrote that added pressure would not help the situation and Wetzel eventually reversed the decision. And earlier this year, when the county decided to sell the building of New Hope Industries, an organization that helps find employment for people with disabilities, the News came out against the move. The board of Developmental Disabilities has since pledged $250,000 toward the relocation of New Hope Industries. In both cases, Sabo believes their op-eds helped bring attention to the issues.
"We are still looked to to do the bigger investigations, to dig deeper into issues that are facing people," Joshua Morrison, the chief photographer and digital services for the News, said. The average person "really wants somebody around to keep an eye out for them, and that's us."
The News also plays a less glamorous but equally crucial role. The section that consistently receives the most engagement online, according to Morrison, is the classifieds, which includes help wanted, legal notices, and advertisements of sale. Knox Pages has its own jobs board, but it is much less comprehensive. In fact, Hillier said that the range of content in the News is part of its appeal for him: "The thing is with Knox Pages, you get what they think is relevant for you to know. Mount Vernon News covers a vast array of everything."
On top of all this, there is the simple fact of the News' history. A century-long legacy like that just can't be replaced. "You'll still find people that have the [Mount Vernon News] from World War II — when it started and when it ended," Hillier said. "I've seen a newspaper from when the [Cleveland] Indians went to the World Series. That's history."
To walk through the News' office is to catch a glimpse of the publication's long legacy. The red bricks, translucent tiles and wood-paneled flooring from the first iteration of the building peek out of the brutalist design of a 1981 renovation. Unused light tables line the wall of one room, and old filing cabinets, now mostly defunct from digitization, sit near almost every desk. When I asked what the cabinets held, Paula Imhoff, an ad designer, pointed to one that had been boxed in by some tables: "That one's full of old CDs," she said. She opened the one next to her desk and pulled out a blanket: "This one has my blanky."
In the hallway, a door opens up onto the old dark room, which contains boxes of unsorted negatives from the newspaper's past chief photographer, Virgil Shipley, who worked at the News for 55 years before retiring. Kay remembers him taking photos while she was in high school. When Morrison has free time, he tries to sort through the boxes, occasionally finding lost treasures like a group of photos from the time Johnny Cash visited the Knox County Fair in 1989. "They're pristine negatives and I was thinking we gotta do something with them," he said, though he wasn't sure yet what that would be.
At one point, Kay showed me the yellow-lit plating rooms in the basement where she used to work. Though those rooms are now used as storage, their old equipment remains tucked behind a clutter of decommissioned news racks.
In Kay's office, Bill's airplane paraphernalia still adorns the walls. A portrait of him hangs in the conference room.
Yet next to all this history, there is the occasional reminder of the publication's present. While I watched banners of paper stream through the printer, Hammons explained that the Mount Vernon News has one of the last operating press rooms in the region. The next closest one is in Wooster, an hour away. Later, near the loading zone outside, Kay looked at the remaining translucent tiles on the office's side wall, vestiges of the first building design, and remarked on their shattered state. Vandals sometimes smash them for fun. "I don't know how to get them to stop," she said.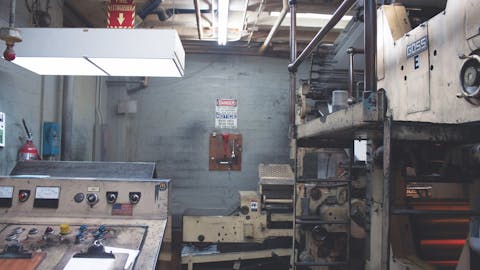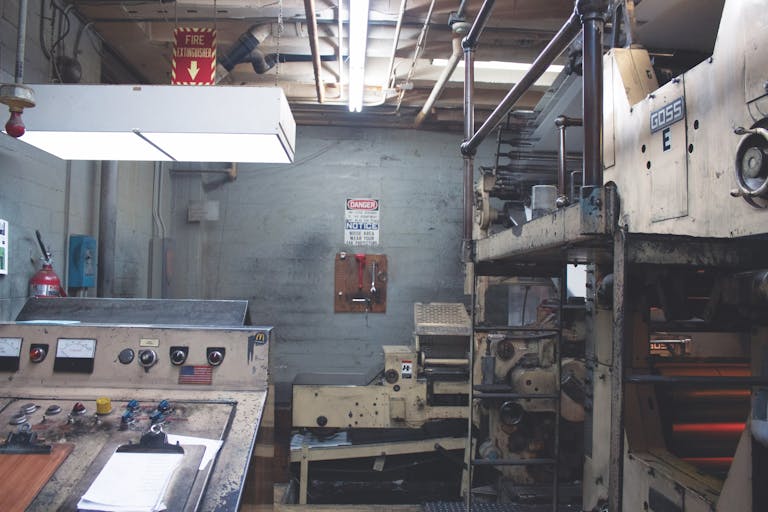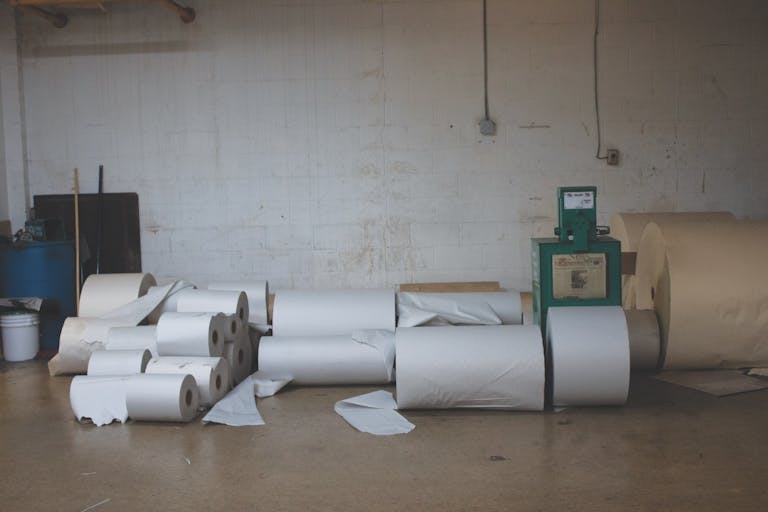 Even though the Mount Vernon News has fared better than its neighbors, it still feels the same pressures. Right now, their circulation rests at about 5,500, according to Kay. At its peak in the '70s, it was near 12,000. This is on par with the national trend: Weekday newspapers across the country saw a nearly 40 percent decline in print circulation from 2009-2018, according to a recent report by the Pew Research Center.
The same report found that advertising revenue for publicly-traded newspaper companies fell by 48 percent in that period. Kay said the News has struggled in this area too. She pointed out that the internet, besides hurting print circulation, gives advertisers new routes for reaching an audience. "A lot of people have their own websites," she said. "It's really tough to get advertising."
At this point, the only newspapers that have successfully transitioned into the digital age are those with a wealthy urban audience. Several national publications, like The Financial Times and The New York Times, have already managed to surpass print revenue with digital revenue, and earlier this year, The Boston Globe became the first local newspaper to have more digital subscribers than print subscribers. It did this, critics have noted, by capitalizing on its region's above average educational-attainment and income; it attracted readers willing to pay a premium for a high-quality product. A yearly digital subscription to The Globe, after discounts, is $360.
These aren't exactly repeatable models for the News, which has a hyper-local audience and sells to a region with below average education and income rates. The price for its own yearly digital subscription is $78.
Larger papers also have entire teams of developers at their disposal. At the News, everything digital falls to Morrison. A Mount Vernon local, Morrison started at the paper in classified sales. He had previously worked for an audio visual company and had taken some classes in html and php on the side; when the News needed to establish its digital presence, it turned to him.
Morrison initially built the website from scratch with Adobe Dreamweaver. Before switching to Wordpress, he used his own Content Management System too. "It was a little rough," he said. In my own experience, it is not the sleekest website — thumbnail images are sometimes missing and the drop-down menu can be a bit finicky — but it works.
Morrison is optimistic about the paper's digital future. The publication has started to take advantage of its website to post videos and photo galleries, and it is now working with the digital publishing solutions company Tecnavia to put out a mobile version. Morrison estimated that there are about 500 downloads of the app. "People are learning and kind of coming in to loving the mobile version," he said. "Every Christmas we see a bump in subscribers because someone's getting a new iPad or a new tablet and they want to get the newspaper right away on it."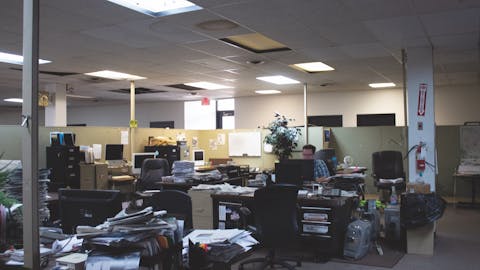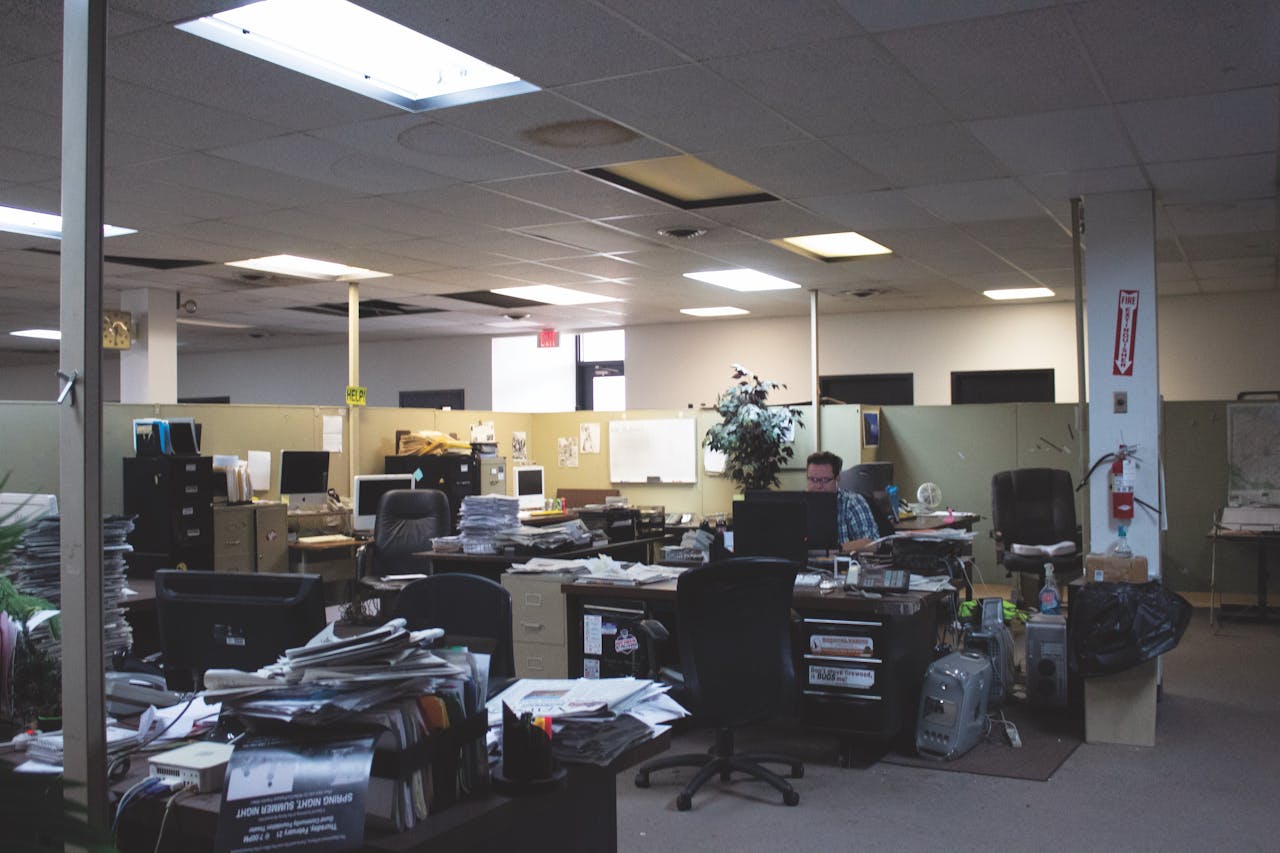 Despite the toll taken by the internet, the News has found a few silver linings in the digital age. In 2011, it started selling photos online from its coverage of different events, like sports games and graduations. Sales in the photo store can ebb and flow, according to Morrison, but they have become a good source of supplemental revenue. "You can sell a digital photo for three times what you can sell a copy of the digital paper," he said. "There's more money in photos, but getting everyone to buy photos is the tricky part."
Additionally, because the News has one of the last operating press rooms in the region, it gets consistent work as a printer for smaller publications like weeklies and school newspapers. (The News prints Kenyon's own newspaper, The Kenyon Collegian.)
There are some advantages to its location too. For one, Knox County and neighboring Holmes County have sizable Amish populations, giving the paper at least one readership that will continue to buy print. Recently, the News started publishing a special monthly section called "The Wooden Spoke" that specifically targets the Amish audience. It covers news related to the Amish community and carries advertisements from Amish-owned businesses. 
And two of the News' neighbors, Kenyon and Mount Vernon Nazarene University, have proved to be invested in maintaining the sort of vibrant community dialogue that comes with a local newspaper. This can lead to some useful collaborations.
Over the past year, Digital Initiatives Librarian Jenna Nolt and India Kotis '20 have been digitizing the News' archives, which sit in a non-climate-controlled room in the Knox County Historical Society. Professor of Sociology and Legal Studies Ric Sheffield, who is a Mount Vernon native, initially secured the funding for the endeavor. A project like this, which is important for preserving local history yet costly to actually undertake, benefits from the presence of an outside institution like Kenyon.
"I'm hoping that there will be opportunities to deepen and broaden this kind of project in the future," Nolt said. "If we have the resources to do this — and we are one of the few places that does — we absolutely have a responsibility to use those resources for this type of project."
As newspapers have struggled to make it on their own, some have found support in the form of philanthropy. Nonprofits like ProPublica and the GroundTruth Project have popped up in recent years to keep papers afloat, and their ranks are growing. This may not be a sustainable solution, but it points to the way consumers need to rethink their relationship to local newspapers if they want to maintain their benefits.
So far, the News has managed on its own — it has certainly proved itself hardier than most of its peers — but the concerns are still there. Kay noted that the paper prints fewer pages than it used to, and though they haven't laid off anyone, they have purposefully not filled a few vacant positions.
It may be too much to ask of any single institution to ensure the News sticks around — and it's not clear if that is even the best route — but it's important to not lose sight of the increasingly rare privilege of having an independent local paper. "You know, it's been here for so long, maybe we're taking it for granted," Hillier said. "When you do hear of a newspaper closing down, such as the big Youngstown paper, it's like, 'Wow, how's Mount Vernon ever doing it.'" In August, Youngstown daily newspaper The Vindicator published its last issue after 150 years of business.
For now, the Mount Vernon News and its veteran staff will continue doing what they have always done: providing their community with the information it needs. And they don't intend to stop any time soon. When Kay told me about her initial struggles to fill Bill's shoes, I asked her if, after all these years, she would still take on that responsibility. "I sure would," she said. "Yes. Absolutely." Then, before launching into an extensive list of her longtime employees and how much she admires their work, she stated, "I'll tell you, the newspaper business gets in your blood."