The Ariel Effect
The Ariel Corporation is a cornerstone of the Knox County community. It is also a player in the natural gas industry, which has come under scrutiny for its use of the controversial fracking technique to extract gas. Two Collegian Magazine writers explore what to make of this.
Knox County overflows with contributions from Ariel Corporation, currently its longest-standing manufacturer, where almost 2,000 residents in the county and surrounding areas work on-site or on the outskirts of Mount Vernon. Ariel Foundation, a philanthropic arm of the company, has had a hand in many facets of local revitalization, most notably transforming the ruins of Pittsburgh Plate Glass, a factory shut down in the 1980s, into Ariel Foundation Park. Yet, as feature writers for The Kenyon Collegian who often wrote about life in Knox County, each of us only learned incidentally about Ariel, its business, and its role in the community.
I first heard about Ariel in 2017, the fall after Divest Kenyon, a student organization that pushed for Kenyon to shift investments out of industries like fossil fuels and private prisons, organized a campus-wide protest the weekend that the Board of Trustees met in Gambier in April. A features editor for The Kenyon Collegian at the time, I was looking into writing a story about environmental activism in the local community beyond the College. In an informal meeting, a former activist in the area mentioned that the Corporation manufactured natural gas compressors, which, among many other uses, play a role in the controversial fracking industry, and I was interested in seeing what complaints, if any, this had generated. To my surprise, anti-fracking activists have paid little public attention to the company. I was interested in why, so I decided to learn more about what Ariel does and its actual connection to the natural gas industry.
Like Dora, I was the features editor of The Kenyon Collegian and first heard about Ariel while working on the paper. I had known about the Wright family more generally from classmates and the family's name placements in the Gund Gallery and the Wright Center. As I became more in touch with Kenyon and its surrounding community — specifically interviewing people and groups in Mount Vernon — I saw first-hand the significant role Ariel and the Wright family played in Mount Vernon and at Kenyon. I also vaguely knew about what Ariel manufactured, and how its business could potentially appear controversial to a more liberal student body. I felt there was a story there, but I wasn't sure how to approach it — until I ran into Dora in Pierce Dining Hall and struck up a conversation about a mutual desire to pursue this story.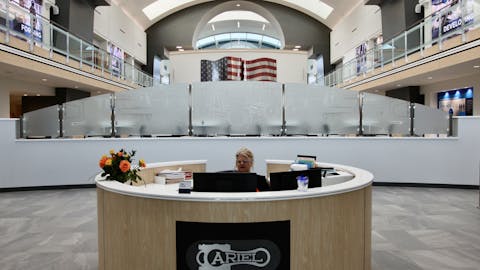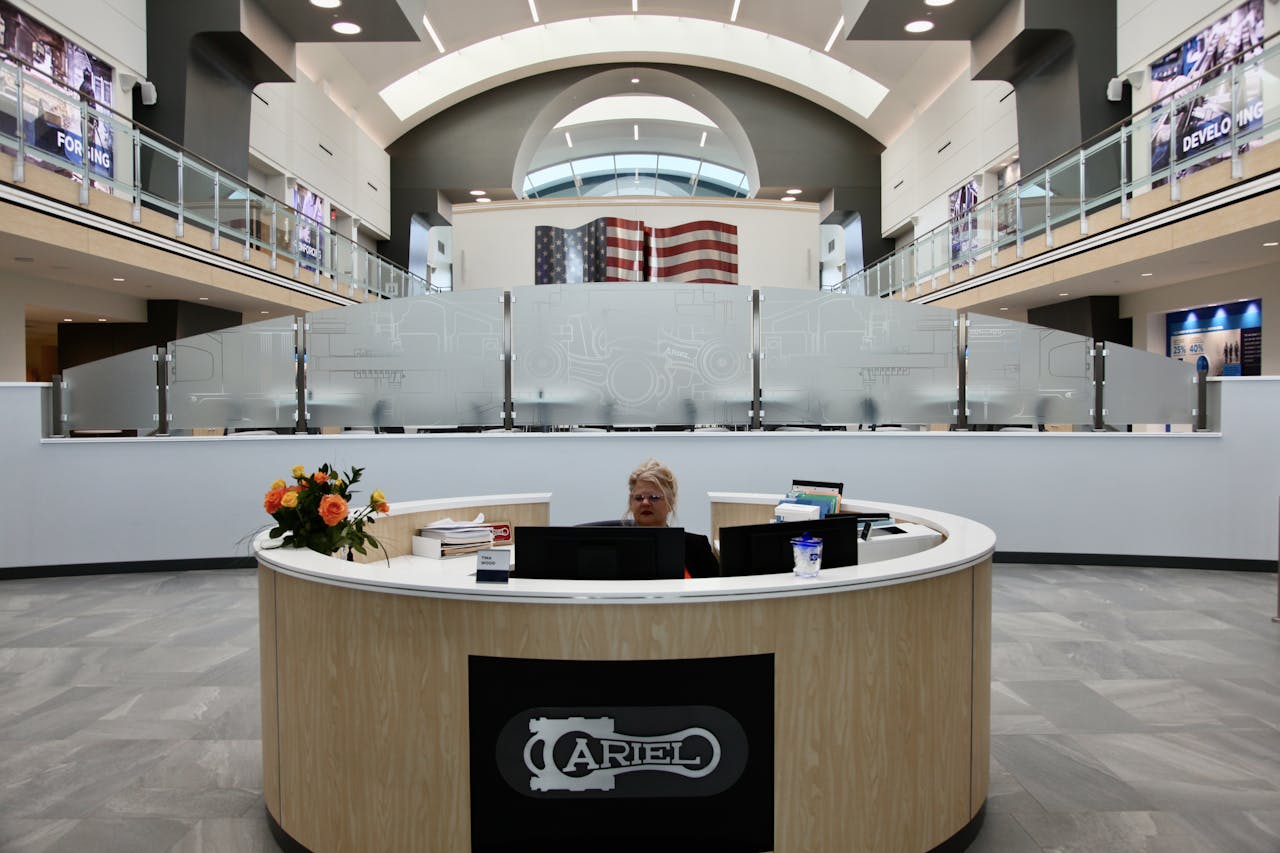 It was a sunny and crisp morning when we — accompanied by our photographer Ben Nutter '21 — parked in an Ariel Corporation lot, just outside of the main entrance. A receptionist greeted us and had us sign in before Karen Buchwald-Wright, the CEO of the company, came to meet us.
During our visit to Ariel, Buchwald-Wright showed us two facilities on the company campus. We first saw the training facility, an expansive building with a lecture hall and lab for mechanics to practice using Ariel's machinery. "It's very hands-on," Buchwald-Wright said. "They learn how to do all of the maintenance and everything that's required on different compressors … They get a lot of theory and, you know, just general good education."
Ariel devotes significant time and resources to training future employees because gas compressor manufacturing and operations are highly specialized. One aspect of the training is a program that prepares local high school students for future positions at the factory. The high school training program reflects Ariel's focus on the surrounding community — most of the company's employees live in Knox County or nearby areas. Ariel also emphasizes the importance of family, often hiring employees from multiple generations of individual families. This is true for the owners as well: Buchwald-Wright, who hopes to retire soon, plans to relinquish her current roles as CEO and president, which she inherited from her own father, to two of her sons. She will stay on as chairman.
After seeing the training facility, Buchwald-Wright took us to the factory. It was emptier than usual, she said, because the natural gas industry is susceptible to variation in supply and demand depending on the season and changes in the global market.
Natural gas has played a role in Knox County since the early 1900s, when natural gas reservoirs were discovered under the county's surface, according to Lucas Kreuzer '20, who studied the history of manufacturing in Mount Vernon as a part of his senior thesis.
"Because you had all this natural gas, [it] needed to be pumped and transported. That was when Cooper-Bessemer began producing natural gas compressors," he said.
Cooper-Bessemer, a company founded in Mount Vernon in 1833, would eventually incorporate and shift its operations to Houston. As an engineer, Buchwald helped design large gas compressors for Cooper, which gave him the idea to introduce a smaller model to the market. According to his daughter, it was at that point in 1966 that he designed the prototype for his own company and built it in his basement at home. In April of that year, he officially opened the doors to Ariel Corporation, naming it after his 1948 Ariel Square Four motorcycle. 
Drilling or hydraulic fracturing for natural gas, otherwise known as "fracking," ceased in Knox County between 2012 and 2015. The nearest fracked well to Kenyon is approximately 15 km away and "is listed as dry, abandoned, and plugged," according to Eric Holdener, an assistant professor of physics and scientific computing who specializes in geology and paleontology. Holdener said that Knox County is, however, close enough to active wells for residents to commute to drilling sites.
Although natural gas drilling no longer occurs in Knox County, Ariel's importance in the exploration and production — more colloquially defined as "E&P" — of natural gas has increased along with what many industry proponents call the "Shale Revolution," the development of technology to extract natural gas from a previously untapped type of rock formation. Aside from the economic benefits of tapping shale rock for natural gas, the process is touted for its reduced environmental harm relative to coal mining.
Ariel contributes to E&P through what are called compressor stations, which increase efficiency in extraction by maintaining the correct pressure and flow of the gas.  Each compressor has valves that take in gas and pistons to compress it before releasing the product through more valves on the other side. The corporation manufactures gas compressors used in all stages of hydraulic fracturing, including the extraction stage of E&P, and transportation via natural gas pipelines. Beyond that, Ariel compressors serve a wide range of purposes, from heating people's homes to fueling their stovetops.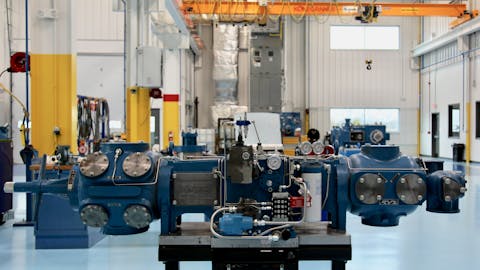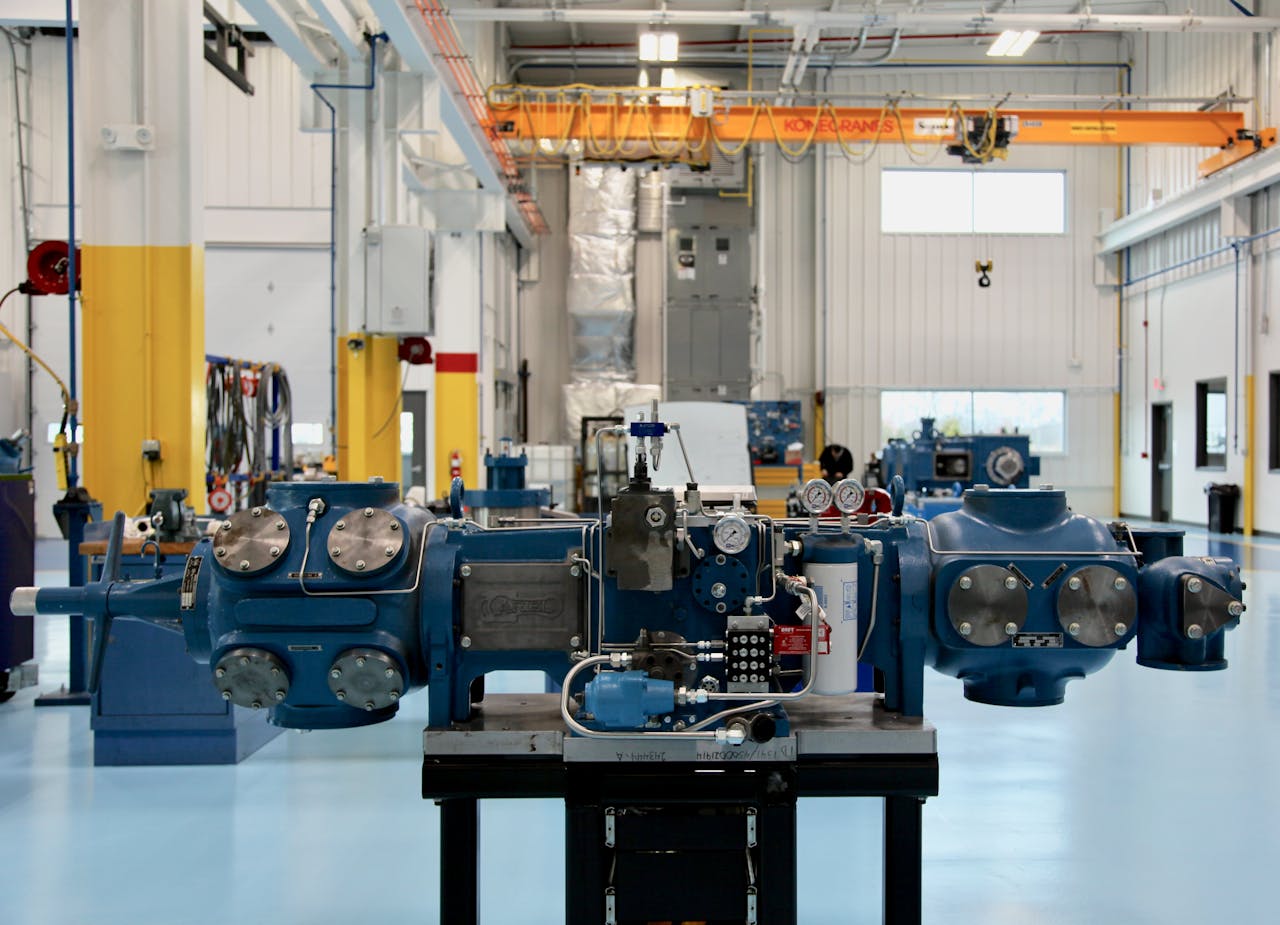 Beyond the local community, Ariel has offices in both Moscow and Beijing, and, as the world's largest manufacturer of separable reciprocating gas compressors, plays a crucial role in the natural gas industry on a global scale.
The global health crisis surrounding the coronavirus has recently presented a significant challenge for business both domestically and in these overseas facilities. As early as February, Buchwald-Wright was wary of the potential impact of the virus. She learned about it from a conversation with an Ariel manager in China. "It's pretty horrible, so we have to be careful," she said.
Now that the virus has hit Ohio, the company has implemented a new set of protocols. It announced on its website that it received an "essential business" designation from the State of Ohio and is continuing to operate, but that it is seeking to protect workers and visitors by allowing employees who can work remotely to stay home and by instituting "measures around travel, customer training, visitor entry, deliveries, and external meetings and trainings."
Despite challenges, the natural gas market appears to be faring better than other energy sectors in the crisis. According to a March 25 article in the Wall Street Journal, the demand for natural gas has not plummeted as much as oil because of consumers' continuing need for central heating, hot water, and cooking fuel. Although the price of natural gas is lower now than it was in the colder winter months, typical for springtime, investors are beginning to shift investments to natural gas due to its relative dependability as people continue to stay at home. The cost of natural gas is expected to soar next year, which is likely to be positive news for Ariel's bottom line.
Ariel also plays a crucial role at the local level through Buchwald-Wright's personal philanthropy and The Ariel Foundation, a private organization dedicated to preserving and enhancing the quality of life in Mount Vernon. Both have had a sizable impact on Kenyon College and the surrounding community. 
"If you look at anything that's new in Mount Vernon, Karen has had a hand in it," Kirk Townsend, Ariel Corporation's director of international sales, said in the book Ariel: A Great American Company. The book, published in 2016 by Fenwick Publishing, tells the story of Ariel's history from founding to present. 
Among other projects, Buchwald-Wright and The Ariel Foundation have helped fund the renovation of the Mount Vernon community pool, the construction of a new Family Care Center for the Knox Community Hospital, and the construction of the Mount Vernon Grand Hotel, which is run by Mount Vernon Nazarene University.
Many of Ariel Foundation's initiatives have focused on promoting green spaces. Buchwald-Wright has paid for thousands of trees to be planted all throughout Mount Vernon. She also funded two miles worth of sidewalk in the city, starting on East Gambier Street and stretching across the Kokosing River.
One of The Ariel Foundation's most substantial renovation projects was its work on the newly-named Ariel Foundation Park, which opened in 2015. The park occupies the former site of Pittsburgh Plate Glass Works No. 11, which was once the worlds' largest plate-glass factory before shutting its doors in 1979. The expansive, sloping park features lakes, bicycle and walking paths, and various art and interactive structures created from remains of the factory.
We met with Steve Rex in Wiggins Street Coffee, a 69-year-old lifelong Mount Vernon resident who is passionate about Mount Vernon and its prosperity.
"The Ariel Foundation Park, you can't talk enough about that," he said. "I mean, that was a dilapidated…. abandoned mess. And [Ariel] took that over and just made it a beautiful place."
The park's 280-foot-tall Rastin Observation Tower, one of the tallest structures in Knox County, was created from an old glass plant smokestack and is "a landmark of Mount Vernon now," said Mike McGill, a Mount Vernon resident.
Buchwald-Wright, who grew up in Mount Vernon, said she views her philanthropy as a sort of duty to her community.
 "I think if you live somewhere, and you are successful, then part of your civic responsibility is to give back," she told us. "It's kind of fun to do these projects and, you know, I don't have to do [them]… but I think Mount Vernon is such a beautiful town, it has such a great history and is a really nice place to live. So I wanted to make it as nice as it could be."
Buchwald-Wright's philanthropy is not limited to the Mount Vernon community; she has become a major benefactor to Kenyon College.
"As I can see it," said Colleen Garland, Kenyon's vice president for advancement, "each time Kenyon has had a major need, whether that's a major campaign or something specific, the College has gone to the Wright family to ask for support."
The Wright family's ties run deep at Kenyon. Buchwald-Wright served on the Board of Trustees starting in 2009 and now serves on the advisory board of Kenyon's Center for the Study of American Democracy (CSAD). Her son Alex Wright '05 (the COO of Ariel Corporation) holds the Knox County Trustee position on Kenyon's Board of Trustees. Katie Wright '10, Buchwald-Wright's daughter-in-law, is on the Gund Gallery's board. 
Recently, Ariel Corporation has offered opportunities for Kenyon students to become involved with the company. A year ago, during the Spring 2019 semester, Lillie Penley '20 interned for the company's creative media department. 
Penley initially misunderstood the listing for the internship and thought she would be assisting The Ariel Foundation. Once she started, though, Penley appreciated the opportunity to work for a local company, and she said that she now better understands Ariel's role in Knox County and beyond. "I didn't know anything about the natural gas compressor side or how big it is in Mount Vernon," she noted. "I had no idea that this huge corporation existed or that there's a huge industrial complex in Mount Vernon." She spent most of her time writing for Ariel's website and internal publications.
Buchwald-Wright noted that Kenyon students who worked with the corporation were generally steered to non-industrial roles. "Kenyon [provides] a liberal arts education, and this is a pretty technical business," she said. "But you know, there are a lot of jobs here that you could potentially do even though you're an English major, because there's not necessarily a major for that. You just need somebody that's willing to learn a job that works [for them]." 
While the Wrights have been involved in a variety of projects at Kenyon, perhaps none is more well-known or substantial than their involvement in the creation of the Wright Center. The Center — which was previously the Buckeye Candy Building and is now named for Buchwald-Wright's children — is home to a substantial part of Kenyon's film department. The Wright Center houses production equipment, a 30-seat screening room, and a room for post-production editing. It is also the home of Kenyon's Office for Community Partnerships, which helps connect Kenyon with the surrounding community, and the Science Play-Space Initiative (SPI), a non-profit play space for children that encourages scientific-based learning. 
Ariel Foundation assisted Kenyon in its purchase of the Buckeye Candy Building in 2015. The purchase and restoration of the facility cost approximately $6 million and, according to Garland, roughly half was financed by the Wright family. 
"The idea came about to create a center that actually would be in Mount Vernon so that we would have not just this concept of getting students into the community, but a place that would be the home base for that to happen," Garland said. 
The Wrights' contribution to the creation of the Wright Center was just their first donation in Kenyon's newest fundraising campaign, Our Path Forward. They also gave $2.5 million to endow a professorship in the economics department. According to the Our Path Forward campaign website, the new position will "explore the traditions and values that have built American democracy and free enterprise" and will add a "dedicated study of political economy and the history of economic thought to Kenyon's curriculum."  
The Ariel Foundation's next contribution to Kenyon is still being developed. The Foundation is renovating a large building on the corner of South Main Street and East Gambier Street in Mount Vernon to create 16 upscale apartments. When the renovation project is complete, the Foundation will give eight of the 16 apartments to Kenyon to use as new faculty housing, with the remainder assigned to Mount Vernon Nazarene University and the Knox Community Hospital.
"It's sort of a win-win: we have a desperate need for housing when we
bring both new faculty to campus as well as visiting faculty members," Garland said. "And some people would really like the opportunity to be in Mount Vernon."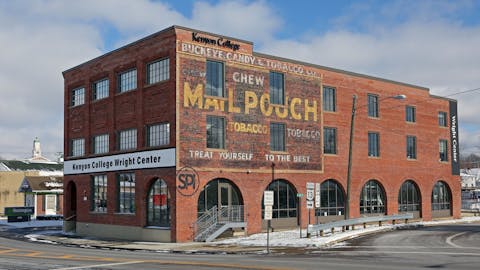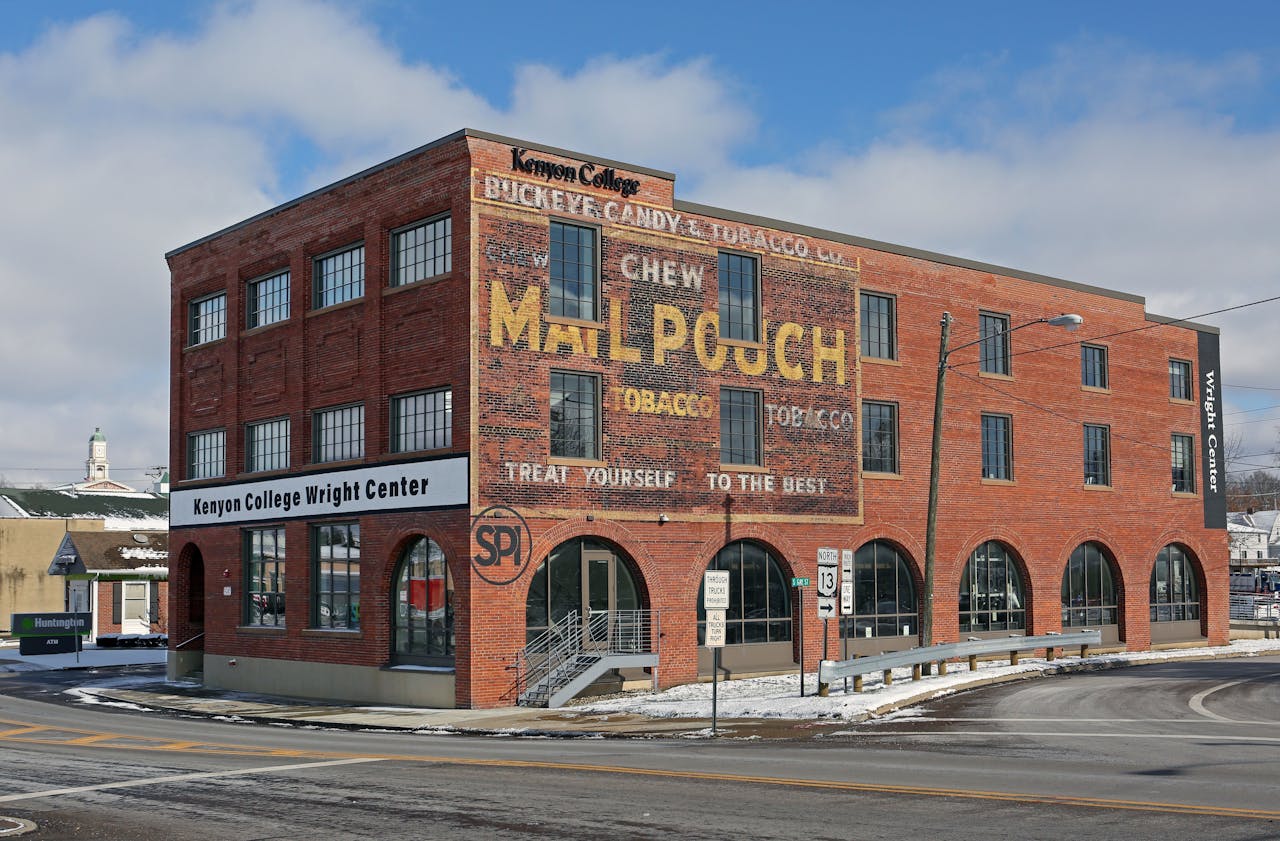 So what is Ariel's role in an environmental debate which has escalated in recent years? We found ourselves struggling to balance Ariel's positive impacts on the local community and the environmental concerns that arise regarding the industry Ariel must cater to in order to maintain its financial success.
"Fracking," according to Holdener, involves injecting wells running deep into the earth with chemicals to open up fractures for the extraction of gas and has become a hot-button issue over the past decades. Activists throughout the country have protested the impact of natural gas development on the health of individual communities and the planet at large. Ariel's Natural Gas Gathering Compressors reduce the volume of the natural gas directly after it has been extracted from the well, thus enabling its treatment and distribution.
Although environmental scientists agree that natural gas, when burned, releases nearly 50% less carbon dioxide than coal, critics' main concerns arise from the potential, during the extraction process, for greenhouse gases, particularly methane, to escape into the atmosphere and for chemicals to leak into nearby aquifers —the  layers of rock and sediment underground that contain large amounts of groundwater, which is often used for drinking. If done carefully and correctly, hydraulic fracturing might produce no risks, Holdener said. "However, this is the real world, and we know this is often not the case."
Professor of Economics and Environmental Studies Robert Alexander added, "When we contaminate an aquifer, we may well be contaminating something that could last beyond our society." Despite conceivable qualms, Holdener reiterated the potential for fracking to be conducted safely if regulated properly.
"It is the consensus of state and federal geological surveys and state and federal environmental agencies that fracking is safe for the environment," Holdener told us. But he said that recent relaxation of federal regulations have undermined the ability to conduct E&P safely. "I think the general relaxation of federal regulations in the past few years has probably done more to put the public at risk than anything at the state level here in Ohio," he said.
Moreover, Alexander stressed that he and other environmentalists worried more about the methane emitted during the actual extraction processes in the event of leakage rather than pollution caused by burning natural gas.
"It's not like I would make, you know, devils out of Ariel because they participate in this industry. I mean, they make something useful that there's a demand for," he said. "Ariel has some incredible technologies there … Just let them adapt like everyone else."
That being said, we wondered if potential environmental concerns of fracking caused any hesitation on the part of the Kenyon administration to accept donations from a company involved in fracking. Concerns over fracking, Garland said, would not impact Kenyon's decision to accept donations or gifts. Fracking does not trigger Kenyon's "morality clause," which applies to donations "where someone has done something illegal, immoral — something that is very clear."
Ariel's impact on the community has been felt and appreciated throughout Knox County's history. The story of Jim Buchwald's creation of his first natural gas compressor is still shared informally between community members to this day. Ariel's role in local revitalization and financial support for Kenyon is indispensable. Given its low environmental impact compared to coal when extracted, transported and burned properly, natural gas, and Ariel's specialization in its compression, may seem like a win. 
We entered the process of writing this article with initial reservations regarding the Industry Ariel is involved in. We also had a genuine curiosity about the company and its impact on its community. By the end, we felt as if it would be a disservice to present these two concepts as a binary choice. How can one definitively weigh the benefits a company can bring to our local community against the potential for damage to the world at large?
Unexpectedly, when we finished our reporting for this article, we were left with an even larger question. In an age where environmental impact is a growing concern for many energy producers and consumers, some scientists and energy experts view natural gas as a "bridge fuel" to carbon-neutral forms of energy. Ariel's essential role in its community and industry has become clear to us. Yet if natural gas is a bridge fuel, what will happen to Ariel, to Knox County and to Kenyon when this bridge is crossed — when renewable energy is in and natural gas is out?