Reaching Out to the Red
Since the 2016 election, Kenyon's students and professors have emerged as leaders in the local resistance movement to Donald Trump's presidency. But in a heavily Republican county, political disconnects on and off the Hill make productive dialogue difficult.
It is midday Saturday in late March when the first cars begin pulling up to Mount Vernon's public square. Professor of Biology Joan Slonczewski and two Kenyon students are already standing on the grass beneath the Soldier's Monument, armed with signs that read, "Don't be a fart. Save the arts" and "Tax Breaks for the rich: No! Bad!" Soon, the group grows to about 40 sign-holders gathered in sections at the four corners of the square, facing out into the roundabout.
An event founded shortly after President Donald Trump's election, Signs on the Square draws a crowd every week to protest a variety of issues, from local budget cuts to the proposed elimination of the National Endowment for the Arts. It is connected with Gibbs Watch, an organization Slonczewski formed in mid-November to track the actions of Congressman Bob Gibbs (R-OH). In the past five months, Gibbs Watch has drawn support from over 450 Kenyon students and Knox County residents.
But Gibbs Watch is just one of many local initiatives formed in response to the changing political landscape. Past and present students have created the Facebook group "Kenyon College Stands UP" to encourage the page's 477 members to call their representatives about any bills of concern. Organizations such as Kenyon's Crozier Center for Women, the Unified Citizens Action Network, and the Knox County Democratic Party have also tried to rally the local liberal/progressive population through meetings, protests, and "get out the vote" efforts.
In a county where 66 percent of voters cast a ballot for Trump, Kenyon has emerged as a source of local democratic resistance movements. But political engagement at the local level has forced students to confront the community's disconnect with its surroundings — and whether they are creating a true dialogue with the rest of Knox County remains to be seen.
Reagan Neviska '17 remembers going into Mount Vernon with Kenyon friends shortly before the presidential election, when it was Trump signs, and not signs supporting the National Endowment for the Arts, that dominated public spaces. Neviska is from Fredericktown, a village in Knox County. Before her father started working for Kenyon's Library and Information Services, she lived in Morrow County — "Knox County's poorer neighbor," she said. As both a Kenyon student and a Knox County resident, she has had to deal with misconceptions on both sides. Even as Kenyon becomes increasingly engaged in local politics, some people, including Neviska, believe the political divide between Kenyon students and Knox County residents will only get worse.
"A lot of my friends, and a lot of people at Kenyon, were like, 'Who voted for Trump? Who would do this?'" Neviska said. Neviska identifies as liberal, but people she knows from home voted for Trump, and her family is conservative. "I'm imagining the majority of votes for Hillary [Clinton] came from out of Kenyon, or the Gambier area, where professors live … [That's] the reason why I feel like the divide between Kenyon and Knox County is growing."
In certain parts of the local resistance movement to Trump's election, Kenyon is overwhelmingly present. As the "Signs on the Square" protest wears on, people chat among themselves; many already know each other. Some, like George Breithaupt, a writer for the local news site KnoxPages.com, were born and raised in the county. But most — about two-thirds, by Kenyon Chaplain Rachel Kessler's '04 estimate — are connected to Kenyon in some way.
"How can you not get involved?" Visiting Assistant Professor of Psychology Andrea White asks. She has been coming to the protests since they began.
Across the square, Gabby Bing '19 stands with George Costanzo '19. It is their first time at the event. "I'm just really interested in resisting locally and having conversations," Bing says. "It feels like this is a lot more conducive to creating a  dialogue."
Within the bounds of Kenyon's campus, people reacted strongly to Trump's win. The week following the election, hundreds gathered in Peirce Dining Hall to vent their frustrations, and 142 administrators, faculty and staff signed a letter expressing their solidarity with any minority groups targeted by Trump's administration.
For some students, though, Kenyon's actions — especially the ones confined to the Hill — are more symbolic than effective. Emma Welsh-Huggins '17, a former Hillary for Ohio fellow and a current organizer for the Knox County Democratic Party (KCDP), commends Kenyon's championing of progressive views but doubts that a mostly liberal campus can position itself at the forefront of a national anti-Trump movement.
"I think that there are a lot of key actors at Kenyon that are part of [the resistance], but I don't think that in any way a liberal arts college should or could be seen as one of the leading movements, especially [when] existing in a place like Knox County," Welsh-Huggins said. Liberals make up the majority of Kenyon's campus but are a tiny minority in the rest of the county; they are "of a different cohort," she explained. "We are kind of in this liberal echo chamber here at Kenyon, and Knox County Democrats are very incredible in that they have to exist in an environment that in a lot of ways discounts their opinions because they are [in] a very heavily-red county," she said.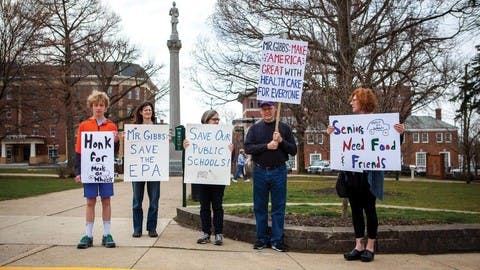 Welsh-Huggins is used to conversing with local Democrats, because she helps lead bi-monthly meetings for the KCDP in their Mount Vernon office on Monday nights. The crowd varies each session — on February 27, about a dozen people sat in the three rows of the meeting room. The walls were covered in "Ohio Together" posters, a large cut-out of Barack Obama, and Post-It notes of upcoming legislation. Most attendees were middle-aged or older; only one Kenyon student sat in the crowd.
Energy in the room was high. People responded to their neighbor's comments with whoops, cheers, and calls of "yes!" Over the course of an hour and a half, they discussed topics ranging from religion to the environment to health care. "I don't understand why health care is a bipartisan issue," one woman chimed in. "We're all affected by it."
Adam Gilson, the chairman of the KCDP and publications director for Kenyon, began the session reminding attendees to run for local elections, despite the competition they would face from the Republicans. "We can't run a campaign on being a Democrat cause that doesn't take us too far in Knox County," he said. "We can run on being decent humans, which we are."
Gilson brought Donald Bovinett, a candidate for City Council, to the front of the room to present his platform. Bovinett never considered running for office before Trump's win, but after November, he began a movement to get his name on the ballot. Gilson commended his example and said, "That's the kind of story we need to see throughout Knox County and the country."
Turning to Bovinett, he remarked, "It's going to be a hard race."
"Oh, I'm aware," Bovinett responded with a nod.
Bovinett is not alone in turning to local government as a starting point for change. Professor Slonczewski, a poll worker for the Knox County Board of Elections, is used to pursuing politics on the community level. "There's a real misconception that everything that happens, happens on the presidential level," she said. "What [people] don't understand is that it's the local level where things  happen."
Slonczewski heads Gibbs Watch, the organization that follows the actions of Ohio's 7th district — the northeastern section of the state — with five other members from Mount Vernon, New Philadelphia, and Millersburg. The group has found success through phone calls and in-person chats with Congressman Gibbs, and their base continues to grow. Each week, members rally behind a "bill of the week" about anything from health care to education. Gibbs' national office has even placed phone calls to Slonczewski.
Most recently, the group met with Gibbs at the Loudonville Public Library to advocate for climate control and to speak out against a repeal of the Affordable Care Act. "We were the first group that got a meeting with our congressman," Slonczewski said.
Gibbs could not meet all of the group's needs, she said, but "he did take notice."
A few years ago, getting a "Congressman Watch" off the ground was not feasible. Slonczewski first attempted to build a movement after the 2012 election, but she found that there was little interest; nobody believed it could work. After Obama was elected, she said, "people thought, 'This is just how it is.'"
This time, when it came to Trump, she suspected her efforts would be more successful. "The election came out differently than most people expected," she said. "There are such profound concerns about the government that a lot of people have become interested in politics [who] were never interested before."
Like Gibbs Watch, the KCDP is attempting to attract more newcomers and young people to the forefront of the political movement. Before the election season, Bovinett told the Magazine by phone, it was rare to see a Kenyon student involved in county politics. "It wasn't that they weren't involved," he said, "but initially, we didn't see a lot of them coming to town. Mount Vernon isn't known for its warm welcome of opposing ideologies, so it might not be the easiest place to go protest."
Recently though, Bovinett has seen this change. "During the election, and about a month or two before, I saw them become more and more active. We actually did have a group stop by," Bovinett said.
Those visitors later became the United Citizens Action Network (UCAN), a nonpartisan environmental and social justice advocacy group and a 501(c)(3) nonprofit.
UCAN stemmed from a collaboration between Kenyon students and two Knox County residents. Matt Meyers '17, Zak Young '17, Emma Schurink '18, and Schuyler Stupica '19 met Gambier and Mount Vernon residents Jacob Clark and Zachary Parker when the latter two reached out to discuss their trips to Standing Rock in North Dakota, where the students protested the Dakota Access Pipeline last year.
"We were not ready to get back to our 'normal lives' after standing up to big oil," Meyers said. "We wanted to keep assisting those exploited by inhumane corporations however we  could."
Since then, the students in UCAN have doubled down their efforts and joined forces with the surrounding area. In the past couple months, the group has protested hydraulic fracturing (fracking) in Wayne National Forest in southeastern Ohio. Recently, veterans held a fundraiser for the group. Next, UCAN hopes to address drug problems in Knox County through installing needle donation boxes in the area.
Upon graduating from Kenyon this May, Meyers plans to stay in the area and focus on local advocacy. "Spending summers here [has] connected me to Gambier and Knox County residents," Meyers said. "They have been some of our (UCAN's) biggest supporters and contributors."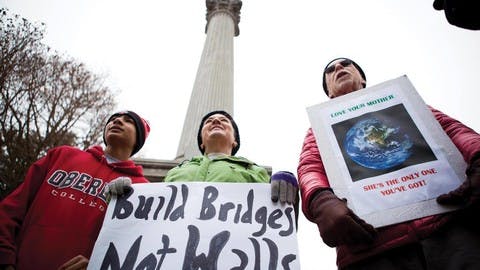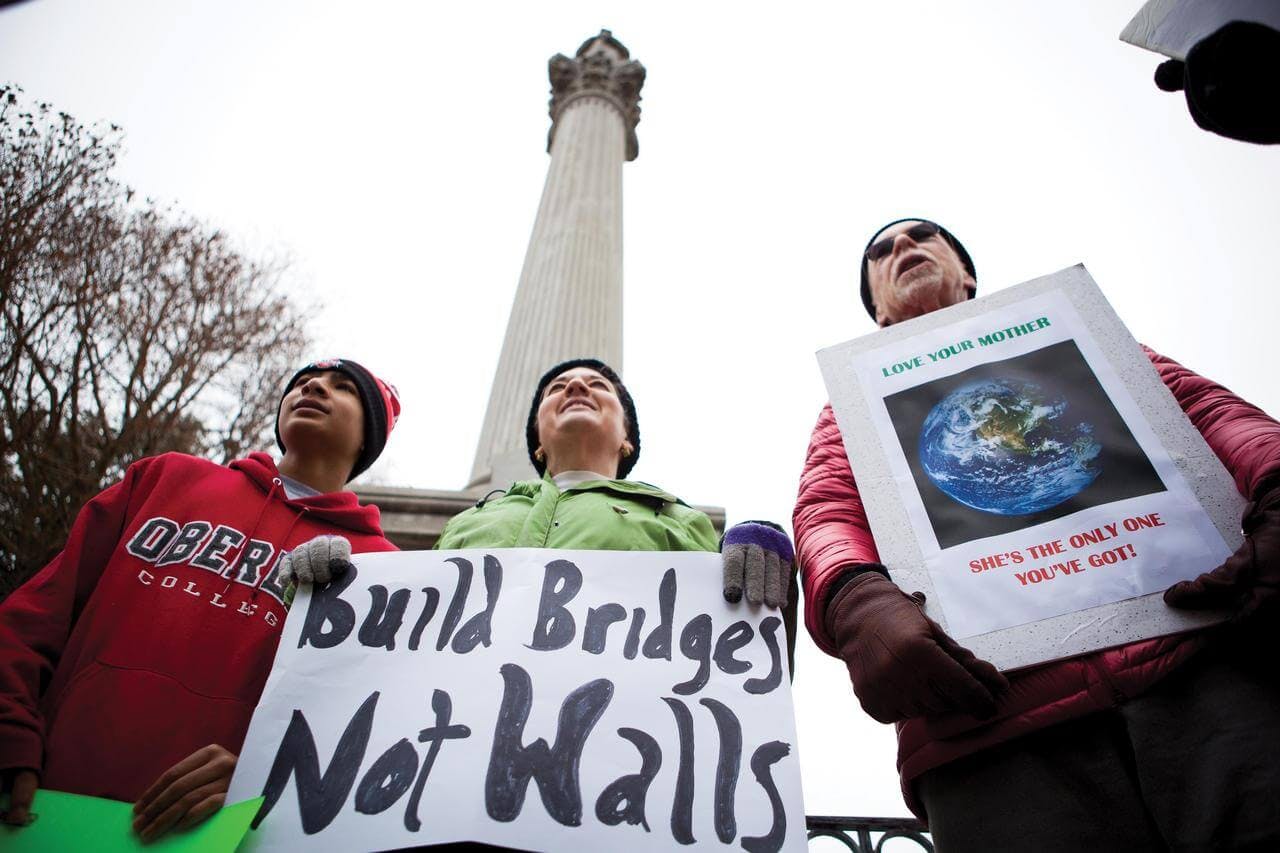 But Bovinett is right to say that the largely conservative Mount Vernon can make it difficult for some students to want to engage off the Hill. Others may not even come to Kenyon in the first place; this past year, the College saw a 12.5 percent decrease in the number of submitted applications, compared to last year. Similar Midwestern colleges, like Oberlin and Grinnell, also noted drops, which Admissions staff has attributed to Trump's popularity in the area.
"This is a year in which you were vulnerable if you were a small liberal arts college in a rural, red state and you attract a significant portion of your student body from the East Coast or West Coast, which would certainly be the case with Kenyon," Vice President of Enrollment and Dean of Admissions and Financial Aid Diane Anci told the Collegian.
In the Collegian article "Political divide impacts Class of 2021 admissions" (April 13, 2017), Anci said that high school guidance counselors from more liberal, coastal cities told Kenyon that students were "spooked" by political statements made in the surrounding area.
"We observed firsthand the divided nature of the country," Anci said in the article, "as we were dealing with a fair amount of commentary on the number of Confederate flags that people were seeing around campus and the number of Trump signs."
The county is racially homogenous — 96.7 percent white, according to the United States Census Bureau — which could present an obstacle to students of underrepresented populations looking to pursue activism off the Hill. Tamara Parson Anderson '93, another member of KCDP, knows this struggle firsthand. She grew up in one of the few black families in Knox County. Her family has lived here for seven generations.
As a Kenyon student, Parson Anderson quickly became involved with the Kenyon Democrats. During her freshman year, she met 1984 and 1988 presidential candidate Jesse Jackson when he came to campus in 1990. After graduating, Parson Anderson remained in Knox County, where she continued to work on local political issues. But even after a lifetime in the area, her racial identity has presented an issue.
"As a black person," Parson Anderson said, "I'm fully aware of that tension that exists between Mount Vernon people and people who look like me."
Recently, at the CVS on Coshocton Avenue, the woman who rung up Parson Anderson asked her if she was a foreigner. "Those were the words she used," Parson Anderson said. "'Are you a foreigner.' I mean, it stunned me in a way."
Parson Anderson added that her kids hear racial slurs in high school but that teachers don't take action. "You know, all of those things build up," she said. "I mean, my husband and I have said we need to move. This is our home. We live in Gambier, actually, and we love our house … But we don't want to be surrounded by that. We don't want to wake up every day to our neighbors with a Confederate flag hanging on their porch, which is what my mother [wakes up to], my mother who lives in Mount Vernon. It's horrifying. It's really hard."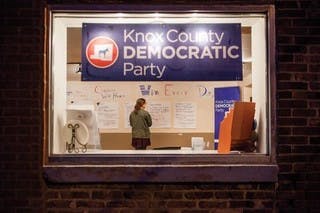 The first 10 days after Trump's win, the Southern Poverty Law Center documented 867 bias-related incidents across the United States, over 300 of which targeted immigrants or Muslims. Fearing hate crimes, Kenyon's Crozier Center for Women instituted its "buddy system," through which anyone who worried about walking or driving in Gambier or Mount Vernon could request a "buddy" to accompany them.
"Everyone was feeling pretty tense and pretty anxious immediately post-election," Wesley Davies '17, one of the Crozier managers, said. "To be able to do something felt like a way of feeling a little bit less helpless, so it was a really good distraction from wallowing." In an environment where some students worried about their safety, disengaging from the county — creating protections between Kenyon students and their environment — became a form of meaningful political action.
Davies set up the buddy system by creating a Google form and calendar where students could either sign up to be buddies or find a buddy of their own. Over 80 students and staff signed up to lend a hand, Davies said. They could not speak to the number of students who used the buddy system, because it is anonymous, but believed that "if it helped one person, it already succeeded."
Even at the Signs on the Square protest, Slonczewski must school students about dealing with adverse reactions to their messages and beliefs, or even to their identities.
"Don't engage," she says. "Don't reward hate speech. If they want to discuss the environment or the arts, that's fine. Otherwise, ignore."
The protest has worn on for about 15 minutes when the white van from the New Beginnings Ministries pulls up. Eleven people in blue T-shirts gather across the street from the square. They hold their own signs, large poster-boards criticizing abortion and praising Jesus.
"[We] can't rely on government to take care of every whim we have. Look at the Kenyon College campus. It's a godless country," Jeff Cline, a church member who runs JC's Autos in Mount Vernon, says to the Magazine.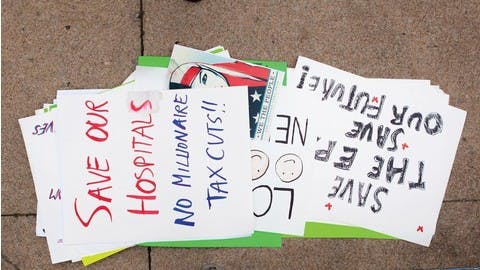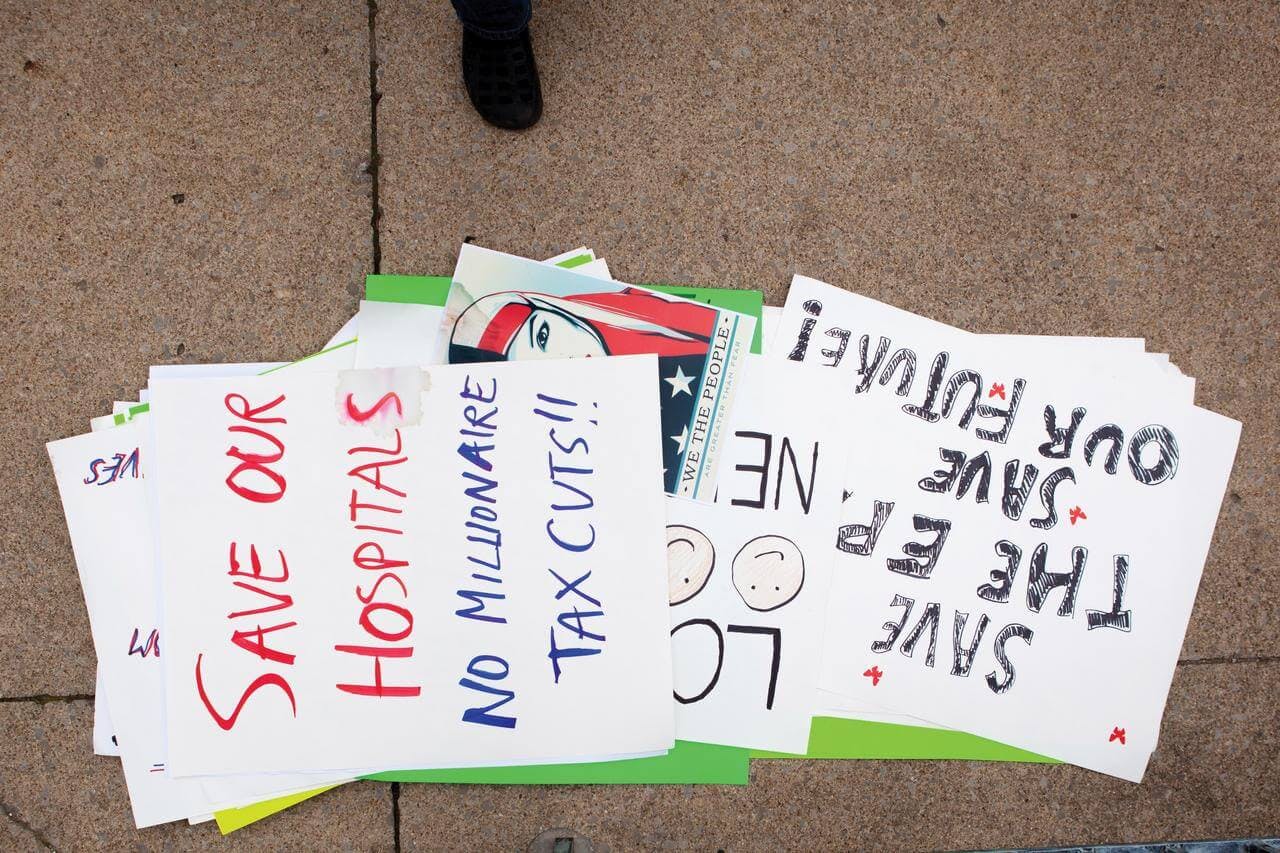 New Beginnings, an Evangelical church in Coshocton County, which neighbors Knox County, began responding to the "Signs" protests two weeks after they started. The group also pickets elsewhere, including Planned Parenthood in Columbus, Pastor Bill Dunfee explains.
Dunfee did not vote for Trump. He wrote Ted Cruz's name into the ballot and thinks the verdict on the current president is still out.
"I'm sure as hell glad Hillary Clinton didn't get it," he says.
For most of the afternoon, the two groups stand on opposite sides of the street. Their respective messages — a rendition of "This Land is Your Land" on the "Signs" side, and a megaphone-enhanced lecture against evolution on Dunfee's part — gather little response from the other.
It is only later that Costanzo, one of the Kenyon students present, decides to cross the street to speak with Dunfee. The pastor is polite, and the two shake hands.
"You can only do so much with standing and showing signs. What we're really trying to do is foster a better connection," Costanzo later told the Magazine. "I'm not going to lie. It's a scary thing. Especially if you come from a background they don't necessarily agree with."
When Costanzo mentions to Dunfee that he is gay, he feels the tone of the conversation shift; it seems like Dunfee no longer wants to listen to what he has to say.
"'This is wrong, homosexuality is wrong, we love you and pray for you' and everything like that," Costanzo recalled Dunfee saying. "I said, 'I hope we can find an understanding one day.'"
Haley Shipley '17, whose ancestors were some of the first settlers of Knox County, vividly remembers growing up with friends of different opinions than her own. The daughter of liberal parents, Shipley became "very politically outspoken" in high school as a way to rebel against her environment. "You can only hear rhetoric you don't agree with so many times," she said.
One of Shipley's earliest forms of protest was wearing an Occupy Wall Street shirt to class. "It made a lot of people mad," she said. "So then I just kept wearing it, like, all the time." Her most vivid memory of political dissent, however, happened in her high school geography class. "It turned into a talk-about-whatever kind of class, and we had debates," she said. "It would always be like, 'Stand on this side of the room if you agree, and this side if you don't,' … I remember doing that and always being the only person on one side of the room, compared to everybody else. It was a very eye-opening experience, being like, 'Huh, no one else here agrees with my opinions on health care."
Now, at Kenyon, Shipley faces a different kind of distance from her peers. As a supporter of gun rights and someone whose high-school friends are already married, she called herself "too liberal for Knox County but too conservative for Kenyon." Shipley voted for Clinton but felt frustrated with what she viewed as the student body's inappropriate and belittling response to Knox County in the wake of the  election.
"Being on campus was really difficult … afterwards, because I felt like there was an attitude of, 'Oh, we lost because of white Trump supporters, like everyone in Knox County,'" she said. "And it was like, 'Yes, they did vote [for Trump] and I wish they didn't vote that way, but there's a lot of societal and psychological reasons behind them voting. You can't go and fix us.'"
Sometimes, Kenyon's intolerance toward conservative students becomes extreme. During the campus's "Shock Your Mom" party in March, students broke into Saxon Justice's '17 room and vandalized his property. Justice is a Republican who voted for Trump, and his room in Old Kenyon has a "Make America Great Again" sign propped up against its  window.
Justice explained that he came home Saturday evening to find his lock picked and his room in shambles. "Our beds were flipped, contents of drawers [were] thrown everywhere, shelves were cleared off, and food [was] thrown on the ground," Justice told the Magazine. "Personally, I was rather upset at first but realized all the folks that did this wanted was a reaction so I didn't make a big deal about it."
This wasn't the first time Justice's personal space was compromised. After Trump was elected president, someone broke into Justice's room and urinated on his roommate's belongings. "Our name signs are constantly torn off the door," Justice said. "[In November,] notes were always pushed under the door that said 'go away' or 'be on the right side of history.'"
While Justice admits that he is "fine" with the predominantly liberal attitude on campus, he finds the lack of respect for his views frustrating. "As of late, things appear to have gotten significantly worse, especially post-election," he said. "The way people on campus constantly argue that Trump would overstep his boundaries but then commit acts like this is hypocritical," he said.
Like Justice, Shipley thinks the student body's attitude towards red voters is problematic. The day after the election, classmates in her seminar brainstormed ways to alter local beliefs. This attitude, she said, only helps to exacerbate disconnects between Kenyon and Knox County and further the stereotype that Kenyon students are elitist. Unless Kenyon students try to understand Knox County residents, she said, they cannot hope to engage in productive dialogue.
"So many of the things that we identify with as Knox Countians … I mean, they're generational," Shipley said. "They're things that have come from even hundreds of years [ago]. There is this idea of heritage and following what your family does. And even following what your church does when your church is made up of the same families that started it. I think [Knox County residents] have such different backgrounds and experiences than Kenyon students and I don't think you can really understand where these people are coming from until you make an effort to understand their circumstances."
Although Shipley did not vote for Trump, she understands why many of her neighbors did, and why his messages might resonate in an area like Knox County.
"I understand a lot of the argument that rural white America is being left behind in … political discussions," she said. "That's something that I felt just in going to a school whose funding was so cut, and growing up in an environment where we didn't have much to do or get much. When the recession hit, it hit really hard out here. And it still hasn't really recovered because we lost factories and people lost jobs. I get where [Trump voters] are coming from — here's someone coming in and going, 'It's okay to be in your situation.' … It's attractive."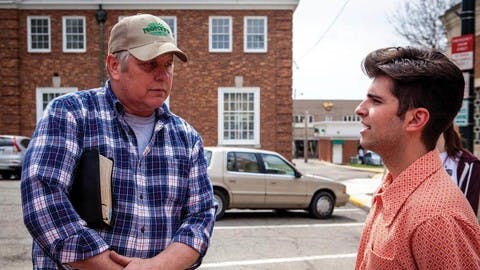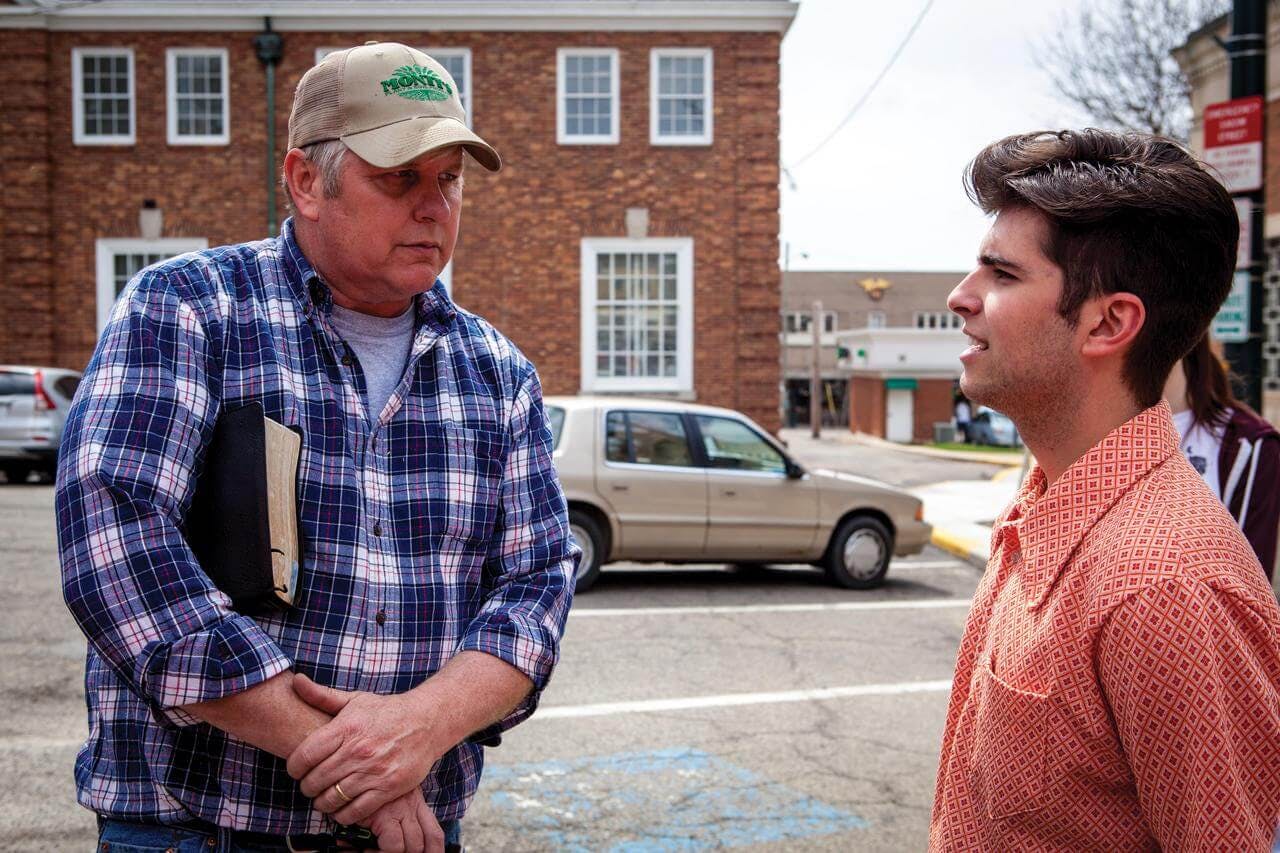 Perhaps there has always been a disconnect between Kenyon and Knox County. And as Parson Anderson said, "There probably always will be, because of the nature of the culture here."
While it is too early to tell whether Kenyon's current political activism will continue, some — including Eva Warren '19 — see a bright future.
Warren, who hails from New York, is getting ready to launch her campaign for a seat on Village Council, the Gambier body that handles day-to-day life of the village. Elections are next November.
"I realized that ever since I was little, I had been talking this talk about political engagement and getting involved, and had really only paid lip service to it," Warren said. After Trump's election, she decided to run for local government in order to become a bridge between Kenyon students and the community.
"I think that having a person who looks like them in age, if nothing else, makes it a lot easier to get engaged on a local level," Warren said. "I would love to be that person."