Regime Change
Head Coach James Rosenbury has brought positivity, yoga, and some long-awaited wins to Kenyon's football program.
On a hot and sunny afternoon on Sept. 7, the Kenyon football team had just scored in overtime of their game against The Catholic University of America. They now found themselves losing 31-30. It was the debut of new Head Coach James Rosenbury, who was now faced with a critical decision. He could either elect to kick the extra point, tie the game, and force another period of overtime. Or he could go for the two-point conversion, which would give Kenyon the victory, but also came with much more risk. If it failed, the Lords would lose their 27th straight game. The upside of potentially ending the losing streak was too much for Rosenbury to pass up. He decided to go for two.
"At first, in the huddle it was pretty calm," Justin Bosch '21 said. When the play began, quarterback Thomas Merkle '20 got the ball out of the shotgun position and tossed it down the sideline to a streaking Bosch. He corralled it and dove toward the pylon in the front of the endzone. The conversion was a success. Years of losses finally interrupted by a Kenyon win. "The next thing I know I was surrounded by multiple people saying that we won," Bosch said. "It was just a great feeling."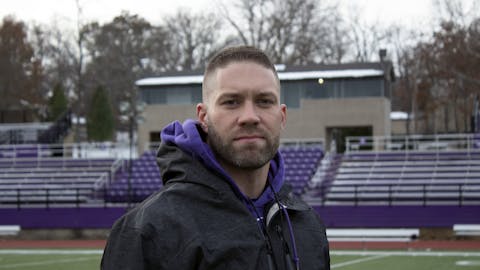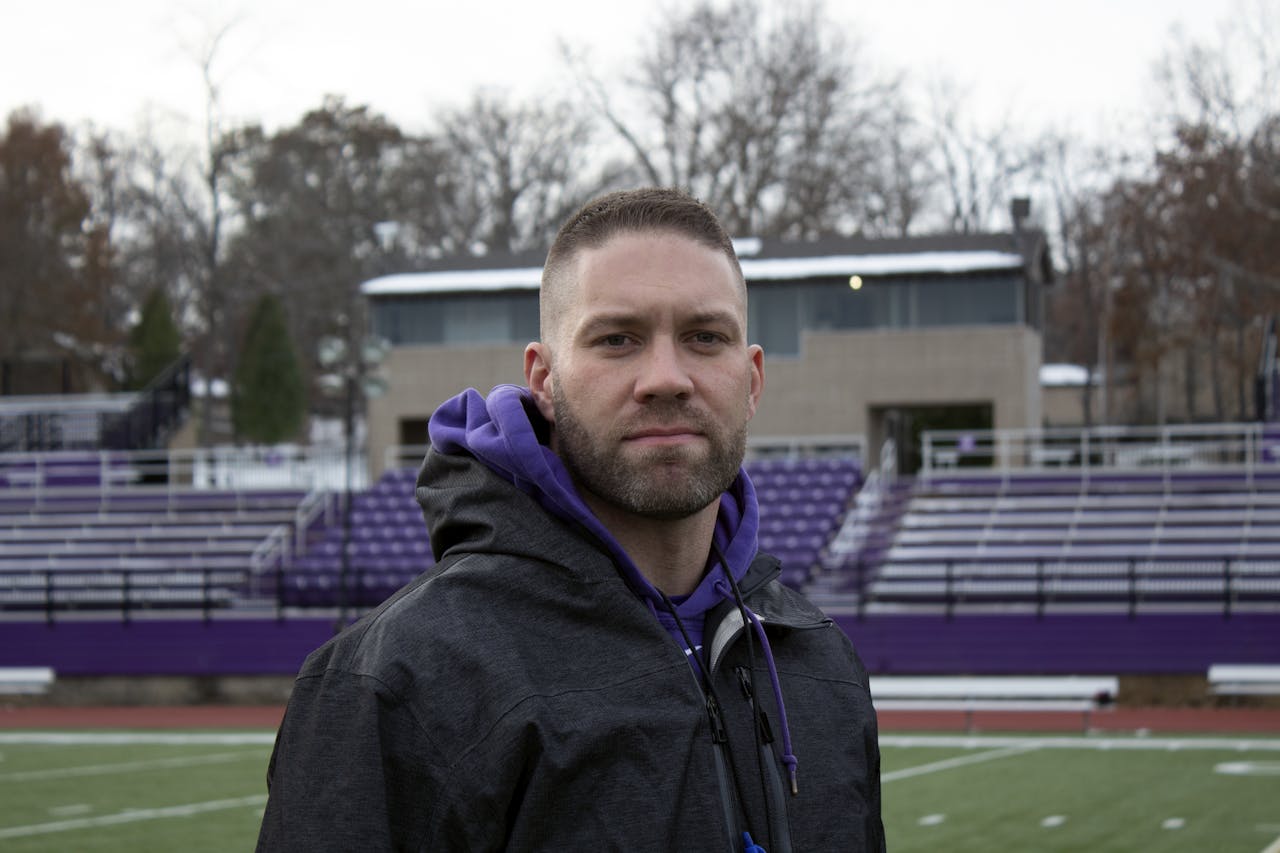 On Feb. 19, Kenyon College announced that Coach Chris Monfiletto, affectionately known as Coach Mono, was stepping down as head coach of the football program. Monfiletto was well-liked across the board, but most within the program conceded that it was probably time for a change. 
"I think when you lose 26 games in a row, change is always good, whether the previous coach was good or bad," newly promoted Defensive Coordinator Ian Good said. "The losing takes a toll on people."
Bosch concurred. Even though he liked the previous coaching staff, he felt the program had stalled. "I just think change was needed in order for us to have any type of progress," he said.
Enter James Rosenbury. An alumnus of Case Western Reserve University, Rosenbury was on the coaching staff at Macalester College when he received a call from Vice President for Student Affairs Meredith Harper Bonham '92. "My son Charlie was recruited to play football at Macalester College and I was enormously impressed by the program's diversity, high academic standards, and supportive philosophy," Bonham said. She was so impressed that when Monfiletto announced his resignation, she reached out to Tony Jennison, the head coach at Macalester, to see if there was anyone on his staff who he thought would be able to bring this same approach over to Kenyon.
Jenison recommended Rosenbury, who jumped at the offer to return to Ohio. "My goal was always to be a head college football coach at a high academic school like Kenyon," Rosenbury said, "so for me, this is really a dream job." 
Things started off with an impromptu phone interview, which by all accounts went exceedingly well. "When I hung up the phone after my first conversation with Coach Rosenbury, I remember saying, 'I just feel better about myself,'" Kenyon Athletic Director Jill McCartney said. "He was who he was and he was very genuine, authentic… I thought, 'Boy, this is the kind of person I would be really excited for our student athletes to have the opportunity to work with.'"
Rosenbury was flown out to interview in front of the remaining members of the coaching staff and the team's leadership council, a group that formed last winter made up of captains and other veteran members of the team who are meant to serve as team leaders and conduits between the players and coaches. "He made it apparent that he was going to make the program better immediately,"  Linebacker and Captain Michael Picone '21 said.
On April 5, it became official: Rosenbury would be Kenyon's head coach moving forward. "It's been a whirlwind," Rosenbury said, "but it's been really, really fun."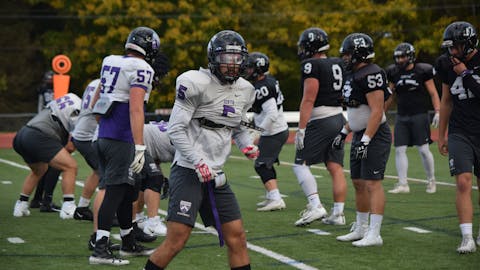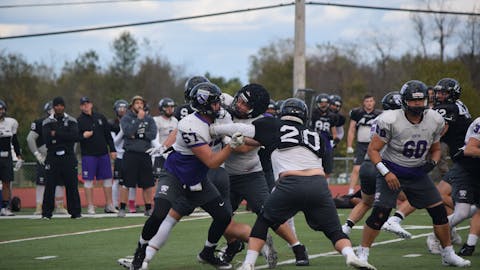 If there is one buzzword circulating around the Kenyon football team this year, it's positivity. "From the minute that James stepped on campus, and even in his interview, his big thing was positivity, positivity. Preaching positivity and living by that," Good said.
Positivity is apparent at practices, where players constantly encourage each other and exchange high fives. This was not always the case in previous years: "People are more positive to go to practice so people are more positive with each other at practice," Picone said. "That percolates to off the field relationships as well, which I think is something we've always been strong with but it's only gotten stronger."
Positivity comes from the coaches, too. "I think I've really encouraged our coaches to be incredibly positive with our players," Rosenbury said. "Positive to the point where they're blue in the face. Positive until they can't be positive anymore." 
This means talking more about what the players can do well than what they cannot. "When you say, 'Don't throw an interception,' all they hear is 'Throw an interception,'" Rosenbury said. "Tell them, 'Hey, take care of the football,' and it's amazing that mental shift." He added, "I've been on our coaches about it. I got on one of them yesterday because he told one of the DBs [defensive backs], 'Don't step with your right foot.' And I was like, 'What should he do then?'"
However, positivity is not be confused with passiveness. If there is a consistent issue, Rosenbury's philosophy is not to simply ignore it for the sake of preserving positivity. "We're positive until we need to step things up, and then once we figure out exactly where the holes might be or exactly where our problems might be, we put our positivity in hold for a minute, fix those things up, and then get back to our positive mindset going forwards," Merkle said.
That idea of looking forward to what's next and not looking back on the negative things of the past is what coach Rosenbury calls the "next one wins" mantra. The spirit of next one wins is all over the team this year — it has even made its way onto a t-shirt — and epitomizes the new mindset of the program.
"What [next one wins] means is doing your best at every opportunity, whether it's on the football field, in the classroom, or in their personal life," Rosenbury said. This could apply to anything from a dropped pass on the field, to bombing a test in class, to getting into a fight with a friend. Get over it and work as hard as you can to make up for it and come back stronger. 
Of course, the on-the-field issues are of particular importance to the team's task at hand. "On the football field, the next one wins mentality means whether you make a great play or whether you make a bad play, you've got to focus on the next play, because that's the one that matters," Rosenbury said. 
As joyous as the celebration of the win at the end of the game against Catholic was, the team began focusing on the next week's game right away. After being humbled at home by Ohio Wesleyan, losing 42-0, the team turned their attention to the next game. Rosenbury wants his team to look forward without taking too long glancing back.
Good, who has been with the team since 2017, feels like his team's work ethic has also improved under this year as well. "It's the little things, like coming in for extra film and the way that they communicate with me on the field… the dedication that they put in at practice this year and off the field in the meeting room," he said.
Additionally, Picone noted that his teammates have begun to trust each other more this season, turning a group of football players into a team of football players. "We've had the athletes for years to do it," he said, "we just needed to truly play as a team, and I think that's what the new regime has allowed us to do this year."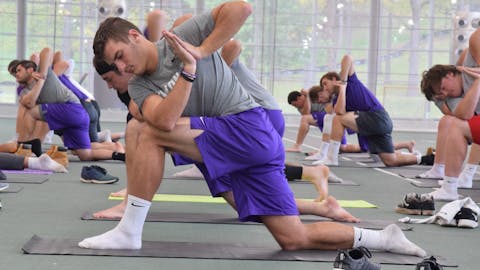 At 4 p.m. on a mid-October afternoon, the football team is in a trance. "Inhale. Exhale," the instructor commands in a soothing intonation. "Slowly roll up one vertebrae at a time." The players, lying on yoga mats between the ten-yard line and the end zone of McBride Field, follow suit. They are silent. All one can hear is the chirping of the birds, the gentle hiss of the wind, and the clopping of an Amish horse and buggy passing by. 
After 30 minutes, the spell is broken and the players are back to their normal selves, talking loudly and poking fun at each other as they make their way to locker rooms to get into the pool. Coach Rosenbury is waiting there for them. One by one, they jump into the water and start to jog in the lanes. Rosenbury watches them, sitting with his bare feet draped over a lane line, every so often calling out a new command for them. "High knees! Karaoke! Back to jogging!" There is a palpable energy amongst them, chatting and splashing one another as they pass by. They seem especially close in this moment, all sharing bonds and dramatic tan lines in this still novel task.
The yoga and water aerobics are part of "Wellness Wednesdays," as McCartney called them — a new coach Rosenbury innovation to the program. These activities take the place of practice on Wednesday afternoons to help the players' bodies recover physically and to mentally get refreshed for the weekend's game. Initially, a few eyebrows were raised. "I think at first everyone was a little confused," Picone said. "Most of us have been playing football for a decade and this was definitely a new thing."
But the players have come around to it and now embrace them. "It's a good day, especially after the wear and tear of Saturday [game day] and a hard day Monday and Tuesday," Bosch said. Picone added, "I like it. I think the entire team does. It really lets us get our minds right, our bodies right going into the late end of the week and into Saturday."
Rosenbury has also made changes to the more conventional practices as well. While every football team has certain drills and tasks that they have to do, Good has noticed an increased variety under Rosenbury. "Our practices are never really the same from day to day in both length and structure," he commented. Picone noticed one key difference: "Practice is a little faster," he said, "we get a lot done."
Rosenbury said that year to year some on the field tactics and strategies may change more than others based on personnel. "We're not Clemson, we're not Alabama, we can't just go and be like, 'We want you,'" he said, speaking to the relative limitations of recruiting players to a school like Kenyon. "You have to shape your offense and defense to the personnel you have."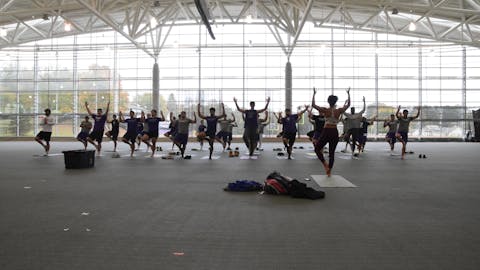 At the time of this writing, the Lords are 3-7, which is their best record in years. These wins mean a lot to the team. Before this year, only the seniors had ever won a college football game. And now that they've won, the expectations have changed. "We're hungry for more wins. I think we got a little taste of it and we've realized what needs to happen to get more of it," Picone said.
Perhaps this uptick in wins should not be unexpected. Historically, when new head coaches have come to Kenyon, the team will win more for a few seasons before falling back into a losing streak. When Monfiletto initially took the reins of the program, the team was coming off the heels of two straight winless seasons, much like this year's iteration is. He guided the team to a 6-4 record in his first season, but gradually saw the team lose more and more games as the years went by, bottoming out over the previous two seasons.
McCartney commented that change always seems to focus the team: "Any time there's somebody new, it gets everybody's attention and maybe they're all going to pull in the same direction, as opposed to when you have not been successful, you might not all be bought in at the same level," she said. Additionally, the later half of the Lords' schedule this year came against significantly harder opponents than the front half. After starting the season 3-2, they dropped five straight to conclude their season.
Regardless of the reason for their improved results this year, the Lords seem to exude a new sense of confidence after seeing themselves win a few games. "I think this team is capable of great things," Bosch said. "I think we're capable of winning every game we play. I don't think there's ever a game where we go in there thinking we're going to lose." Picone agreed, adding, "There is no reason that we should not come out of the season with more wins, and then on top of that, next year we should build on whatever the number is this year."
Like anyone else, Rosenbury lives for the win, and he has his designs set on building a sustainable and winning program. Other sports at Kenyon, like swimming, tennis, lacrosse, and soccer, have done it, he pointed out. "I don't see why it should be any different for football," he stated. Still, he knows that it's not going to be easy. "It's going to take us a long time to get there," he said. "We've got a lot of work to do."
It all starts with recruiting, one of Rosenbury's specialties. This year, a lot of the focus has been local, as the team hopes to improve its Ohio pipeline. Rosenbury said that he assesses three major factors when it comes to recruiting: players who take school seriously, love the game of football, and have strong character. Naturally, he also looks to bring in quality football players. 
However, Kenyon has some factors that limit the sort of recruits it can attract, namely tough academic standards and high tuition. Financial aid scholarships are all need-based, and "need" does not necessarily translate to comfortable to pay for. "It's hard to recruit to Kenyon," he said, "Football is a more blue collar sport, so there are a lot of student athletes that are smart enough to get in here but can't necessarily afford Kenyon." This is not a problem exclusive to Kenyon, Rosenbury believes, but one facing many similar schools. "There aren't many liberal arts schools that have strong football programs," he admitted.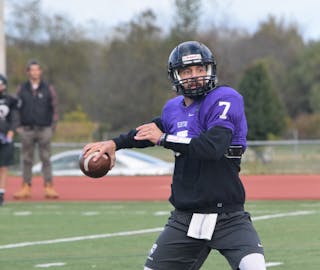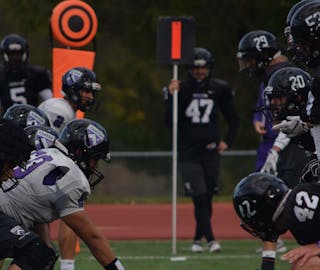 Rosenbury has a few long-term goals: "In the next four to five years, I want to be in the top third of the conference, competing for conference championships. In my perfect world, I would love for Kenyon to go to the playoffs for the first time in school history," he said.
These are lofty goals, and the team is not particularly close to achieving them at this very moment, but wins and losses aren't Rosenbury's only measure of success. "Everybody asks me, 'Coach, wins and losses, what do you think?' And I can't give an answer," he said, "because honestly, my goal for every team is, 'Are we the best possible team we can be at the end of the year?'" 
Merkle also sees issues with wins and losses being the only priority. Instead, his biggest ambition is "making this program competitive again." It's a trickier goal to measure. "You won't be able to tell that in the results this year," he added. "We can have seven wins this year and still have major holes that didn't make the program a long-term competitive program."
McCartney echoed this sentiment when it came to how changes under Rosenbury have affected the outlook of the program. "Will it yield the wins?" she asked, "You know, maybe not today. But down the road, I think definitely it's going to be helpful because you've got to have a can-do attitude if you're going to get things done."
Being the best team they can be extends beyond the confines of the football fields to how they operate as team and family. "Ultimately," Rosenbury conceded, "I want guys to have a great experience." What it really comes down to is how one defines success, and what Rosenbury has implemented at Kenyon is a program that values positivity, and values winning, but, most of all, values being a team and enjoying their time together. That is how Kenyon football defines success.
Now a junior, Picone has experienced three seasons of football with Kenyon and has one more to go. He had never experienced a college football win until this year, and now he still just has three. He loves to win and hates to lose. And yet, he would not categorize any of these seasons as failures or lost years. "Wins are definitely important," he said, "But we could go 10-0 [and] if the guys really didn't enjoy being with each other off the field and if the camaraderie was bad, then I would say that was not a successful season. As long as people are coming here and wanting to work towards our goals of winning games, that's what's most important to me."