Taking Aim
Changing the Conversation on Gun Violence
On an overcast March afternoon at the Brunskill Armory in Mount Vernon, customers stroll in to examine the rows of guns sitting sideways on their shelves. Gold bullets line a glass case like soldiers standing at attention, while behind the register, a friendly labrador retriever keeps track of who enters and exits the storefront.
Chris Jones, the owner of Brunskill Armory, was given his first BB gun when he was about 10 years old. His passion for the sport began in his backyard, when he tried to shoot pellets in as tight a cluster as he could. "That's really what it boils down to for me. Marksmanship," he said.
Jones owns one of the approximately 52,000 gun stores in America. That's more than the number of Starbucks and McDonald's storefronts combined. Nearly 20 percent of Ohioans own a gun, and so far in 2017, there have been 213,984 background checks throughout the state, according to the Federal Bureau of Investigation (FBI).
Ohio's concealed carry bill (S.B. 199), signed into law in December, has increased gun usage in places like Knox County, permitting individuals with the proper identification and certification to carry a concealed handgun in certain public areas. These include college campuses, churches, the public parts of airports, and daycare centers, according to the Ohio Legislature's website.
While the majority of the bill remains steadfast in its commitment to end "gun-free zones," colleges could opt out of the provision that allowed concealed carry on their campuses. Kenyon's Board of Trustees, for example, released a statement in March pledging to keep the campus a gun-free zone and uphold Kenyon's "longstanding ban of weapons on campus." Kenyon will also require concealed handgun licensees and active duty service members to secure their handguns in a locked motor vehicle while on College property.
Both locally and nationally, the debate over gun violence prevention is a hot-button issue for gun rights and gun control advocates alike. Since the December 2012 shooting at Sandy Hook Elementary School in Newtown, Connecticut that killed 20 first graders and six administrators, gun violence prevention has gained traction as a movement.
As conversations about the Second Amendment and gun laws take center stage, concerns over public safety and proper gun usage are becoming more widespread.
Concealed Carry and Ammo in a Place Called Home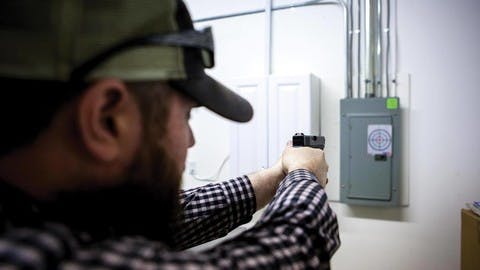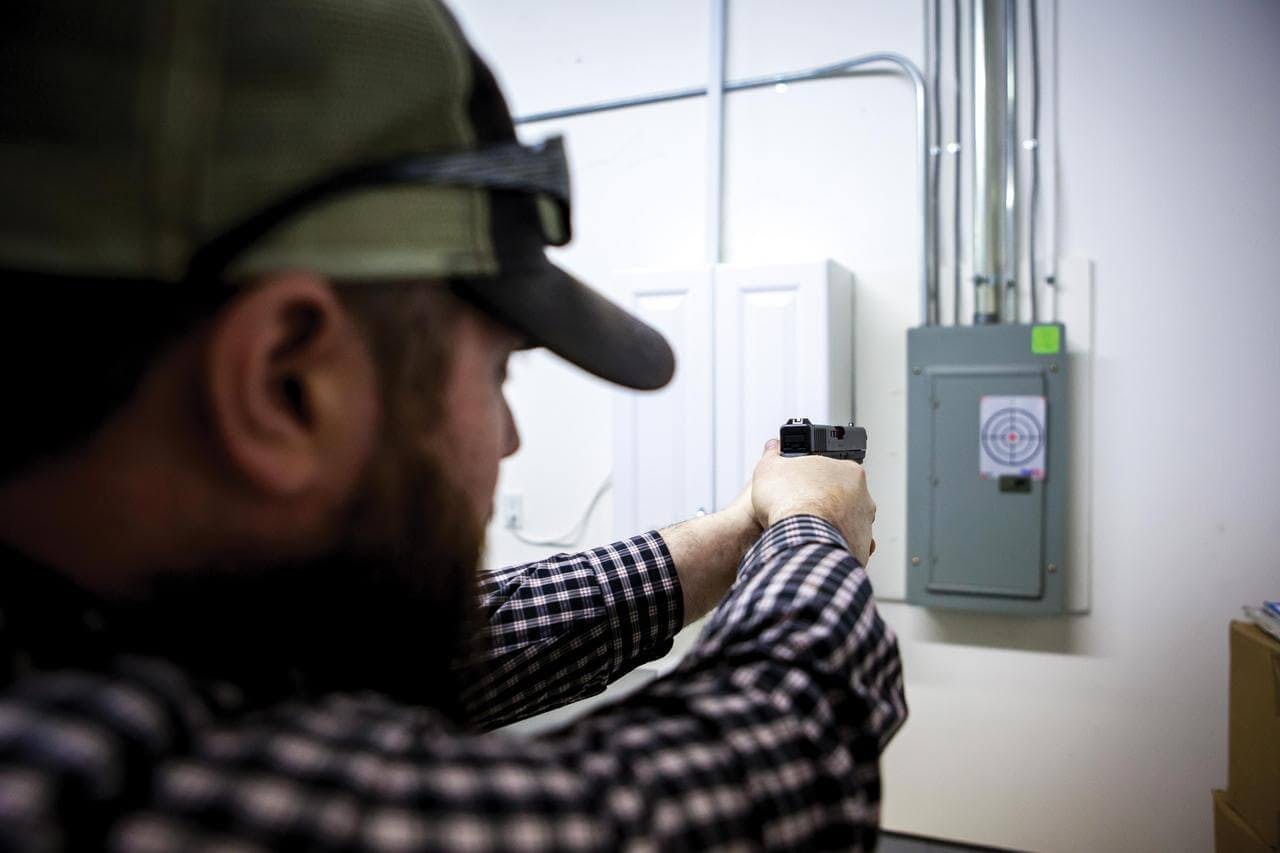 The Sandy Hook shooting happened right after Jones decided to open his store. Jones said the prices of firearms supplies skyrocketed, though, and he had to delay the opening because he was unable to stock his storefront. Brunskill Armory eventually opened in 2013 and has been in operation for more than three years.
As an Ohio establishment, the Armory helps conduct reviews for customers seeking a concealed carry permit. Jones supports concealed carry, but believes that "carrying [a gun] by itself doesn't make it effective." He thinks that continued training is what makes concealed carry helpful in the unlikely event that the person encounters an active shooter situation.
"Owning a gun is a big responsibility," he said, and some people take that for granted. "If someone comes in and they don't have the correct attitude toward safety, they don't get a certificate [to conceal carry a gun]." At Brunskill Armory, Jones and his employees "make sure that they're one, competent to carry in a safe manner, and two, know what they can and can't do." Jones has only ever denied three customers a firearms purchase.
"I do [background checks] every day and they don't bother me and they don't bother my customers," Jones said. "They're very easy and they're very quick."
Jones' store also helps oversee private sales between individuals by providing a background check on the individual who wants to purchase the gun. Jones said that he has seen an "increased interest in the last couple years" for these types of brokered transactions.
While some Kenyon students are concerned that there could be more guns around campus with the passage of S.B. 199, others are not. Brooks McCoy '19 grew up shooting rifles at summer camp and hunting with his friends in South Carolina. His family did not own guns but most of his friends did, and some of them had concealed carry  permits.
"They're given with the intent of someone who is trained being able to step in," he said. "If you look at the type of people who go and do mass shootings, it's not the people that have the concealed carry licenses. Those are the types of people that stop them."
McCoy has never lived in a state where concealed carry is illegal and said he feels safer with the law in place.
McCoy is not the only student who views guns as a normal part of life. Tristan Biber '17 grew up seeing assault rifles frequently. A native of Switzerland, he remembers watching soldiers carrying guns while going to and from the army barracks or when riding on public transportation.
Guns played a big role in Biber's life growing up. His great-grandfather was a sharpshooting champion in Switzerland, and his grandfather won awards in the Swiss Army. His family in Texas are avid hunters, and he goes skeet shooting with them at gatherings. Biber describes guns as having a "persistent" presence in his life before he joined the military. He now holds a leadership position in the Swiss Army, where he is required to use weapons during his service.
Even though Biber feels comfortable around guns, he had to undergo extensive training before he was allowed to use real ammunition. "Even in the Army, [we] weren't allowed to touch live ammunition until about three weeks in," he said. "There was such a lack of sense of humor about it, it was phenomenal."
Similarly, Emily Margolin '17, the daughter of a former FBI agent, said that in her house, "there was no casualness about handling a gun." Both Margolin and Biber grew up in houses with weapons. In his room back home, Biber has an assault rifle.
But, Biber says, "it's a club." He cannot get ammunition unless he goes to a shooting range, and even then, he has to pick up all the shells and return them to the vendor. Likewise, Margolin was taught that guns are something "to be used only by those who are trained to use them."
Still, there are Americans who are not responsible gun owners and contribute to the over 33,000 deaths a year caused by guns. That's 1.5 million people who have died from gun violence since 1968, or more Americans that have died in every war fought by the U.S. and on 9/11 combined.
Public Usage & Public Health
For the public health community, gun usage is more than a casual hobby — it embodies a dangerous trend. For the past 30 years, public health researchers across the country have been working to reduce gun violence in the U.S. By approaching gun violence as a public health issue, officials have been able to zero in on trends and causes of gun deaths, which has allowed them to develop policies they believe would help reduce high rates of firearm-related deaths across America.
"For many years, when people thought about how we should prevent violence, what they mostly thought about was what you might think of as a criminal justice perspective," Jon Vernick told the Magazine over the phone. Vernick is the co-director for the Center for Gun Policy and Research at the Johns Hopkins Bloomberg School of Public Health and the deputy director of the Johns Hopkins Center for Injury Research and Policy. According to Vernick, error lies in solely punishing perpetrators of gun violence after an incident, rather than trying to prevent violence in the first place.
Vernick explained that gun-related incidents go beyond homicides and assaults. Every year "almost two thirds" of gun deaths are suicides, he said. Focusing on gun violence from a public health perspective allows researchers and policy makers like Vernick to look at the "overall societal harm that guns might be causing" and act accordingly.
This type of public health-focused approach enables researchers to see how gun violence affects the trauma ward of a hospital, in addition to how it affects individual victims. But most importantly, it allows them to focus on keeping "guns out of the hands of high risk people in the first place," Vernick said. With this system in place, criminals, young children, and people who are a danger to themselves and others would not be able to possess weapons.
According to Everytown for Gun Safety, a gun violence prevention advocacy group, 92 percent of Americans support background checks for gun sales. But that belief has been slow to translate into concrete national policies. While in office, former President Barack Obama met consistent pushback from Congress on passing gun violence prevention legislation. He eventually signed an executive order on the issue.
But in his first 60 days in office, President Donald Trump reversed Obama's efforts, signing a bill into law that rolled back legislation that made it more difficult for people with mental health issues to purchase a gun. The original legislation was passed in response to the Sandy Hook shooting.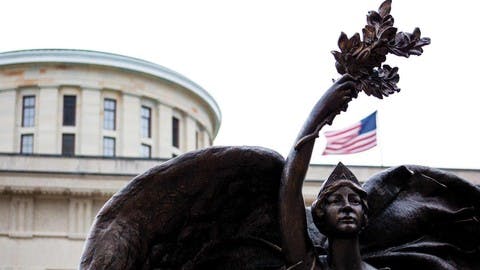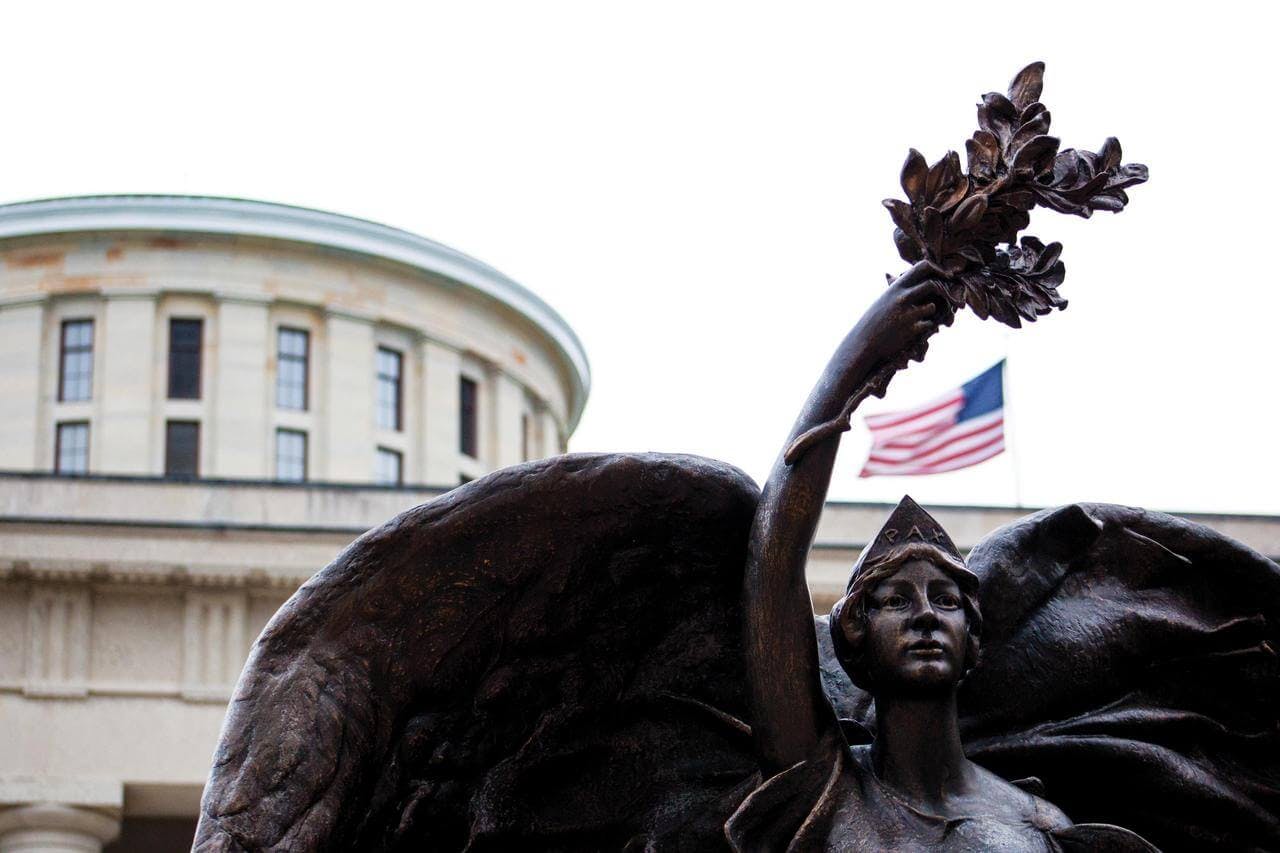 To public health experts, progress requires a new type of outlook. "Humans think in frames; they don't think in public health," Joshua Horwitz told the Magazine by phone. Horwitz is the CEO of the Coalition to Stop Gun Violence (CSGV), one of the most prominent organizations fighting gun violence on a national scale, and the executive director of The Educational Fund to Stop Gun Violence. He argues that individuals have to be able to "transcend the evidence" and reach people on an emotional level.
This message particularly resonates with Emma Welsh-Huggins '17, the founder and president of Kenyon Students for Gun Sense (KSGS). When canvassing for Hillary Clinton in Ohio, she came across a voter who was torn on whether to vote for Clinton or Trump. Welsh-Huggins asked, "What are your most important issues? What is going to be the deciding factor in how you vote in this election?" The woman told her that a woman's right to choose was incredibly important, "but that she was afraid that Hillary Clinton was going to take away her guns."
As the director of CSGV, Horwitz is familiar with that concern. "But," he said, "[Clinton] losing probably has very little to do with guns."
Today, leaders of the gun violence prevention movement, like Horwitz, are beginning to succeed in transcending the evidence. "Public health is a pretty weak frame," Horwitz said. "Getting out there and saying, 'This is a public health issue and we need to do something about guns' doesn't influence the general public. Freedom, autonomy, democracy, liberty — those are the most important and powerful words in the American lexicon."
This idea came to fruition on January 5, 2016, when Obama declared that "our unalienable right to life, and liberty, and the pursuit of happiness — those rights were stripped from college students in Blacksburg and Santa Barbara, and from high schoolers at Columbine, and from first graders in Newtown. First graders. And from every family who never imagined that their loved one would be taken from our lives by a bullet from a gun."
James Margolin P'17, a former FBI agent who now serves as the chief public information officer for the United States Attorney for the Southern District of New York, agrees with Obama's assessment. Margolin, like Obama, believes that common sense regulations like background checks that keep guns out of the hands of criminals are crucial.
"I didn't know a lot of law-enforcement people who thought it would be a good idea … to have the populace have … unfettered access to assault weapons," he said, "for the simple practical reason that you don't want to go through a door and face a greater likelihood that someone on the other side is going to have something like that."
This is a concern not only for law enforcement, but for teachers as well. At Kenyon, faculty have undergone active shooter trainings so they know how to act if a shooter is on campus. Community Advisors have also undergone two training sessions.
Concerns about safety permeate party lines and are not unique to liberal institutions and law enforcement. Even 30 years ago, when he first started working at the FBI, Margolin says, "I never got the sense from my colleagues, many of whom are, you know, right of center politically … that they were absolutists or extremists on gun policy."
KSGS, a nonpartisan group, hopes to build on the national conversation and reach across party lines in a similar fashion. The organization is working to promote gun sense on campus and hosted a film screening this semester to convey policy information and engage students in conversations about gun violence. Next year, KSGS plans to take a group to the shooting range in Mount Vernon to learn about gun safety.
Despite increased awareness and advocacy across the country, progress has been slow. "The fact that the entire country is not visibly alarmed by [the fact that 91 people die every day from gun violence] is mind blowing to me," Welsh-Huggins said, "so why aren't we treating gun violence like a disease?"
That is the million-dollar question that activists have been asking for 30 years. Now the voters are asking it, too. "I think it's a much more high-profile issue [than it was before]. I think more people are talking about it, thinking about, scared of it," Horwitz said. "You have these high-profile incidents, a much stronger movement, and I think that makes a really big difference."
"I think this movement is going to be very strong for many years to come … I think the American people fully understand that it's possible for them, for those who want it, to have gun ownership, but at the same time, for us to make common-sense solutions."
Welsh-Huggins declared that "it's time we start treating it like what it is. An epidemic."