What Side Are You On?
The Collegian Magazine examines K-SWOC's sudden rise to prominence, and now, what comes next.
It's March 16, 2021 and there's a strike at Kenyon College. Leading the charge is the Kenyon Student Worker Organizing Committee (K-SWOC), a student worker group that has been relentlessly demanding union recognition from the College after their initial request was denied by the Board of Trustees in the Fall. K-SWOC members and allies gathered on Peirce Lawn outside of the library buildings, where they held the picket line, waving signs and chanting "Our path, our union" and "Gambier is a union town." They arrived at 7:45 a.m. By 12 p.m., they were marching down to the Lowry Center. At 5 p.m., students shouted testimonials into a megaphone outside the steps of Rosse Hall, explaining why they were striking and why it was essential that they unionize. Students sang along as a band played pro-union tunes like Pete Seeger's "Which Side Are You On." At midnight, the strikers finally left the lawn and headed back to their dorms. The strike lasted for only a day, but for the strikers it felt like a major testament to what student worker solidarity could achieve. "[The administration] wasn't very prepared for it and it definitely did affect them. I mean, they can pretend it doesn't, but it definitely does," said Nick Becker '22, one of the strike's organizers and a member of the K-SWOC steering committee. "And I think the longer they just ignore student workers, the more people will be like, 'What game are you playing?'"
One year before the strike, an undergraduate student workers union seemed impossible. The COVID-19 pandemic had just hit the United States. Kenyon students had been sent home for the remainder of the school year and student workers were left in the lurch, unsure of whether they would be paid for the rest of the year — payment that for many their ability to attend Kenyon was contingent upon. It was during this time of unrest that the seeds of K-SWOC were sowed; seeds which have sprouted into a highly visible organization, both at Kenyon and nationally. Most significantly, the ascent of K-SWOC exposed something festering under the surface for a long time: that the system of student employment at Kenyon is broken. Over the 2020-2021 academic year, K-SWOC and the Kenyon administration both sought to grapple with this issue in one way or another. It's their approach to the student employment question and their end goals that have remained in firm opposition.
Sigal Felber '21 was sitting in her childhood bedroom in Verona, Wisconsin, staring at her sky-blue walls full of artwork and Brewers memorabilia, when she heard her phone ring. It was March 2020, right after the COVID-19 pandemic had shut down the world, and things felt hopeless. Kenyon students had been informed that they would not be returning to campus for the remainder of the school year and would have to finish the semester remotely. Everything felt up in the air. How would classes continue? How could everyone ever pick up all of their belongings? And, crucially, how would student workers who were unable to do their jobs remotely be compensated? Initially, Kenyon had no plan in place to pay those student workers, even though a significant percentage of them qualified for work-study, meaning that the income they made from their jobs served as a form of financial aid (roughly one third of the student body was eligible this past year). "Everyone was panicking because the world was going under, and we had nothing to rely on or lean on for income because the school, it seemed like, really wasn't going to do anything to proactively … support or protect its workers," Felber recalled. Ultimately, students successfully petitioned the school to be paid for the remainder of the semester. They had learned, however, just how precarious their positions as student workers really were.
There was that buzzing again. Felber looked down at her screen. "Nick Becker," it read, continuing to buzz. Weird, she thought, we don't really talk. Sure, she and Becker had been friendly with each other for the past two years, with both of them holding leadership positions in Kenyon Young Democratic Socialists of America (KYDSA). Earlier in the school year, through KYDSA, they had met with two maintenance labor unions on campus to learn how students could support them, as well as how a union functions. On one call, where Becker was present, Felber suggested that Kenyon student workers should unionize. She knew that the problems facing student workers weren't going to go away by themselves. Felber looked back down at her ringing phone and swiped on her screen to answer the call.
"Hey Sigal," Becker's voice rang through the phone line, "I just talked to Hayden." Hayden Schortman is a union representative from United Electrical Workers (UE), specifically the local chapter UE 712, who the students had talked to previously in the fall. What he'd told Becker is that Kenyon student workers should unionize, and that UE could help them do it. Felber was in. She reached out to some student workers that she knew as well as other students who were proponents of organized labor in hopes of setting up a meeting to discuss the possibility of unionization. Gradually it snowballed to the point where a large group of students were meeting frequently over Zoom.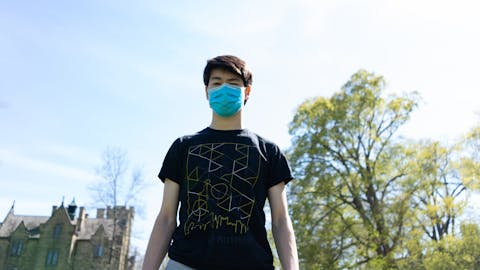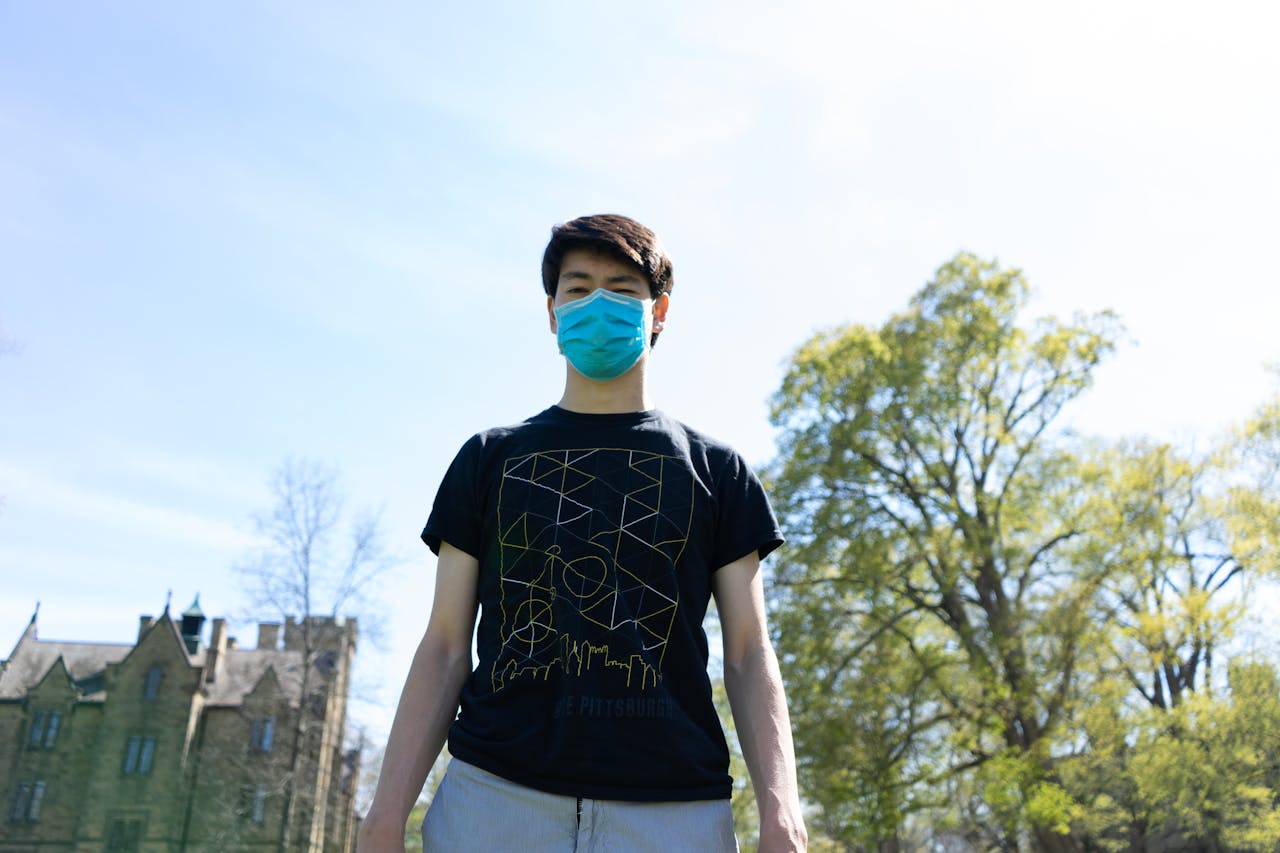 The idea of a union did not come out of nowhere. It had been brewing in the back of Becker's mind for a while. He had read about dining hall workers at Grinnell College who successfully unionized in 2016, making them one of two undergraduate student labor unions in the country, along with the Residence Assistants at the University of Massachusetts Amherst. It wasn't just that workers at Grinnell had unionized that struck Becker, but that it happened at an institution very similar to Kenyon: a private liberal arts college in the Midwest. Becker was intrigued, but at that point undergraduate student unions weren't widespread enough for him to see it as a real possibility. But after COVID-19 shook up the world and students had to fight for their pay, Becker and many other students realized that the Grinnell model might be a viable option. "There's a reason why having something institutionalized to have student workers' backs would be really helpful," he thought, "There's no reason why we should wait. … People had those issues even before COVID exposed a lot of them."
While the pandemic served as a galvanizer for K-SWOC, the idea to form a union was not something based on a single issue. Instead, K-SWOC is looking to fundamentally change the system so that student workers can have a say in decisions that affect them. Presently, those decisions can be made unilaterally by the College. "It's about restructuring power relations," Professor of Anthropology Edward Schortman said. "Not seeking to grab the power for all student workers, because they will always be at some disadvantage in respect to administrations, but empowering student workers to be able to do more for each other than they can now in the context where they have no way to make administrators listen to them, take them seriously, and, most importantly, talk to them as equal adults."
K-SWOC went public in early September. During that week they held informational events over Zoom, where they explained how a union works, featured alumni who were involved in labor unions as speakers, and clarified why a student workers union was necessary at Kenyon. "I think that was really important, even if it wasn't as focussed on putting pressure on the administration," Becker said. "It was just as important to build that knowledge base in the community about what we were trying to do." Because of the pandemic, juniors and seniors like Becker and Felber were studying off-campus in the fall, but these early events helped them establish footholds for K-SWOC within the Kenyon community. Now that they were public, the K-SWOC steering committee and members waited for a response from the Board of Trustees on whether the school would officially recognize them as a union.
On December 11, 2020, Felber decided to go on a hike in New Hampshire, where she had been living during the semester. It was right before finals week, and she wanted to take her mind off things. When she reached the top of the mountain and saw the view, she felt that she had to take a picture. As she pulled her phone out of her pocket, an email alert crossed across her screen. It was a News Bulletin message from Kenyon, announcing that the Board of Trustees had unanimously rejected K-SWOC's request for recognition. Among the reasons stated for the decision were that a union would detract from the school's educational mission, that a one-size-fits-all union would not be able to handle the diversity in student jobs, and that there were already channels such as student governance available to give student workers a place grievances and attempt to steer negotiations. The picture-perfect moment saw its frame crumble.
At that juncture, K-SWOC had realized that it was unlikely that they would be recognized by the school. In Becker's eyes, what was crushing about that decision was not that it was made, but how. "In the weeks leading up to [the Board's decision] we had been begging them for more dialogue," he said. "We had met with them only twice, and one of [the meetings was held] after we had basically run a pressure campaign just to get them to meet with us again." When the Board finally did meet with K-SWOC, Becker said that, despite all of the students present stating that they wanted a union, the College insisted that it was not in anyone's best interests for student workers to unionize. That process was particularly frustrating for Becker, as it felt antithetical to the values Kenyon claims to represent: utilizing critical thinking and engaging with community members as equals. "That to me was the worst part of it — that they teach us these values through education and then don't apply them to their own institution," he said.
Edward Schortman, who has been an ally of K-SWOC, similarly took issue with how that decision was made. Schortman said that when he first arrived at Kenyon in 1981, the school employed a "stewardship ethic" when making decisions. Schortman defines this ethic as allowing all parties involved with any given decision to have at least some say. But starting in around 2000, Schortman noticed that the school began moving towards a more corporate governance model. "Those in charge … make decisions about the College, and then we are presented with those decisions," said Schortman. "Many of us feel that our ideas are increasingly irrelevant to the shaping of and promotion of the College into the future." While the Board of Trustees might have listened to the students advocating for a union, Schortman notes that listening is not the same as negotiating. "Negotiation happens among equals," he said. "Listening happens among unequals."
A lack of recognition in December did not deter K-SWOC. "I don't think any of us had to ask the question, 'Oh, are we done?'" said Felber. "No, we were not done." With the spring semester fast approaching and upperclassmen making the return to Gambier, K-SWOC's push for recognition was only just beginning.
On Thursday, March 11, 2021, students met outside of Ransom Hall to deliver a notice to the administration announcing that they would be striking in five workplaces: the Writing Center, the pool, the library, the greenhouse, and the farm. The issue at hand was a lack of payment during the "quiet period" that Kenyon had in place at the beginning of the semester in the hopes of mitigating the spread of COVID-19. During this time, 25 percent of the student workforce were unable to work due to the restrictions in place, costing some workers hundreds of dollars that they depended on receiving. The strike was authorized by an absolute majority of workers in each workplaces after students both for and against joining the union asserted that striking was the right thing to do. Student workers from other shops joined in the strike in solidarity. 
The decision to strike came after weeks of agitating the College to sit down with K-SWOC members and discuss a resolution regarding students not getting paid during the quiet period. K-SWOC's advances were rejected by the school. "They've redirected us to this financial aid form that has proved completely unhelpful in the past," Felber said, with Becker adding that the form was like the school saying "we are going to recognize that not paying you is a financial hardship," but not directly addressing the issue. K-SWOC members broadcast their frustrations at an informational picket on Peirce Lawn. The picket was meant to raise awareness among the student body about the administration's quiet period pay policy as well as to signal to the administration that they were serious about standing up for their labor rights. "We even said 'we would potentially consider a work stoppage if you don't resolve this,'" Becker said, "We were like, 'We're seriously committed to this, you can't just send us an email and tell us to go away.' Which is what they did. And we're like, 'Okay, if you do that we're not going to go away, these issues are still affecting us.'"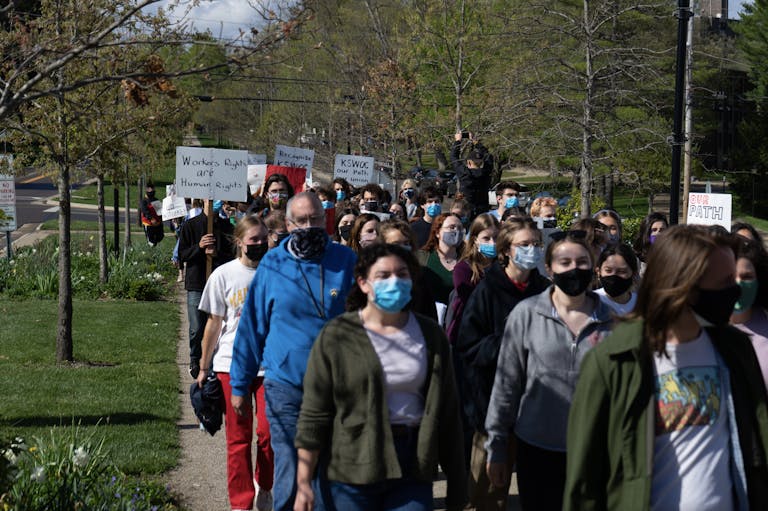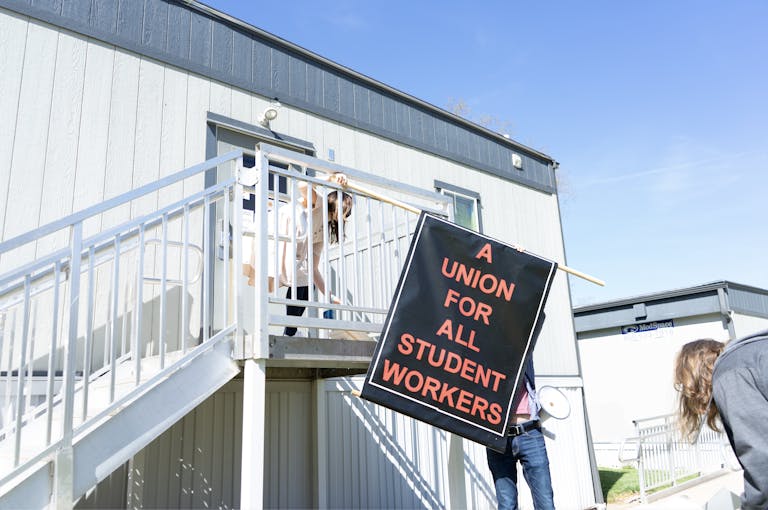 Quiet period pay was not the only issue K-SWOC intended to tackle in the Spring semester. After their one-day strike, two new issues emerged relating to the administration's planned changes to student employment. Apprentice Teachers (ATs) would now be required to take a class to serve as training in order to have an AT job. Previously, this process only required an application and a brief training period. While the new class would allow for more thorough training for the ATs, some have argued it is disadvantageous to students who are native speakers or who are advanced in their language and do not need to spend a full semester class preparing for their role. In addition, Community Advisors (CAs) would now be required to give a presentation in order to be rehired year to year, whereas in past years all they would be asked is if they wanted to continue in that role. Also, CAs who previously lived in apartments would be moved elsewhere and replaced by graduate students from Kent State University. In a letter to the Kenyon community addressing the changes made to the CA program, Vice President of Student Affairs Meredith Harper Bonham claimed that CAs were involved in this decision-making process. "Nearly 50 percent of the student body completed the quantitative survey, in addition to student focus groups," she wrote. "For the housing operations study, only CAs were consulted because of the potential to impact them most specifically." However, K-SWOC argued these decisions were made without any direct consultation with ATs or CAs to see if the changes would be in their best interests. According to K-SWOC, these student worker groups were not aware these changes were in the works until after the school's announcement. In an effort to raise awareness for these issues, K-SWOC helped lead a virtual town hall meeting where CAs could air their grievances about the process to the public. 
While CAs, ATs, and other student workers were disappointed in the outcome of these decisions, it's the decision-making process and lack of student input that represents the very issue that K-SWOC is fighting for: a seat at the bargaining table in discussions about their own labor. This is particularly true in cases like these where the decisions made by the administration are affecting the school's more vulnerable populations. "Because ATs and CAs are disproportionately international students, students of color, I would say the policy is pretty discriminatory," Felber said. 
The circumstances that lead student workers to their job are by no means uniform, but most have the sense that the school views them as expendable labor. Becker disagrees with this premise. "I don't think the College offers any job that they don't need to be done," he said. "If we weren't here, the College would fall apart." 
The hiring process for student workers also varies significantly between workplaces. "I actually got my job because my professor just asked me if I wanted to work there. That presented a pretty big problem, because it gave me an unfair advantage. He told me that I did not even need to submit an application." said Luke Kim '24, "That's not really fair. Even though I benefit from it, I can recognize that it is not a good nor a just process." This lack of an adequate and universal hiring process prevents the already difficult job market from being accessible to all Kenyon students.
Pages that the Career Development Office (CDO) actively promote, like Handshake, ultimately fail at achieving their purposes, explained Kim. "In the mailroom, for example, people did not know there was a job listing except through backdoor sources like Facebook, rather than [the employers] flat-out posting it on the Handshake page"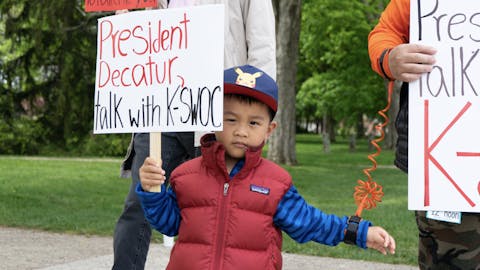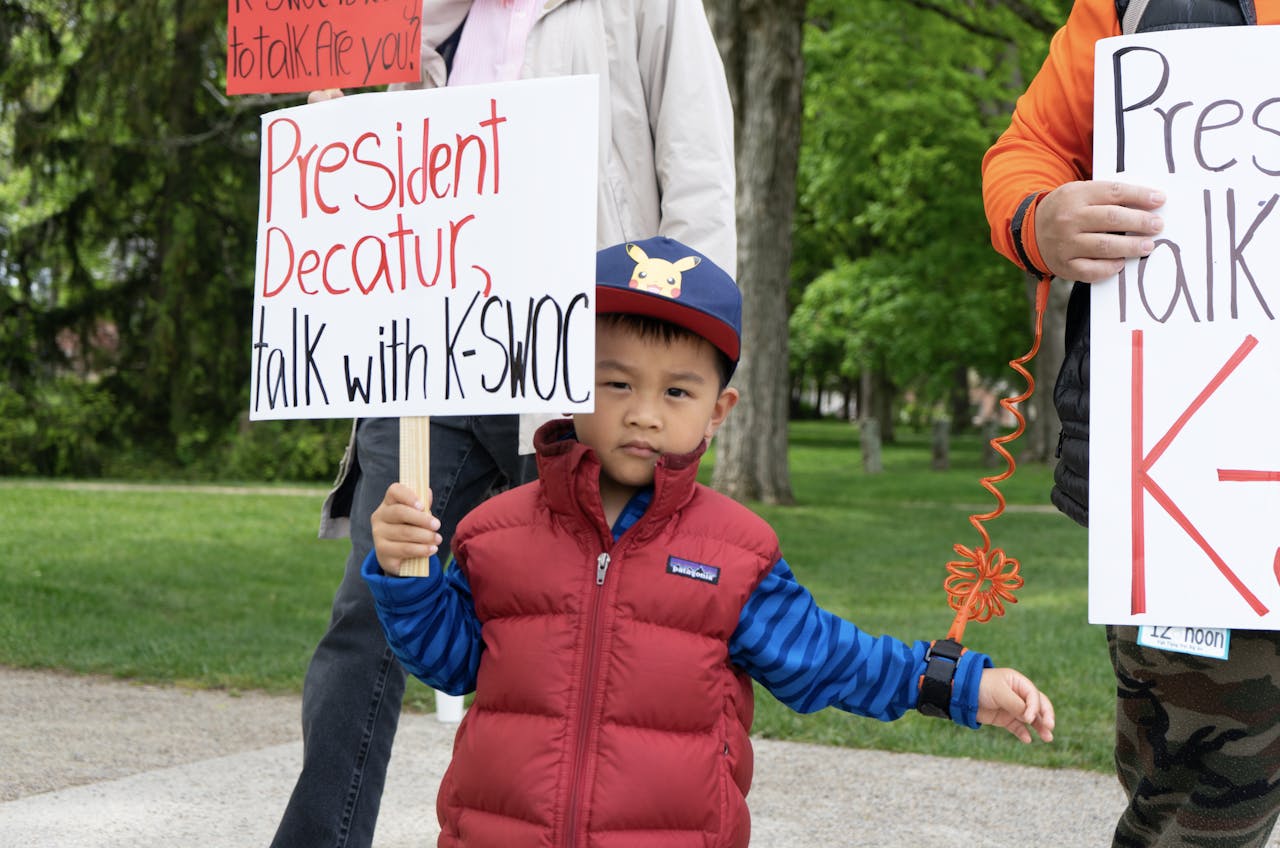 The College's own investigation into employment began in August 2020 as a conversation between President Sean Decatur and the Campus Senate co-chairs at the time: former Associate Director of the Center for Global Engagement Meghan Mason, Professor of Film Jonathan Tazewell, and student co-chair Delaney Gallagher '23. Like other Campus Senate investigations, such as their current discussions on the College's monikers, it started with the co-chairs telling President Decatur student employment was a large issue that warranted a long-term discussion. Gallagher recalls bringing the issue to attention after some students approached her, expressing the problems they faced with employment and their desire for a student workers union under a card check neutrality agreement.
The College's first official statement regarding student work came as a news bulletin from President Decatur on September 28, which was emailed to all students and employees and uploaded to the College's website. Decatur discussed the College's plan for reviewing employment, which started in August by tasking the Campus Senate to review the state of student work and make recommendations. He also reported that the Board of Trustees had formed a special committee to investigate the College's financial support systems and the Board was meeting regularly to further understand and improve campus work. This included a meeting hosted by Campus Senate on October 7, to which the Board of Trustees had accepted an invitation. At the meeting students would be able to voice their experiences about work-study and campus work at large. 
The Campus Senate was already hard at work when the news bulletin was released, and Gallagher remembers meeting with many students and members of K-SWOC leadership to achieve the best possible understanding of student work. The Campus Senate also hosted two town halls, the first being for students, as President Decatur mentioned in the news bulletin, and the second being for supervisors. At the first town hall, Board of Trustees members, who were tasked with the question of recognizing the union, also attended. There they could listen to students and their issues with campus employment. The Senate also hoped for students to see solutions outside of solely recognizing the union, as there might be "solutions that would need to occur with, or without a union," said Gallagher.
As the spring semester began to near its close, K-SWOC made a request to the College to agree to hold a community election for union recognition. This would entail an outside neutral party, such as a church or a legal guild, that would be mutually agreed by student workers and the administration, to administer an election where student workers would be allowed to vote yes or no on union recognition. The outcome of this election would dictate whether K-SWOC would be recognized as a union or not. The College, however, rejected this proposal, writing in their response that the reasons for their decision to deny voluntary recognition in December still held true.
In response to Kenyon's decision to deny a community election, student workers went on strike for union recognition for what ended up being two full weeks. This strike for union recognition was legally protected by the National Labor Relations Board (NLRB). Even more workers authorized this strike than the initial one in March, showing the growing support that K-SWOC had been slowly gaining amongst students. K-SWOC used its strike fund to ensure that striking workers would continue to be paid their wages for struck hours — the organization paid all workers Grade Level III wages (the highest pay bracket available) regardless of their typical pay. 
Throughout the two weeks of the strike, KSWOC members picketed, marched, and read testimonials, reminding the College that they would not be going away. Notably, a small group of students occupied Ransom Hall in order to talk to President Decatur about their desire for union recognition and successfully set up a meeting to sit down with him for a more formal discussion the following day. However, Decatur cancelled the meeting after protesting students were stopped by Campus Safety and made to show them their K-Cards under the threat that the police would be called otherwise. To K-SWOC, this implicitly suggested a threat of arrest for the protesting students. "Strikes are by nature disruptive," said Becker. "The point of the strike is to win a certain goal. Our goal was union recognition, and that doesn't mean we're going to just withdraw our labor and stand outside and sit there."
In an open letter to the Kenyon community, the school stated that "strikers entered college buildings to disrupt official college meetings, damaged campus property, and engaged in behavior toward staff that they considered threatening and intimidating," in a way that violated the school's protest policy. Additionally, a charge of property damage of the door flange of the Campus Safety office was levied against striking students. No evidence of those claims has been offered at this time and K-SWOC members have vehemently denied the charge. K-SWOC filed an Unfair Labor Practice to the NLRB regarding these issues, meaning that they believe that the school violated national labor law as according to the National Labor Relations Act. 
Despite two weeks of striking, K-SWOC was unable to secure union recognition. While the outcome was disappointing for those involved, organizers made considerable progress towards their goals. Their action resulted in more students signing cards to join the union, and they received a groundswell of support from professors; many signed a letter of solidarity for their striking students. "What we showed is that going on strike, doing civil disobedience, doing things that may be seen as being too far — I think we've pushed the envelope there," Bekcer said.  "These are things that are well within our rights… [and] something that is certainly moral and just to use whenever the cause is righteous."
However, union recognition is only the beginning of the process for K-SWOC. "Nothing changes in a workplace when you win the election," Becker said. "It always starts when you sit down and negotiate the first contract, which means you basically have to not only continue what you're doing but actually expand more and build more solidarity."
Schortman, who has been teaching at Kenyon well before current students were born, says that he's never seen anything like K-SWOC in Gambier. "That mutual support among people who find such little support in many of their workplaces, it's one of the most hopeful things I've ever seen here from anybody," he said. "I don't care what aspect of the College you're talking about, faculty, staff, or administration. I mean, this is remarkable."
Through their support of one another as student workers, both through standing up for workplace rights and striking for recognition together, K-SWOC has made one thing abundantly clear: no matter what the administration and the Board of Trustees want, they are not going anywhere.